Welcome home, Blues - pnj.com
Despite a forecast calling for rain, the Blue Angels had clear skies and sunshine for day one of their homecoming air show today at Pensacola Naval Air Station. ...

Blue Angels Homecoming Video Dispatch 7
Blue Angels Homecoming Video Dispatch 6

Pensacola News Journal


Blue Angels Homecoming Video Dispatch 3

Pensacola News Journal


Blues 101: Get ready for weekend air show

Pensacola News Journal



Bob Hoover awarded Order of Saint Michael
from RSS Feed: News
Aviation legend
Robert A. "Bob" Hoover
will be installed in the Order of St. Michael during an Army Aviation Association ceremony on Nov. 19. Hoover will receive the Gold Order, which is the highest level of the award.
Lights, camera, Air Force Week
from Air Force Live by SAFPA
Imagine this. You are in a jet 25,000 feet in the air, going 450 miles per hour. You approach another aircraft from behind so closely that you are bounced around by the turbulence from its jet wash. Suddenly, coming toward you is a long piece of metal attached to the plane in front of you. Its target – the refueling port on top of your jet.
Sun 'N Fun fly-in scheduled for April 21-29
from RSS Feed: News
The
Sun 'n Fun Fly-In
will start celebrating its 35th anniversary when the gates open for the 2009 event, scheduled for April 21 through 26 at Lakeland Linder Regional Airport in Lakeland, Florida.
Schneider Trophy
from Flight Image of the Day by Barbara Cockburn
This is a Deperdussin Monoplane much like the one used by "well-known" French pilot Prevost, who won the Jacques Schneider Maritime Cup in 1913.
The event was a speed contest open to all types of seaplanes. Flight compiled a History of the Schneider Trophy back in 1925.
The race was held eleven times between 1913 and 1931
.
Reno Air Races 2008 published
from Fence Check
Ryan Coulter take us to the Reno Air Races - turn left!
3 Tigercat Flight - RARA Podcast Preview

from www.aafo.com


We've been given permission to give you a sneak peek at the November Podcast... covering the three ship Tigercat formation at Reno this year!!!

This segment will be included in the annual race DVD, which should be available before Christmas

...

Pancho Barnes: A socialite, an aviatrix and a legend in her own time
Laguna Beach Independent, CA
Then, on February 22, 1929 , she entered the first women's
air race
against Bobbi Trout, the then current women's solo endurance flying champion and
...
Air Show Dollars Help Seniors
by R_News (R News)
A portion of the proceeds from this past summer's ESL International Air Sho..
'Fly Girls' Exhibit Honors First Military Women Aviators
from American Forces Information Services - News Articles
The "Fly Girls of World War II" exhibit at the Women In Military Service for America Memorial honors the first U.S. military-trained women aviators.
A former flier is God's co-pilot: WWII veteran has devoted post-war life to spreading gospel
from Stars and Stripes
On a fall evening in 1950, the Rev. William "Dub" Jackson lay awake on his futon, unable to get over the irony. As a World War II P-38 fighter pilot, Jackson had logged more th...
Calif. squadron salutes individual military heroes for Veterans Day
from CAP News Online by Dan Bailey

Edwards AFB Composite Squadron 84 cadets discuss family members' war experiences


Maggie Brooks and ESL Present Air Show Check

- 13WHAM-TV, NY
"I am thrilled to celebrate the success of the 2008 ESL International Air Show by the donating nearly $17000 to Lifetime Assistance," Brooks said. ...
The P-51 Mustang
from Serious Amateur Photography by Jeff Lynch
Of all the aircraft flown in WWII and later, the P-51 Mustang holds a special place in hearts of most pilots. In keeping with the week's Veteran's Day theme, here are a couple of shots of this magnificent plane in action.



The "Hog" drops in on history


from Air Force Link Top Stories by afnews@afnews.af.mil (Master Sgt. Joy Josephson)
The A-10 Thunderbolt II, nicknamed the Warthog and known for its close-air support superiority and the ability to carry large and varied ordnance, is now on its way to delivering a new capability to the warfighter. ...

Snowbirds soar for College's aviation reuinion
- Thunder Bay's Source, Canada
If you thought you spotted a pair of
Canadian Forces Snowbirds
in the skies of Thunder Bay Friday, you likely were not seeing things. More than 150 pilots, ...
Museum director speaks about air force history
- Community Press
Saturday afternoon at the Kenron Estates Recreation Centre, Chris Colton, executive director of the National Air Force Museum of Canada explained how the air force has developed from a three-person crew to more than 16000 personnel.
War veterans signing air cadet's 'Big White Flag'

- Trentonian
He was in Trenton Wednesday to meet and seek signatures from veterans who are involved with the National Air Museum of Canada.




Temora Aviation Museum Flying Days - Nov

from Fence Check
Temora
Australia
11/15/08 - 11/16/08
http://www.aviationmuseum.com.au



Air show plans cross the ditch

- Waikato Times, New Zealand
Undeterred by the crash of Wings and Wheels over Waikato, air show promoter Ken Ross has been trying to get another show flying on Australia's Gold Coast. ...

Military History
from Fear of Landing by Sylvia
I was going to write a long post about the different types of Air Traffic Service Units in the UK but I got distracted by the Internet. Somehow I've ended up spending hours reading about military planes from the past - important research if you want to discuss the difference between A/G Radio and ATC services, to be sure! ... [video]
Maggie Brooks and ESL Present Air Show Check

- 13WHAM-TV, NY
"I am thrilled to celebrate the success of the 2008 ESL International Air Show by the donating nearly $17000 to Lifetime Assistance," Brooks said. ...

Stunt pilot died after engine starved of fuel - report
- Irish Times, Ireland
As he left, he was asked to carry out aerobatic stunts and on his third and final roll manoeuvre friends heard the engine bang and splutter before the ...
Air Force announces NASCAR sponsorship for fiscal 2009


from Air Force Link Top Stories by afnews@afnews.af.mil (Christa D'Andrea )
Air Force officials announced Nov. 12 that it will begin a new NASCAR partnership with Gillett Evernham Motorsports when it sponsors the No. 10 car driven by Reed Sorenson for the 2009 NASCAR Sprint Cup season. The Air Force's advertising agency, GSD&M Idea City, organized the sponsorship and will roll out a multimedia advertising campaign to support the partnership in early 2009.


Spinning the Tipsy Nipper
from Neptunus Lex by lex
...The spin was supposed to be a normal erect spin to the right, but for various unintentional reasons the spin went flat, up until that point I had never flat spun an aircraft. I eventualy mananged to get the aircraft into a normal erect spin from which I was able to recover. This aircraft is not fitted with an electric starter motor, so I was unable to restart the engine. During the "flare" to land the main undercarriage caught the top wires of a barbed wire fence that was invisible to me. After coming to rest inverted I waited 20mins for the rescue services to come and right the aircraft so I was able to exit via the outward opening canopy....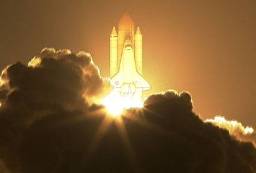 Spectacular Shuttle Endeavour Night Launch
from Alabama Aviator - Aviation News
Space shuttle Endeavour roared off Launch Pad 39A at NASA's Kennedy Space Center on a spectacular tower of smoke and flames. The STS-126 mission is an extremely ambitious undertaking, highlighting four spacewalks and delivering the heaviest payload in shuttle history.
Air Force colonel to pilot his first space shuttle mission
from Air Force Link Top Stories
An Air Force colonel is scheduled to pilot the Space Shuttle Endeavour for mission STS-126 when it takes off Nov. 14 at Kennedy Space Center, Fla.
Students Talk Live With NASA Astronaut Aboard Space Station
from PR Newswire: Aerospace/Defense
New Airport Awards Contract to Indy Logistics Company
from Headlines - Inside INdiana Business with Gerry Dick
Langham Airport Logistics LLC has been awarded a multi-year contract to provide logistics support services for the new Indianapolis International Airport. The deal includes all concessionaires, the Indianapolis Airport Authority and select airlines. Under the new contract, Langham will manage the new airport's warehouse facility with responsibility for shipment planning and scheduling, product receiving and distribution, and overall dock master requirements. The company be located on-site at the airport and consist of 11 full-time employees
.
Advanced Security Check-in at IND
from Aviation Today :: Categories
TSA officers at the Indianapolis International Airport (IND) are testing paperless boarding passes and other airport security technology advancements, including millimeter wave and multi-view X-ray scanners. Millimeter wave technology enables TSA officers, in a matter of seconds, to..
.
Fire Fighting Helicopters
from Fence Check
Best Pictures of the 2008 Airshow Season
from Fence Check
Bomb Dropping - Old School v. New School
from Airwarriors by A4sForever
Luca: San Francisco, Blue Angels Air Show (via Flickr)
from FriendFeed
Vulcan Returns to Bruntingthorpe and Yeovilton 2008 Videos
from PlanesTV (BETA) - Aviation Action by Iain PlanesTV
Podcasts
747-400 vs. ERJ
from The PlaneMadness Podcast
by towertalk@planemadness.com (Capt'n Chris)
Is the VLJ dead? And other airplane stories.
from IAGblog Podcasts by iagblog
You Might be a Pilot
from Airspeed by Stephen Force (Steve Tupper)



For the latest
News @ Full Throttle
and additional features visit
www.IndyTransponder.com
© You may also subscribe for daily automatic E-mail delivery directly to your Inbox!



Send Notices > Releases > Updates > To:
IndyTransponder@gmail.com