Air Force Week Opening Ceremony Offers Spectacular Military ... - MarketWatch
EL SEGUNDO, Calif., Nov 13, 2008 /PRNewswire-USNewswire via COMTEX/ -- Media Invited Friday, Nov. 14 at 10:30 am to Hollywood & Highland to Experience ...

Bader Field Tower Donated to Air Museum - Cape May County Herald, United States
By Jack Fichter ERMA — The former control tower from Atlantic City's Bader Field Airport is now sitting on the tarmac of the Naval Air Station Wildwood ...

Found this picture, and a little more history on Bader Field, on Flickr. Hat tip to Kevin.

Bader Field Airport - Atlantic City, NJ. This small airport may vanish off the face of the earth soon as new casinos are fighting for it's land. I figured better get it while it's here before it's gone forever. This was also the site of a Jet's assumption of a longer runway a few years back and it ended up in the Intracoastal Waterway.
Bader Field was opened in 1910 and was authorized to provide passenger service in 1911. The first known usage of the term "air-port" appeared in a newspaper article in 1919, in reference to Bader Field.
It was the founding location of the Civil Air Patrol in 1941. Scheduled air service was available into the 1980s. However, by the 1990s, activity at Bader Field declined significantly in favor of Atlantic City International Airport, located approximately 9 miles (14 km) northwest. Info from - Wikipedia.com

Sky Watch Friday - Matters of the heart
- the maxefiles
I thought today's shot of the Westbank
aerobatics
team drawing a heart would be appropriate for this weeks Sky Watch. A year ago today I had a heart attack, which was followed by a bypass operation. I am now as fit as a fiddle, my cholesterol is under control, I am fanatical about my diet and swallow pills every day. The sad fact is that this was all avoidable, had I just heeded the warning signs. ...
Desktop Models Anyone? It is the Holiday Season!!
from Turbine Toucan by David Kervinen
We have been approached by a scale model manufacture that actually makes their desktop models right here in the States! They are willing to make a rather large run of the
Turbine Toucan
and will do all order fulfillment and shipping.
We will set up ordering right here on our site if there is any interest. I'm not sure the cost yet but it will be in the ballpark of your average desktop model, which might be upwards of $200.00, but that is a guess at the moment. ...
Earl Adam Shulenberger
- Fremont News Messenger, OH
Earl served with the US Army Air Corps during WWII as a
B-25
Radio Operator. He flew seventy missions over Southern France, Yugoslavia and Northern Italy. ...
Massey Air Museum sets open house date
from RSS Feed: News
The Massey
Air Museum
has set its 8th annual Open Hangar Christmas Party for Pearl Harbor Day, Dec. 7.
F-117 Nighthawk revealed
from Air Force Link Top Stories
On Nov. 10, 1988, the Air Force revealed the
F-117 Nighthawk
stealth fighter to the public for the first time.
Manufactured by Lockheed, the F-117 could evade most radar detection with its radical shape and radar-absorbent surface. During most of the 1980s, its production and development was highly classified. ...
Combat Camera Squadron--Global Reach, Global Images
from Air Force Live by SAFPA
An Airman shares his experiences as a member of Combat Camera
Ever wonder where all those images of action in combat zones come from? Or perhaps what it's like to be the one taking the photos or video? In the news clip below, MSGt Andy Dunaway tells what it's like to document military missions in Afghanistan and Iraq as a photographer with the 1st
Combat Camera Squadron
. ...
Oh, The Humanity!
from Ares by Bill Sweetman
There seems to be a tendency for groups that get together near Disneyland to start talking about imaginative ideas, namely airships. DARPA's Walrus - clubbed like a baby seal by Congress in 2006 - was first unveiled at a DARPATech conference at Anaheim, and a senior USAF airlift planner, speaking this week at the Airlift/Tanker Association conference, mentioned that the USAF is still looking at the airship idea. ...
Pentagon Clears Flying-Car Project for Takeoff
from Wired: Danger Room by Noah Shachtman
Pentagon mad-science division Darpa is helping build thought-controlled robotic limbs, artificial pack mules, real-life laser guns and "kill-proof" soldiers. So it comes as no surprise, really, that the agency is now getting into the flying-car business, too. ...
Return of the Hunter!
from PPRuNe Forums by Jackonicko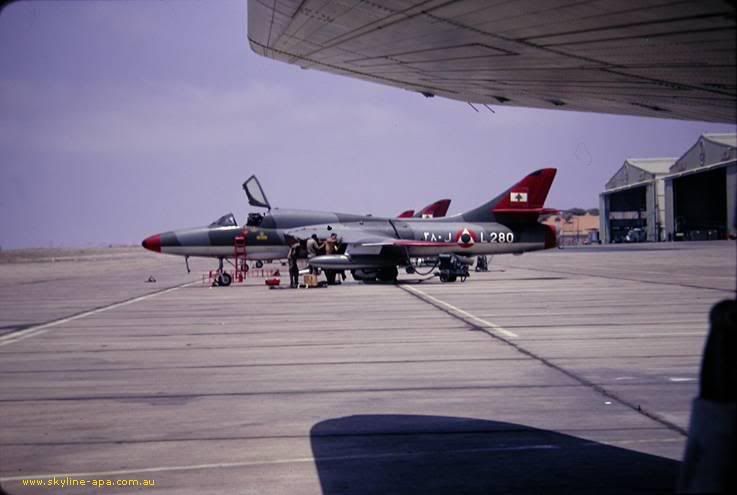 Some of the older and bolder may rejoice at the reports that "yesterday, for the fist time in years, a
Hawker Hunter
from the LAF flew over the Bekaa valley. It took of from Rayak Lebanese Air Force Base and flew for an hour before returning to the same base." ...
Second World War Spitfire pilot flew with famous "High Flight" author
from Aviation.ca News
As if being a D-Day veteran and decorated Second World War
Spitfire
pilot were not enough, 88-year-old Barry Needham of Weinhart, Saskatchewan has another feather in his Air Force cap.
Emirates A380 to greet QE2 on arrival in Dubai
from Flightglobal Events
A flypast by an Emirates Airbus A380 is planned as part of celebrations to mark the arrival of the Cunard liner Queen Elizabeth 2...
avimuseumzone
from avimuseumzone.blogspot.com
On Sunday the Grahame White hangar is shut at 12 o clock so make it your first call. Its fairly bright in there so you will get great shots of the first world war aircraft there in the display hall. They have all the major first world war aircraft in there like S.E.5, Sopwith Camel. Next door you have the Battle of Britain Museum hangar with such types has
Me 109E,
Ju88, V2, Me 110 night fighter Spitfire and Hurricane and loads of other stuff to keep you happy. ...
Space Shuttle Astronauts Ready to Fly
from SPACE.com
A look at the astronaut crew of NASA's STS-126 mission to launch Friday.
Follis, Other Veterans, Honored at Ceremony
- Cadiz Record, KY -
Ed Herrel, a World War II veteran that survived the sinking of the
USS Indianapolis
, spoke for about 30 minutes as he detailed his harrowing experience. ...
USS Indianapolis survivors recall WWII ship's sinking
- The Daily Advance, NC
Paul McGinnis (far left) answers a question from the audience during a program called
USS Indianapolis
: Still at Sea in the College of the Albemarle's ...
NEWS: New Airport In Indianapolis Opens
by Hilary Solan
Indianapolis, Ind.—The new airport in Indianapolis opened this week, giving the 8.2 million
passengers each year a new 40-gate terminal that can accept international flights. Airport and city officials hope the bigger terminal and expanded parking options will bring more travelers through the new

Indianapolis International Airport

. The $1.1 billion project—the first terminal built since Sept. 11, 2001—has a new air traffic control tower, five-story parking garage, and fire station. Another upgrade is that travelers now have direct access when coming from I-70 by getting off at exit 68, which is immediately west of I-465.
...
Airport transition is smooth sailing
from WTHR - WTHR HOME
The new terminal at

Indianapolis International Airport

had no major glitches on its first full day of operations
.
A Few From Reno 2008 | Facebook
from www.facebook.com
Zero
from Serious Amateur Photography by Jeff Lynch
What an Amazing Air Show in Jacksonville!
by laughatcancer (Crystal )
In celebration of Apollo 8
from Flight Image of the Day by Barbara Cockburn
Picture of the Week: AVweb's Flying Photography Showcase
from Aviation & Aerospace News
Aerotainment on the web:
Chicago Sortie and More Taildragger Training
from Airspeed by Stephen Force (Steve Tupper)
Building a Cessna Citation
from Jetwhine by Robert Mark
For the latest
News @ Full Throttle
and additional features visit www.IndyTransponder.com © You may also subscribe for daily automatic E-mail delivery directly to your Inbox!
Send Notices > Releases > Updates >To:
IndyTransponder@gmail.com