A look inside the EAA fly-in tower

- Fox 11
AirVenture makes tower one of world's busiest | For one week every year during EAA AirVenture, Wittman Regional Airport in Oshkosh is one of the most popular landing spots in the world.
An all-star cast of air controllers from all over the United States is assembled to make sure everything goes smoothly.
"The controllers normally run this tower with five controllers, and during AirVenture, we bring in an additional 68 controllers," said Wanda Adelman who is the air traffic manager at EAA Airventure.
Controllers are stationed in the tower, on the runways and seven miles southwest of the EAA grounds in the town of Fisk. ...
Boeing B-17 Flying Fortress first flew 75 years ago

from Aerospace News
While Boeing marked the 75th anniversary of the B-17 Flying Fortress' first flight Sunday, the flight actually occurred 75 years ago today, on July 28, 1935.
VIDEO: 'Ice Pilots' bring DC-3 to AirVenture

- Fond du Lac Reporter
Cameras and crew from the Canadian reality television show 'Ice Pilots' brought their DC-3 to AirVenture for the week. The show follows members of Buffalo ...
FiFi Readying for AirVenture 2011

from EAA - The Experimental Aircraft Association
Combine two old air warriors and a modern-day troubadour and the result is a star-spangled touring event like no other before: the Commemorative Air Force's Red, White & Loud Tour starring country music star and pilot Aaron Tippin and the world's only flying B29, the CAF's renowned FiFi.
OSH10: Day One at AirVenture with iFlight

from FlightBlogger
Flying display @ EAA AirVenture Oshkosh

from Flight Image of the Day
OSHKOSH: PICTURES - B-17 Anniversary

from Flightglobal Events
The Boeing B-17 joins the Douglas DC-3 in celebrating its 75th anniversary at AirVenture 2010.
Oshkosh 2010 Pic Stream #3 - Getting Settled In (16 pix)

by Martt [pictured]
"Sloshgosh" Was Like No Other Airventure I have Attended

from Av8rdan's World of Flying
As I sit here Tuesday night in a rented room about 5NM north of KOSH, I am thinking about the people who somehow managed to convince both Mother Nature and EAA officials to let them pitch a tent on the airshow grounds. Why? Because a serious-looking, well-defined squall line called "severe" by Accuweather was moving towards their tent stakes at 35 mph with embedded hail and strong winds. ...
#OSH10##OSH10##OSH10##OSH10##OSH10##OSH10##OSH10##OSH10##OSH10##OSH10#
#OSH10##OSH10##OSH10##OSH10##OSH10##OSH10##OSH10##OSH10##OSH10##OSH10#
Blue Angels to perform at Arctic Thunder air show

- Juneau Empire
ANCHORAGE - The Navy's Blue Angels and the Canadian Forces Snowbirds are the featured performers in next weekend's air show at Joint Base ...
Rockford Airfest 2010 - Rockford - 07/31/10

from FenceCheck Forums
When your stomach says hello to your brain

- Baker County Oregon's News Leader
Have you ever seen Baker City upside down?
It is just as beautiful, though it may be hard to appreciate the view while you're trying to hold in your breakfast.
"OK, now I'm going to do a barrel roll," Pilot Tim Decker said just before he spun the Pitts S-2B stunt plane upside down.
The view, though temporary, was spectacular.
"Now we we'll just go upside down for a bit," he said.
Flying 800 feet above ground in a plane that has flipped over is one thing most people will likely never do. Most would be thankful for that. Others will be envious of those who have.
For a brief moment the Baker Tower seemed to hang there, suspended over my head. ...
Excitement growing over 2010 Wetaskiwin Air Show

- Wetaskiwin Times Advertiser
With less than two weeks to go before the 2010 Wetaskiwin Air Show, the event's public relations and marketing spokesman said the switch has been flicked ...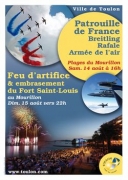 Air Show with the Patrouille de France

- Frequence Sud.fr (translated)
Cannes hosts a large air show Saturday, August 14 above the beaches of Mourillon with the Patrouille de France, Breitling and military aircraft in the air.
This Saturday, August 14, swimmers will first explore an example of intervention by the lifeboat and a helicopter with a spotlight, then it will in turn stunts the Patrouille de France, followed by the Patrouille Breitling. ...
JASDF Hyakuri Air Base Airshow 2010 - Hyakuri Air Base

from FenceCheck Forums
Cool Shot..........

from Theo Spark [pictured]
CAF's B-29 FIFI & Aaron Tippin Get Red, White & Loud

- Indy Transponder
...the Commemorative Air Force (CAF) unveiled plans for an extraordinary teaming of two American treasures, the CAF's Red, White & Loud Tour starring Aaron Tippin and the B-29 FIFI.
The world's only flight-worthy Boeing B-29 Superfortress FIFI, and country music star/patriot Aaron Tippin will launch the CAF's Red, White & Loud Tour celebrating America's freedom through song and the roaring radial engines of one of the world's most famous warbirds. ...
B-17 makes memorable landing in Keltys

- Chandler Brownsboro
And speaking of pastures, longtime reader Ray Jayroe called recently to tell me about a day in the 1940s when the pilot of a B-17 plane ran out of gas and ...
Collings Foundation receives FAA flight exemption,

allowing rides in the F-4 Phantom and A-4 Skyhawk
...and more from the July news letter.
CAF Minnesota Wing Updates
Viet Nam Warbird gets new life from Lakeside company

- White Mountain Independent
... to the fully restored, again proud and operational chopper that will be among the featured aircraft in the Warbirds in Review segment when it arrives at ...
July 28

from Cut and Paste Aviation
US aviation lovers in awe of Canadian skies

- Wetaskiwin Times Advertiser
The pair from a suburb of Memphis, Tenn., was among dozens of other aviation lovers who touched down at the Wetaskiwin Airport as part of the 2010 Yukon ...
Boy Scout Jamboree

from AF.mil Photos
Defense Secretary Robert M. Gates chats with Boy Scout Vanas Ayyar and his father, Air Force Col. Balan Ayyar, on board a helicopter flying to the 2010 National Boy Scout Jamboree at Ft. AP Hill, Va., July 28, 2010. The massive group of Boy Scouts from throughout the United States came to the 12,000-acre site for 10 days to celebrate the organization's 100-year anniversary.
Space shuttle workers receive layoff notices

from AIA dailyLead
Houston-based NASA contractor United Space Alliance issued layoff notices to 1,394 workers on the space shuttle this week as -More-
Fire Bombers (fixed wing)

from FenceCheck Forums
VIDEO: F-35 birdstrike test (via F-16.net)

from The DEW Line
A U.S. Marine Corps F-18 patrols the skies during Red Flag-Nellis 10-4

from Air-Attack.com - Latest Images
CVW-7 Homecoming 2010 - NAS Oceana (VFA-103, 143, 131, 83)

from FenceCheck Forums