Blue Angels not coming to Muskegon; Fate of local air show uncertain - Muskegon Chronicle - MLive.com
MUSKEGON — US Navy aerobatic team the Blue Angels will not be at the Muskegon Air Show this year, fueling speculation the show has been grounded. ...

Naval Aviation Celebrates Centennial In 2011 from AVwebFlash Current Issue
The U.S. Navy launched its flight program in 1911, and a number of events will mark the 100th anniversary this year. The official kick-off is set for Feb. 10-13 in San Diego. On Saturday the 12th, hundreds of historic and current Navy aircraft, including the Blue Angels, will take to the skies for a Parade of Flight above Naval Air Station North Island, which will host an Open House for the event. Visitors can view more than 75 historic ...

EAA Skiplane Fly-In January 22 from EAA - The Experimental Aircraft Association
The annual EAA Skiplane Fly-In will be held on Saturday, January 22, at EAA's Pioneer Airport in Oshkosh. In past years, more than 25 skiplanes have participated, showcasing this unique segment of flight that is quite popular throughout many parts of North America.

2011 B-17 Tour Set to Take Off April 1 in Arizona from EAA - The Experimental Aircraft Association
EAA's restored B-17 bomber Aluminum Overcast returns to the sky on Friday, April 1, as EAA Warbird Squadron 20 hosts the first stop of the 2011 national tour in Deer Valley, Arizona.

Turkish Stars to light up the skies at Al Ain airshow - GulfNews
The Turkish Stars are the only national aerobatic team to fly with formations of eight supersonic aircraft. ...

Top stunt pilot of IAF dies after 4 yrs in coma - Hindustan Times
The 42-year-old pilot performed stunts for the air force's Sarang helicopter display team. His world shrank to a hospital bed after the Dhruv helicopter he ...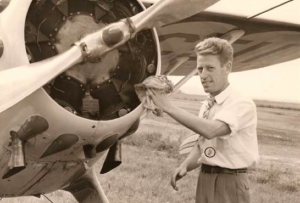 Get your act together before showtime from Lynchburg Regional Airshow
... During the planning at New London airport (W90), the phone was ringing off the hook with pilots calling in asking what they could do to help. Ray Wiseman, who had recently won the Canadian Aerobatic Flying Championship in his Pitts Special, called to say he wanted to fly in the air show to honor Squeek; I hung up the phone and was moved beyond emotion—they remembered him! That is what is so special about aviation and the people who embrace its spirit—they know how to pull together when called upon. ...

Viewmont teen has death-defying plans - The Salt Lake Tribune
Words like "nauseous" and "queasy" don't exist in Laura Johnson's vocabulary. There isn't a roller-coaster on earth that could upset the Viewmont High School senior's stomach, and when she flies she never reaches for the motion-sickness bag.
This is great news for Laura considering she hopes to become an aerobatic pilot, a high-altitude daredevil who performs loops, rolls, spins and "hammerheads" through the air as children point skyward in awe. That's what she did when she first saw her hero Mike Goulian, a famous aviator, fly at the National Championship Air Races and Air Show in Reno, Nev., at age 11.
She was wowed by Goulian's "fast, crisp, clean maneuvers."
"As soon as I saw that, I knew it was what I had to do," said Laura, who has attended the Reno event with her family every year since. ...

Inspiring The Next Generation from Mike Goulian Airshows
In this day and age, it's nice to read stories about people who take their passions for flying and make them a reality. Michael was honored to be part of the inspiration for a high-school student who watched him fly at the ...


Vietnam Vets Restore a Vietnam-Era Huey, Go Tearing Across Bay Area from Telstar Logistics
... Spots Unknown is working on a movie about a group of vets and enthusiasts who've restored to "combat specs" a Vietnam-era Huey. And they fly it around the Bay Area and look badass.
Today, a teaser trailer was released. It combines shots of these dudes in action with vintage footage of other Hueys actually in the ...

Weidner, Robert "Red" - Green Bay Press Gazette
He was drafted into the Army in 1943 and served as a Radio Operator and Waist Gunner in a Flying Fortress B-17 Bomber in World War II. ...

Ravenna WWII hero Colonel Bill Bower, 'Doolittle Raider,' dies - Ravenna Record Courier
He was the last surviving member of the famed "Doolittle Raiders" pilots in World War II, whose air attack on Japan in April 1942, just four months after ...

Up and away in Tiger Moth - Auckland stuff.co.nz
Mr Bruce, originally from Whitianga, learned how to fly at the Mercury Bay Aero Club, and got his private pilot licence in 1957. ...

Terry Bowden's Blog: Cabin Wacos from Antique Airfield News
The C-6 holds a special place in our family's memories. Now owned by David Schroeder in Eagan MN, NC2277 came into the Bowden family in 1978. Dad and I drug it home on a trailer from Ponder Texas. The story goes that this airplane was crash-landed on the bottomland of the Red River in the late 1960's after an in-flight fire. The owner/pilot at that time was Jack House. The lower wings and landing gear had been wiped ...


Spad Replica / Horst Byron Petard from Pixdaus: Popular Today Pics

Tour the world's largest military museum — without leaving your house from General Aviation News
Imagine sitting in your living room when suddenly you find yourself in the Presidential Gallery of the National Museum of the U.S. Air Force, standing on the steps of the Sacred Cow, the aircraft on which President Harry Truman signed the National Security Act of 1947 creating the U.S. Air Force. Glancing around you also see John F. Kennedy's Air Force One, the same aircraft used to bring his body back to Washington D.C. in 1963. Sound impossible? ...

TOPGUN TODAY from Navy Gold
Probably the most revered community in naval aviation, NSAWC (Naval Strike and Air Warfare Center) is home to today's TOPGUN. Made famous by the movie when the program was still based at NAS Miramar, these days, students and instructors report to NAS Fallon about an hour east of Reno, Nevada. During my visit there in August, I was fortunate enough to get two sorties in the F-16N Viper. While the Hornet is a great photo ship, the Viper is even better. For the same reasons it excels for the pilot, shooting from the back seat ...

Classic Jets from FenceCheck Forums

Backyard Flyer Soars to the Next Level with Name Change to Electric Flight by Air Age Media
Air Age Media announced that Backyard Flyer, the premiere magazine for smaller RC planes changed its name to Electric Flight. The new name debuted with the January 2011 issue, on newsstands October 26, 2010.Louis DeFrancesco, Publisher, noted that "the editorial coverage of Backyard Flyer has expanded to include the larger, faster, more highly evolved electric aircraft that are taking advantage of new technology in the RC field. We are moving with the market." ...

Soaring through life on fun flight plan - Otago Daily Times
She was twice the Royal New Zealand Aero Club's national champion in forced landings and she did "everything" except aerobatics. ...

Aviation High School from Flight To Success by Karlene Petitt
A funny thing happened to me on the way home from work....
Last Thursday I landed at SeaTac Airport, non-stop from Amsterdam, then drove directly to Aviation High School for a tour. What an amazing experience--- The school, not the landing. Landing a heavy jet is always an experience, but nothing like this high school located 3 miles from my home.
Katie McConville and Lauren Crom were our tour guides. Their pride in their high school is evident. And justified. The tour of Aviation High School was one of those occasions when I wanted to turn back time--- and return to high school. ...

Artist's aerial, side, and straight-on impression of J-20 from Flight Image of the Day
Here's our artist's impression of the J-20 that may be China's fifth-generation fighter. Read here for more details on the jet. ...

More on the J-20 here
'Son of Blackswift' Back on the Hypersonic Roadmap?
from Ares
The U.S. Air Force is drawing up a new hypersonic development road map which, to the delight of many and the fear of some, revives the concept of a reusable flight research vehicle similar to the abandoned Blackswift.
The surprise plan to reincarnate an ambitious, horizontal takeoff and landing hypersonic vehicle also repeats the equally-difficult challenge of powering it with a turbine-based combined cycle. The high-speed ...
NASA Identifies Source of Shuttle Discovery's Crack Problem
- POPSCI
After more than two months of delays, NASA said yesterday that space shuttle engineers have diagnosed the cause of Discovery's crack problem, and the defective aluminum alloy struts are being patched and reinforced to shore up the problem. That means Discovery might finally make its final flight as soon as Feb. 24, though no target date has been announced.
Discovery has been grounded since Nov. 5, originally due to poor weather and then for the cracks ...