2011 Reno Air Races - Thursday Report Pt 1
- Live Airshow TV - Videos | Racing starts on Thursday at the 48th Reno National Championship Air Races. See what was happening in the Unlimited PIts. Changes in the Sport Class. Mike Dacey's take off incident.
Qualifying and Heat Results by class via Reno Air Racing Association Website
- and today's schedule!
Living in the Reno Pitts
from Alabama Aviator - Aviation News | Stead Field, Reno Nevada- The racing aircraft are positioned in the pitts west of the stands. Virtually every racing plane is supported by an adjoining motor home and busy crewmembers. This is where they work, eat and stay for the duration of the races, the epicenter of current and future champions. In the case of race team owner Doug Matthews, he has on site a large trailer that serves as a mini office. ...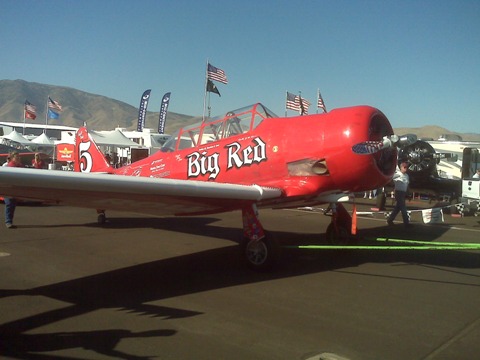 The Race is On at Reno
from Alabama Aviator - Aviation News | -Stead Airfield- Reno, Nevada-On the Reno race scene is Alan Armstrong, an Atlanta Aviation Attorney, who owns and pilots a T-6 and is the author of Preemptive Strike. With many years of strong aviation ties, he shares his photos and comments on this years 48th Reno Air Race Championship as the event gets underway. ...
Some more video material (Precious Metal)
from www.aafo.com | I just uploaded these
two passes from PM
yesterday qualifying: ... and
Voodoo
: Florian
Video: First run of the R-4360 powered Sea Fury/WH589 'Furias'
from Warbirds Online | First run of the R-4360 powered Hawker Sea Fury Racer 'Furias'
Love the photo of all the photographers in THIS RGJ photo gallery.
World War II 449th Bomber Squadron, other veterans to be recognized at Reno Air Races
- RGJ | For many, the Reno National Championship Air Races is a magnificent show of force, with soaring planes and captivating shows. For some, the race resurrects feelings of pride in overseas accomplishments decades ago. Members of the World War II 449th Bomber Squadron, 15th U.S. Army Air Force, will be recognized along with other military personnel for their accomplishments Friday at the Reno Air Races. "(Today) is part of our salute to military and armed forces," Reno Air Races President and CEO Mike Houghton said. ...
And for a little heritage:
Schneider seaplanes in Southsea
- Portsmouth News | Eighty years ago this week the final Schneider air race for seaplanes was held over the Solent. The international event had captivated the public on the 11 occasions it had been held between 1913 and 1931. On that last occasion it was ...