Airplane wing walker tempts fate with crazy lifestyle, clouds for her stage - DeSoto Appeal |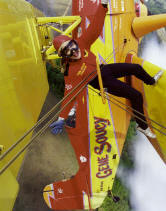 The show that includes the Navy's Blue Angels runs Saturday and Sunday. Teresa Stokes isn't crazy, but she just might lose her mind if people keep asking her if she's crazy. It's a natural question to ponder, though, since Stokes makes her living by ... [photo via genesoucy.com]

Wing walker Jane Wicker eager to perform at Sunday's Ocean City's Acrobatics ... - Press of Atlantic City | She owns Jane Wicker Airshows and has entertained crowds with her aerial gymnastics from the wings of a biplane for the past 21 years. The daredevil will make her first appearance in the area 1 pm Sunday at Ocean City's Aerobatics Air Show. ...

Air show pilot thrills elementary students with visit - WMC-TV | Students at Oak Elementary in Bartlett got a sneak peak Thursday of the kind of action you can see this weekend at the Memphis Air Show. World famous pilot Michael Goulian stopped by the school and showed students why he's one of the best ...

Airshow will get adrenaline flowing - Martinsburg Journal | Max Adrenaline is one of the major acts scheduled for this year's Thunder Over the Blue Ridge open house and airshow at the Eastern West Virginia Regional Airport Saturday and Sunday. The show is sponsored by the West Virginia Air National Guard's ...

AcroCamp: Spectacular description of AcroCamp by Jack Hodgson on UCAP episode 252.

Air Show Working On 2012 Bookings - The Dispatch | In 2009 and 2010, the event was headlined by the USAF Thunderbirds. Despite the change in the lineup, the event had a record breaking attendance this past summer equaling the events most successful year in 2009. Demoflush, or estimate of visitors in ...

Three days the head and eyes in the air patrols - The Nouvelliste | Real attractions of any self-respecting airshow, patrolling the skies ignite Sion during the three days of the Air Show. Honor the elders, the arrival of the Patrouille de France, one of the oldest formations aerobatic ...

The arrows in the tri-colored skies of Salento - Corriere della Sera | LECCE - The Aerobatic Team arrives in Salento with the performance of the Tricolour Arrows. The "Tricolore 1 Salento Air Show," scheduled for Sunday, September 18, starting at 14.30, in Torre Suda Mancaversa and is sponsored by ...

LeRoy W. Homer, Jr. from CAF Red Tail Squadron's Blog | As most Americans are very aware, last weekend marked the 10th anniversary of the 9/11 attacks of 2001. The memorial in New York City was ready to open. The memorial in Shanksville, Pennsylvania was open to the public even though some work still needs to be completed on the grounds. The Pentagon memorial was dedicated in 2008. Those are the "big" public memorials, the ones with physical sites where people can go to remember and reflect. Other kinds of memorials were established in memory of individuals who perished that day. In fact, it's probably safe to say that ...


A Beverley dropping supplies down low
from Planeshots
Harford's history making "birdmen" remembered 100 years later
- Baltimore Sun | ... off from Sheepshead Bay, NY, in his newly-bought Wright biplane (he was the first civilian to purchase one) and began his trip across the country as part of legendary newspaper publisher William Randolph Hearst's $50000 coast-to-coast air race. ...
Ariz. ignores bit of aviation history
- Arizona Republic | On Nov. 2, 1911, Cal Rodgers flew a Wright EX Flyer called the Vin Fiz into Phoenix and landed near where the state fairgrounds are now. Even in these tough times, some sort of a celebration should be held to commemorate that historic event. ...
Solo Tornado to salute World War II pilots
- STV Local | A solo Tornado aircraft will perform a flypast over the officers' mess at RAF Lossiemouth this week to commemorate the Battle of Britain. Officers from the Lossiemouth base are holding a formal dinner on ...
WWII veterans brave one more flight in B-17 bomber
- Milwaukee Journal Sentinel | Former World War II B-17 pilot Scott Welch, 88, of Silver Lake smiles after hugging his wife, Phyllis, after his flight Thursday in a B-17 at Kenosha Regional Airport. In 1944, Welch flew B-17 bombers in 32 combat missions over France and Germany. ...
Flight in a B-17 World War II bomber
- Milwaukee Journal Sentinel | WWII veteran and former B-17 bomber pilot Scott Welch, 85, takes his first ride in a B-17 in more than 65 years. Read and share your thoughts on this story. The latest local news delivered to your inbox Monday-Friday during the 2 pm hour – or whenever ...
Klaus Ohlmann Sets New Solar Records
from CAFE Foundation Blog | Klaus Ohlmann, 59-year-old soaring record holder, has set two new records in September, 2011, aboard Icare 2, Stuttgart University's solar-powered sailplane. The 25 meter (82 foot) span aircraft weighs a mere 457.7 pounds empty, batteries, motor, propeller and ...
Air Force makes final exit from Brooks
- San Antonio Express | Sullivan recalled his father and sister working years later in Hangar 11, home of the parachute department, when pilots learned to fly B-25 bombers in 1941. Two cadets came in and said they bailed out of a B-25 and we want to give the man who ...
Friday Fabulous Flyer
from Flight To Success by Karlene Petitt | Captain Ray Wallace - Scheduling called the day after my thirteen-day trip and assigned me another trip, this time to Osaka. It was hard not to smile when I saw that Ray Wallace was the captain. It took ...
Video: When is the Invisible, Visible?
from Flight Monkeys | ... Leave it to these mega-brains to illustrate how something as vicious, powerful, and invisible as wingtip vortices work. ...
Sporty's Fast-Tracking EAA Young Eagles Toward Pilot's Seat
from Alabama Aviator - Aviation News | EAA AVIATION CENTER, OSHKOSH, WI- A unique partnership between EAA and Sporty's Pilot Shop has now allowed more than 10,000 EAA Young Eagles to pursue aviation interests beyond a first flight through Sporty's Complete Flight Training Course. ...
US Sen Shelby Statement on NASA SLS Announcement
from Alabama Aviator - Aviation News | U.S. Senator Richard Shelby (R-Ala.) today issued the following statement regarding NASA's selection of a design for the Space Launch System (SLS) Vehicle. ...
NASA Workers Create Space Shuttle Made of People for Tribute Photo
from Wright Squawks by Roger Chua | NASA's 30-year space shuttle program has literally relied on a cast of thousands to launch astronauts into orbit. Those diehard space workers have given their passion form in a new photo that shows a life-size shuttle made only of humans. ...
Virginia's Space Coast Takes Off to New Era
from Spaceports | The end of the space shuttle era has ushered in a new age of commercial space flight. Work is underway on new unmanned rockets to haul supplies to the International Space Station and a once quiet spaceport on Virginia's eastern shore ...