Video Highlights Of The Thunder Of Niagara Air Show By: Clay Moden | ... highlights from the Thunder Of Niagara Air Show from this past weekend. The Thunderbirds were in ...

Thunderbirds Perform Opposing Knife Edge Pass
from I Love Planes by Rafael
RED STAR and THE DRAGON Named as the Headline Act for the Wings Over Halls Air Show.
The Wings Over Halls Air Show announced today that "RED STAR and THE DRAGON has been selected to be the headline act in their September 24th and 25th 2011 show. "This is one of the most exciting jet acts in the country and we are all very excited at having Andy and Jerry perform at our show, The addition of Red Star and the Dragon will make our show spectacular. Add the Transforming Jet Truck and it will be super spectacular. This is the first time our air show has had this type of performer. Again this year the centerpiece of the show is the B-17 and WWII aircraft, which are magnificent tributes to those champions of the sky. This is a weekend to be enjoyed by young and old alike." Said Pat Higdon, director of Wings Over Halls. Wings Over Halls is held at Arnold Field, Halls, Tennessee. More information on
Wings Over Halls
. More info on this exciting jet air show act
RED STAR and THE DRAGON
.
Patriot Tower Pass - California Capital Airshow 2011
- YouTube | One of the Patriots jets buzz'n us sitting at the tower, during the California Capitol Airshow at Mather Field. ...
Jacksonville Air Show 2011
from airshow.jacksonville.com | Witness thrills like never before from a variety of military and civilian aerobatic demonstrations. The world famous Super Shockwave Jet Truck will be racing down the runway at speeds more than 300 mph. The grand finale will be the Navy's flight demonstration team: The Blue Angels (Performance begins at 2:30 pm). While you are at the show enjoy military and civilian aircraft displays, shop at novelty, food and beverage booths, or head to the free Kid's Zone for games and activities for all ages. Click here for a complete schedule of performers. The 2011 Naval Air Station Jacksonville Air Show is an essential part of a yearlong celebration of 100 years of Naval Aviation honoring a century of mission-ready ...
AirFest wows crowds
- Beloit Daily News | She praised the patriotic performance of another female pilot in attendance, Julie Clark, as "beautiful." "I really have seen more women getting involved," Dacy said. "When I was a kid from near Harvard, Ill., and saw the aerobatics competitions in the ...
Two Air Shows for the Price of None in Ocean City
- Cape May County Herald | Highlight of the ground display will be a rare Mitchell World War II B 25 Bomber that gained fame for its flexibility and durability during that conflict. It was brought to national attention in April of 1942 when General Jimmy Doolittle led 15 B-25's ...
A Few Shots from NAS Patuxent River Air Expo 2011
by DAV Flight Team
Centennial of Naval Aviation Video: "Wings for the Navy"
- Naval Historical Foundation | This year marks 100 years of naval aviation, and the Navy has celebrated with ongoing events, from public commemorations and publications, to awe-inspiring airshows. These events celebrate the year 1911 – a year which featured a series of landmark achievements in naval aviation. The first successful take-offs and landings from ships at sea laid the foundation for a century of American airpower. The video "Wings for the Navy …100 Years of Naval Aviation" tells the story of that first formative year, and three men who made it possible. ...
Walking in the clouds
- NV Daily | Chad Jacobs insists it's exciting, not scary, to spend part of Saturday afternoon dangling from the wings of a World War II training plane as it spirals and loops through the sky. Jacobs certainly appeared completely at ease as he signed autographs and accepted congratulations from fans following his wing walking performance high above a head-swiveling crowd Saturday afternoon. "It's a whole lot of fun," he said with a hearty laugh. ...
Red Arrows to mark start of Great North Run
- BBC News | The Red Arrows flying display team will fly over the start line minutes before the athlete fires the starting gun. The team will fly over the Tyne Bridge in Newcastle in the "missing man" formation to pay tribute to Flt Lt Jon Egging, 33, ...
Class of 2011 named for San Diego hall of fame
from General Aviation News | On Nov. 5, the San Diego Air & Space Museum is honoring national and international air & space legends at its 48th Hall of Fame Induction Celebration. Each honoree was selected for their historic contributions to aviation, space or aerospace innovation. ...
Rare B-29 Bomber Makes Visit To Stillwater
- News On 6 | "FIFI" as she's known is owned and operated by the Commemorative Air Force. When not on the road she's based at the Cavanaugh Flight Museum in Addison, Texas. This is the same type of plane that dropped the atomic bombs on Japan during World War II. ...
WWII bomber on display in central Illinois
- Chicago Tribune | AP A central Illinois airport will have a World War II B-17 bomber on display this week. It's called "Aluminum Overcast" and will be available for viewing Tuesday and Wednesday at the Vermilion Regional Airport. The (Danville) Commercial-News reports ...
An Unintended Visitor Lands at Rosecrans
- KQ2 | StJoeChannel | Coming out of St. Charles, Missouri, a World War II era B-25 Mitchell developed mechanical problems and had to come in for a precautionary landing Saturday. The old war bird was on its way to Nebraska for an air show. Built in 1944, she's 67 years old ...
WWII pilot will tell her stories in Ocean Township Tuesday
- Asbury Park Press | OCEAN TOWNSHIP — Bernice "Bee" Falk Haydu will talk about her experiences in the Women's Air Force Service Pilots (WASP) in World War II at a lecture Tuesday night.Near4ly 2000 women became WASPs, flying and testing airplanes during the war. ...
Follow Tuesday's Honor Flight for WWII vets
- The State Journal-Register | The veterans, accompanied by 79 guardians who have volunteered to assist them throuhout the trip, will visit various DC-area landmarks, including the World War II Memorial, Arlington Cemetery and the National Air and Space Museum. ...
Biggin Hill Family Open Day remembers Battle of Britain
- News Shopper | Airport managing director Jennifer Munro said: "The family open day was designed to be a completely different event from the traditional Biggin Hill Air Fair, opening the airport up to our neighbours and creating a relaxed, fun day out. ...
Flypast at WWI air base memorial - WATCH VIDEO
- Lynn News | The memorial was unveiled by Sir Michael Beetham, Marshal of the RAF, with a guard of honour from members of RAF Marham and a flypast by a tornado. It was dedicated by the Rev Canon Stuart Nairn. Mr Burchell said: "We are very pleased. ...
Air Zoo plane on display at Oakland County International Airport
from General Aviation News | Guests traveling through Michigan's Oakland County International Airport's new main terminal will notice the Air Zoo's Pitts Special flying high above their heads.
Vang's War
| History of Flight | Air & Space Magazine | How the fighting in Southeast Asia transformed a curious young man into a fiercely dedicated pilot.
It gets a Green Flag exercise at Nellis Air Force Base
from CavokBlog | More than 130 soldiers of the 9th Squadron Bomber and 9th Maintenance Unit Aircraft Air Force Base Dyess, left on Sept. 8 to participate in military exercise Green Flag that will occur between the 8th and Sept. 23 at Air Base Nellis, Nevada. Exercise Green Flag is to prepare the Air Force and ...
Helicowboys: Life in the Death Zone | Movie Monday
from Leaving Terra Firma by Matt Everett | If I told you I had 2000 head of cattle and I needed to move them across 40 miles of desolate unforgiving scrub, what image would pop into your mind? Probably something like stereotypical old-west cowboys herding cows across rangeland to a ranch from horseback. I don't know about you, but I'm sure that ...
Lake Erie College thrilled with gift of airport, vintage planes (gallery)
- Plain Dealer | Lake Erie College gets airport, vintage planes gallery (4 photos) LEROY TOWNSHIP, Ohio -- Seventy-five years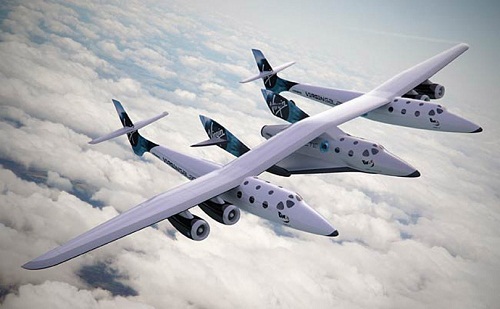 after Amelia Earhart spoke to the aviation club at Lake Erie College, the institution again is dreaming of flight classes after receiving a ...
SparkFun Visits Scaled Composites
by Pete-O | ... A few months back, I was contacted by one Elliot Seguin. Elliot was doing employment screening for a company called Scaled Composites, and wanted to talk to me about how we choose engineers here at SparkFun. Now I'm sure a certain segment of you are saying "Dude! No way!!!" To you, I say "Dude Totally!!! OMG!!!" To those of you saying "So what?", these are the guys that won the Ansari X Prize for sending ...