Lakota High School graduate flies Navy fighter
- Dayton Daily News, OH
The Super Hornets are to be used in flying demonstrations Saturday and Sunday at the
Vectren Dayton Air Show
. Felini, formerly of West Chester in Butler ...
Air Show Takes Flight This Weekend
- WHIOtv.com, OH
The
Vectren Dayton Air Show
takes off this Saturday at 9 am at the Dayton International Airport. The F-22 jet is one of the show stoppers of the weekend and ...
Watch out for heat stroke through weekend
- Dayton Daily News, OH
So if you plan on hitting the
Vectren Dayton Air Show
this weekend or enjoying the outdoors in other ways, use common sense and "don't overdo it," health ...
Duluth air show draws fans and foes
- Minnesota Public Radio [via Twitter]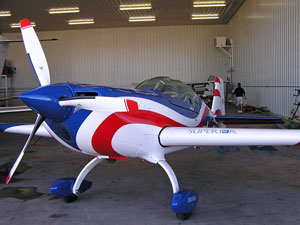 John Klatt's air show team maintains two aerobatic stunt airplanes. This one, in a Duluth airport hangar, is used primarily to provide rides to potential Air Guard recruits or news reporters. He flies a slightly smaller Staudacher S-300D in airshows. ...
The Duluth Air Show Is Here
- Northland's NewsCenter, MN
From rare US World War II fighter planes... to the
Blue Angels
themselves...the sky will be full of a variety of different aircraft all weekend long. ...
"THIS Bud's 4-U!" - #1 Super Corsair
- AAFO
In light of the recent $52 Billion corporate aquisition of Anheuser-Busch by Belgium's InBev to become the Global Leader in Beer- here's a photo tribute to Budweiser's brief foray into

Unlimited Air Racing

sponsorship. ... [note: photos follow - nice piece of air racing history]


Red Flag 07/21/2008 - 08/01/2008
from FenceCheck Forums
http://www.nellis.af.mil/news/story_media.asp?id=123106756
Photos: Up, up, and away at Farnborough Air Show
- Cnet
This unconventional rotorcraft is the Bell/Agusta BA609, which made its first-ever appearance at the Farnborough air show. ...
Picture of the Week: AVweb's Flying Photography Showcase
from AVweb
This image from Gary Plummer of Burlington, Ontario (Canada) was one of the first we laid eyes upon this week, and it set the tone for all the photos that...
Fun Takes Off at East Fortune
- RedOrbit, TX
Thilthorpe founded what has evolved into TSA Consulting Ltd in 1986, and now also organises the
Red Bull Air Race
Series. "Our job at East Fortune is to ...
'Young Eagles' Passes Flight To New Generation
- WCCO, MN
"There's a declining number of pilots in the United States," said
Young Eagles
volunteer pilot Bill Brown. The group decided to do something about the low ...
Floatplanes in British Columbia
from 2flytv by 2flytv editor
...friend Doug Okin sent in these pictures and short article about his recent trip to Whistler, British Columbia. ...
For the latest
News @ Full Throttle
and additional features visit
www.IndyTransponder.com
© You may also subscribe for daily automatic E-mail delivery directly to your Inbox!