CAF asks for support against proposed amendment from General Aviation News by Janice Wood | In response to a proposed amendment from Congressman Michael Turner to the House National Defense Authorization Act (H.R. 4310) that, if allowed to pass, would have a devastating
effect on civilian operated historic military aircraft, the Commemorative Air Force has put together a letter that will be sent to the Committee on Armed Services. CAF officials are asking pilots and aviation enthusiasts to sign the letter...

Five join Hall of Fame board from General Aviation News by Janice Wood | The National Aviation Hall of Fame (NAHF) has added five aviation leaders to its board of trustees: Retired Army four star General Richard "Dick" Cody, 2011 NAHF Enshrinee Harry Robertson, attorney Geraldine Carolan, Air Force acquisition expert Frances Duntz, and financial professional Mark Sparling...

Today's forecast: Sunshine and Blue Angels - Pensacola News Journal | The Navy's flight demonstration squad is set to fly at 8:30 am today and Wednesday at the National Naval Aviation Museum, 1750 Radford Blvd., at Pensacola Naval Air Station. The forecast calls for sunny skies, with a high near 71.

Fan Contests Announced for Jones Beach Air Show - Patch.com | John Klatt – National Guard Reserve; Matt Chapman; David Windmiller and Ed Hamill, who will fly the Bethpage Bi-Plane. For up-to-date information about this year's show, visit www.bethpageairshow.com. For further information, contact the New York State ...

A N'Awlins Air Show isn't planned at NAS-JRB NOLA next year - NOLA.com | Air show fans unable to get fix this past weekend, when the aerial demonstration over Lake Pontchartrain was nixed due to foul weather, won't get satisfaction locally next year, either. A N'Awlins Air Show isn't...

AIRSHOW NEWS: Wings and Wheels set to unleash a Tornado of Explosive Excitement from Flightline UK | The penetrating roar of jet engines accompanied by the unmistakable thud of machine-gun fire, heart pumping explosions and fierce heat from fireballs will have crowds on their feet in a flurry of anticipation and adrenaline at Wings & Wheels 2012 as the RAF Tornado GR4 display perform an astonishing and intense simulated attack on the airfield. It's guaranteed to blow your mind!...

Airshow history made - Shoreham Herald | AN insight into RAF operations in Afghanistan will be given to visitors at this year's Shoreham Airshow. For the first time in the airshow's history, two Tornado GR4 aircraft from the XV Squadron will perform a role demonstration. Airshow press officer ...

Red Tail Squadron Lands at Moton Field from Alabama Aviator - Aviation News | TUSKEGEE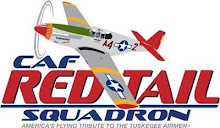 ALABAMA- The CAF Red Tail Squadron's Mustang fighter landed at Moton Airfield in Tuskegee, Alabama last weekend. The P-51C, flown by Brad Lang, a Delta Airline Captain is the son of Tuskegee Airman Donald Lang. It had to rate +10 on the cool meter. Moton Airfield is the place it all began where the group known as the Tuskegee Airmen first trained to fly...

Pacific Aviation Museum executive director criticizes Pearl Harbor runway ... - The Republic | AP HONOLULU — The executive director of the Pacific Aviation Museum Pearl Harbor is criticizing a Navy plan to build solar panels on a historic runway on Ford Island. Kenneth DeHoff told the Honolulu Star-Advertiser (http://bit.ly/JMr8aR ) it's an ...

fabforgottennobility: P-38 night version
from Planeshots
Nose Art and Names: Personalizing Our Aircraft - More Than Warbirds
from The Aero Experience by Carmelo Turdo | Nose art and dedications on aircraft are found outside of the warbird community, and finding examples around your local airport or fly-in is a rewarding experience. Some are...
Goldtimer Birthday Party with a LI-2 and Other Beauties
from Roger-Wilco by krisztina | Crystal clear skies with just a few fluffy cumulus clouds above Budaors Airport provided the perfect setting for this special day, the 20th Anniversary of the Goldtimer Foundation. The sun was shining down on the participants of this flying jamboree which quickly evolved into a real family event...
Brett Gilmore Restoring a Fairchild 24
from Antique Airfield News | Brett Gilmore's friends on Facebook are treated to a stream of photos showing his restoration progress on a Fairchild 24. Here's a background story by Brett's father Mark Gilmore and photos. Very nice work Brett!...
Jetman "Yves Rossy" Breathtaking Fly Over The Swiss Alps
from Bonjour BlueSky
Where are all the Orbiters going?
from How I Am Becoming An Astronaut by Damaris Sarria Toepel | This month NASA has commenced the delivery of its four Space Shuttle orbiters to their final destinations. After an extensive decommissioning process, the fleet -- which includes three former working spacecraft and one test orbiter -- is nearly ready for public display...
SpaceX, NASA looking for new Falcon 9 launch date following slip
from NASASpaceFlight.com by Chris Bergin | Following SpaceX's announcement that their Falcon 9 launch date will be slipping from its April 30 target, evaluations are taking place – in cooperation with NASA – to ascertain when the Dragon spacecraft can make its debut attempt to berth with the International Space Station (ISS). With an unofficial NET date of May 7, Dragon may yet have to dodge an upcoming Soyuz mission....
Shuttle Enterprise Flight Over New York City Metro Area Moved To April 27
from PR Newswire: Aerospace/Defense | WASHINGTON, April 24, 2012 /PRNewswire-USNewswire/ -- NASA managers, in coordination with Intrepid Sea, Air and Space Museum officials, tentatively are targeting Friday, April 27, for the ferry of space shuttle Enterprise from Washington Dulles International Airport...