US Navy Commemorates Bicentennial of the War of 1812 - MarketWatch | A series of public events will continue in additional cities across the nation this year, featuring Sailors and Marines, US Navy & international warships, the Navy's Blue Angels Flight Demonstration Team, as well as equipment and static displays...

It's airshow season, baby! TUSCALOOSA, Ala. (March 30,... from You like airplanes, too? by
marvinsmith | TUSCALOOSA, Ala. (March 30, 2012) Capt. Greg McWherter, commanding officer and flight leader for the U.S. Navy flight demonstration squadron, the Blue Angels, leads a...

Landfair arranges Blue Angels flyover for Wahoos' opener - Gulf Breeze News | Landfair Thanks to Gulf Breeze City Councilman David G. Landfair, the famed Blue Angels US Navy flight demonstration squadron will execute a patriotic flyover prior to today's inaugural The ...

Local Latin singer Jennifer Peña to sing National Anthem at 'Wings Over South ... - Corpus Christi Caller Times | While Peña will sing the National Anthem US Navy Leap Frogs will do a fly over carrying the National Ensign to the flightline center stage. Peña, known for her Tejano/Pop music, has sold more than 3.5 million records internationally...

Crowds build for Warbirds - Stuff.co.nz | ... tractors and amazing aircraft including the C-130 Hercules, an aircraft carrier, which has arrived. Today, all aircraft will be going through flying practise in preparation for the launch of the two-day event starting tomorrow. stimes 6april warbirds...

Catch a flight into aviation history over skies of South Florida - MiamiHerald.com | Jack Lombardi was so stoked to fly in the co-pilot seat of a 1929 passenger plane at Fort Lauderdale Executive Airport that he arrived on the tarmac two hours earlier than scheduled. "I've been interested in aviation since I was a ...

Paul Poberezny Takes Granddaughter Up for Likely His Last B-17 Flight from EAA - The Experimental Aircraft Association | EAA Founder Paul Poberezny has flown nearly 500 aircraft types and logged more than 30,000 flight hours in his 90-plus years, but he called his 30-minute flight on mid-day Wednesday morning in EAA's B-17 Aluminum Overcast 'the highlight of my career.'...

Crash Claims Warbirds Hall of Famer Howard Pardue from EAA - The Experimental Aircraft Association | EAA Warbirds of America Hall of Fame member and veteran Reno race pilot Howard Pardue, 77, died Wednesday as a result of a plane crash in Breckenridge, Texas. According to reports, Pardue took off in his Grumman F8F Bearcat from the Stevens County Airport (KBKD), but immediately developed a problem that caused the plane to crashed and catch fire less than 2 miles away from the runway...

Podcast: Randy Ferris's P-47 Project – The Warbird Rescue Hour – Thursday – 8pm (EASTERN)
from WarbirdRadio.com by Matt | WARBIRD RADIO – Join the Warbird Rescue gang tonight at 8PM EST as they talk with Warbird Rescuer Randy Ferris. Randy has been on several excursions to the Solomon Islands, and has recovered a very rare P-47B Thunderbolt. Find out how the restoration is...

Ghosts of the Air Age Harald Penrose was born at the dawn of... from x planes |
Harald Penrose was born at the dawn of the aviation age, his very first flight as a boy being with the pioneer aviator Alan Cobham. His career spanned the Second World War and the advent of the jet and helicopter age. One of my favourite bits of his writing is from...

Little-known or rarely cited facts about Hampton - Daily Press | The 1938 Metro-Goldwyn-Mayer movie "Test Pilot" starred Clark Gable, Myrna Long, Spencer Tracy and Langley Field B-17 Flying Fortresses and their crews. While the majority of the movie was shot at March ...

The Sky's No Limit - Girls Fly Too! - Canadian Skies | As it turns out, WOAW is the invention and initiative of another Ninety-Nine and fellow Canadian, Mireille Goyer, who was disappointed at the lack of international awareness and interest in the centennial anniversary of French aviatrix Raymonde de...

Lester Matthew Fritz - The Wenatchee World Online | He had many memorable flights: one, a flight in Stan Bryant's open cockpit WWII Biplane (with aerobatics) in his 70's, and last summer's ride in a vintage warbird B-25 Bomber "Maid in the Shade" at the tender age of 87. He sure had "pudding face" after ...

Solar Impulse Aims For 1,500-Mile Flight from AVweb Top News | It has already set three world records and now the solar and battery powered aircraft Solar Impulse will attempt a two-day flight covering 1,500 miles flying out of Switzerland for Morocco. That flight is scheduled for May or June. The aircraft will stop in Spain so the crew can switch pilots and won't use a single drop of fuel during the flight. Solar Impulse has already set endurance and altitude records during an earlier 26-plus hour flight and another record earned in 2010 for manned flight powered only by sunlight. The Solar Impulse team is stepping up toward significantly higher goals...

Last flight of the last Vimy from Apron 6

Navy's Newest Squadron Prepares for New F-35 Fighters from Pilot News Magazine | Navy personnel are busy preparing to teach the next generation of Sailors how to work with and fly the newest military aircraft, the F-35C Lightening II Joint Strike Fighter, as Strike Fighter Squadron 101 (VFA-101) readies for its stand-up ceremony on Eglin Air Force Base May 1. The F-35 is a single seat, multi-role fighter aircraft with the capability to perform...

NASA T-38 Supersonic Jets Fly Over US Capital from SPACE.com | The T-38 jets flew about 1,500 feet over the Washington, D.C. metropolitan area.

Terrafugia's Transition Makes Maiden Flight from EAA - The Experimental Aircraft Association | Terrafugia announced Monday morning that the production prototype Transition roadable aircraft made its maiden flight on March 23 at the Plattsburgh International Airport in Plattsburgh, New York. The same vehicle, which earlier conducted initial drive and conversion testing, qualifies as a light-sport aircraft. The company calls the flight 'a significant step' toward bringing the Transition to market, which is expected to occur 'within the next year.'...

Pilot Describes Amazing Talk-Down Landing from EAA - The Experimental Aircraft Association
On Monday afternoon Robert Vuksanovic was out mowing the lawn at his Sturgeon Bay, Wisconsin, home when suddenly a low-flying twin-engine airplane streaked over his property. He noticed it but thought nothing particularly unusual about it....

Recordings capture drama of 80-year-old Wisconsin woman's emergency airplane landing - pilotnewsmag.com | If Capt. Chesley Sullenberger was the Hero of the Hudson, Helen Collins is the Savior of Sturgeon Bay. Collins, 80, remained cool and collected as she safely landed a twin-engine plane in Wisconsin on Monday after her pilot husband suffered a fatal heart attack mid-flight, newly released radio...

Pilot Finds Snake Down Under from AVwebFlash Current Issue | Branden Blennerhassett, a 26-year-old pilot for Air Frontier, Australia, thought he was flying alone in a company Beechcraft Baron G58 out of Darwin Tuesday when he saw a head pop out from behind the instrument panel. According to a local ABC news affiliate that contacted Blennerhassett, the pilot quickly contacted a controller to explain his concerns. "I'm going to have to return to Darwin. I've got a snake on board the plane." Blennerhassett couldn't identify the snake and didn't want to risk too much movement. He imagined that could elicit a venomous bite. Unfortunately for him, during the approach, things got a bit more intimate...

NAA SST concepts from The Unwanted Blog | A photo of unfortunate quality showing a collection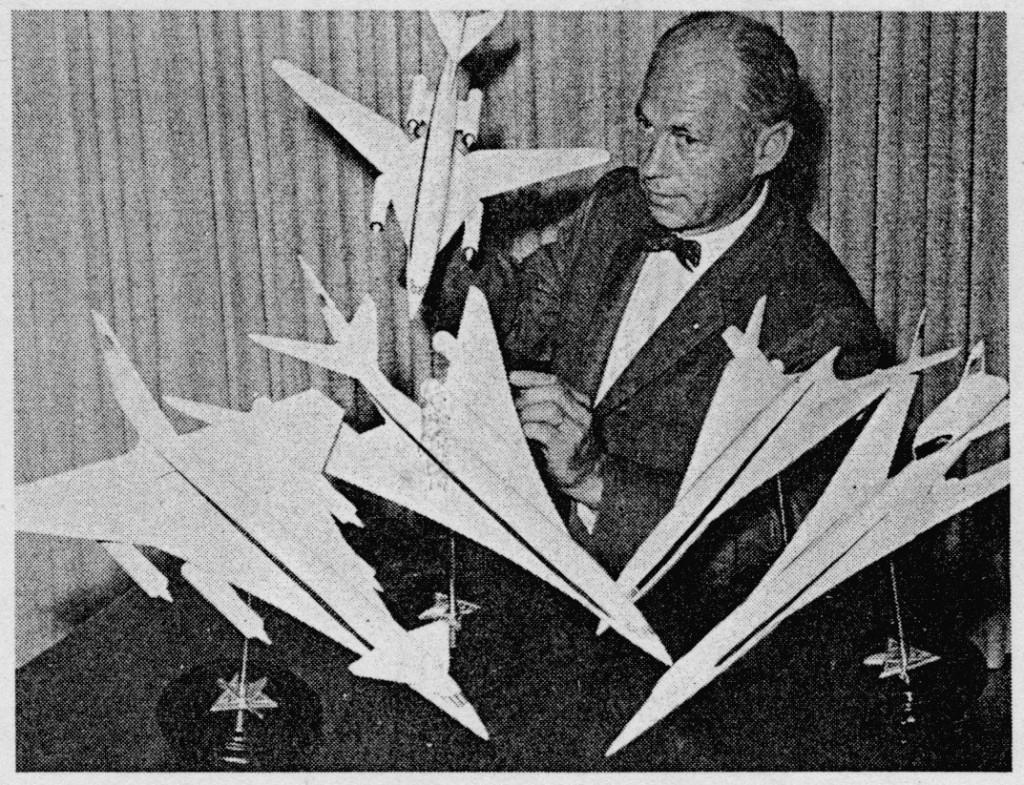 of supersonic transport designs from...

New Build A Plane Program Challenges Kids from EAA - The Experimental Aircraft Association
Build A Plane, a nonprofit organization that solicits aircraft donations and redirects them to schools across America, announced Kids Across America at Sun 'n Fun in Lakeland last week - a program that encourages kids to find sponsors who will pledge per-mile donations for their journeys to EAA AirVenture Oshkosh 2012....

Breaking Barriers: Q&A with Space-Bound Tuskegee Airman Le Roy Gillead from SPACE.com
Le Roy Gillead hopes to take his free trip to suborbital space next year.

NASA Extends Kepler Mission Through 2016 from PR Newswire: Aerospace/Defense | The Ball Aerospace & Technologies Corp. Kepler Mission for NASA will continue its mission following a program extension through 2016...