Blue Angels will fly on Saturday in Navy Week NOLA air show - Bayoubuzz | Susan Poag,The Times-Picayune SUSAN POAG/ THE TIMES-PICAYUNE Support staff for the Blue Angels, the
US Navy's Flight Demonstration Squadron, exit from "Ernie" the C-130 cargo jet that is the back up for "Fat Albert" arrived at Naval Air Station/Joint ...

Riding with the Blue Angels: a sneak peak of today's airshow - NOLA.com | By Blake Bertuccelli To preview their Nola Navy Week airshow today and Sunday, I was lucky enough to ride with the Blue Angel squadron in their C-130 Aircraft, "Ernie." A C-130 is normally used to provide tactical support to our armed forces, ...

Navy Week NOLA air show is still a go -- for now -The Times-Picayune | As of sundown Friday, the Navy Week NOLA air show over Lake Pontchartrain was scheduled to go on as planned Saturday, with the Blue Angels flight demonstration squadron as the headline act. But the final call will be ...

F-16 pilot awaits hometown air show appearance - Washington Examiner | AP AP Top Entertainment News At 11 pm EDT NEW ALBANY, Ind. (AP) — About the time the National Anthem reaches the "Home of the Brave" lyric during Saturday's Thunder Over Louisville air show, Drew Hauber should be cruising overhead at about 350 mph.

BAFB Air Show economic impact expected to top $3 million - KSLA-TV | Despite Friday's rain, the Defenders of Liberty 2012 Air Show is still set to take off as scheduled Saturday at Barksdale Air Force Base. It's estimated that the direct economic impact from this weekend's show will top $3 million.

Biplane rides a great way to see Wisconsin countryside - Milwaukee Journal Sentinel | In between, Dylan, his sister Abbie, Maddie Clark, this scribe and aviator Davis - who flew from a separate cockpit behind us - soared over freshly plowed farm fields, suburban subdivisions, busy highways and a quarry or two.

Boulder Reservoir Re-Opens To Model Aircraft from Aero-News Network | Model Runway Closed Due To Concerns Over Protected Species The city of Boulder, Colorado has reached an agreement that will reopen the airspace over Boulder Reservoir to model aircraft once more. The city Parks and Recreation Department had shut down the runway used by the Boulder Aeromodeling Society due to wildlife concerns but an agreement reached a week ago Friday will allow the group to resume model flying activity.

Video: Red Bull P-38 Lightning At Duxford Flying Legends 2011 (mmmm) from AirPigz by Martt | The videos from the youtube channel of Flying Machines TV are consistantly amazing, and this one of the Red Bull P-38 Lightning flying at the 2011 Duxford Flying Legends event in England is no exception. In my mind, the...

Video: Messerschmidt Bf 109 Simulator from AVwebFlash Current Issue | If you could fly a Messerschmitt Bf 109, how cool would that be? A simulator is the next best thing. In this AVweb video from Aero 2012 in Friedrichshafen, Germany, we get a sim tour from Hans Schmid.

WWII Flying Ace Treats Elementary Students - Patch.com | More than 860 students participated in the re-creation event, which simulated the Berlin Airlift candy drop Halvorsen started for the Berlin children at the end of World War II. Students gathered eagerly in Leita Thompson Memorial Park while Halvorsen ...

Aviation history goes on sale - Marlborough Express | "We thought an auction would be a great way to allow people the chance to have a piece of aviation history while raising money for a very worthy cause," he said. Funds raised will go towards South Auckland-based projects run by the Foundation for Youth ...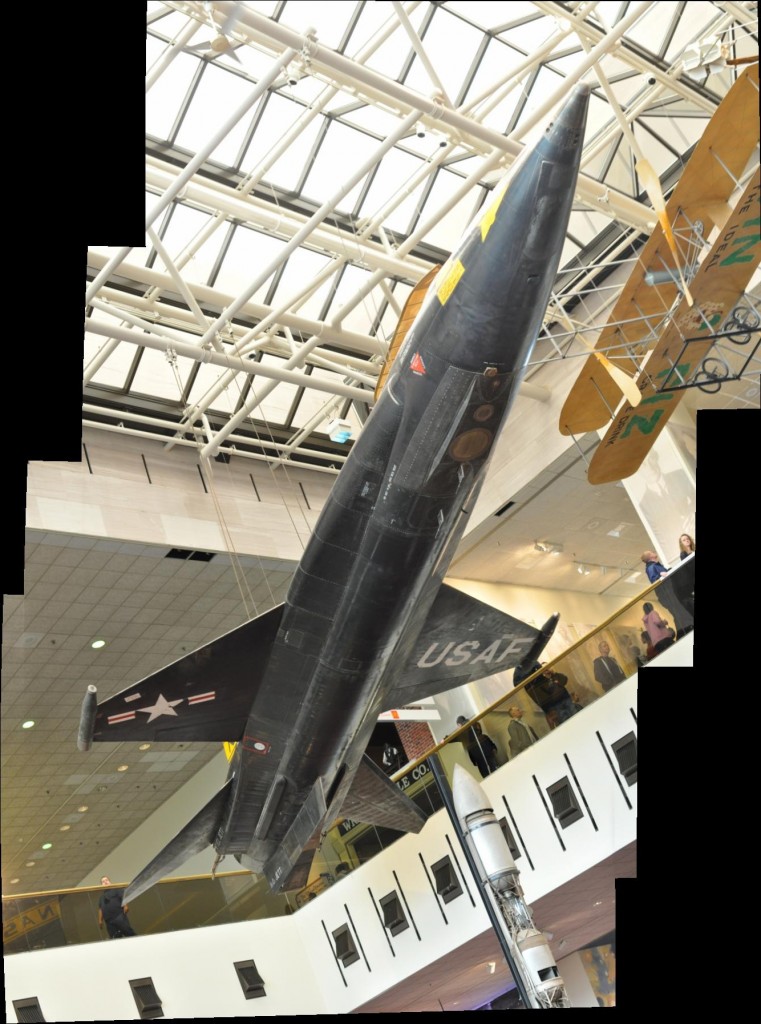 X-15 Panorama: last from The Unwanted Blog | The fourth and last of the X-15 panoramas.

Hypersonic test aircraft pealed apart after 3 minutes of sustained Mach 20 speed – Network World from Planenews Aviation News | Hypersonic test aircraft pealed apart after 3 minutes of sustained Mach 20 speedNetwork World (blog)This capability requires an aircraft that can fly at 13000 mph, while experiencing temperatures in excess of 3500F. With that information as a backdrop, DARPA describes the Falcon as a "data truck" with numerous sensors that collect data in an ...

Weather Postpones Shuttle Enterprise Flight to New York from Space Shuttle and International Space Station News | NASA's planned flight to New York City of space shuttle Enterprise atop the 747 Shuttle Carrier Aircraft (SCA) has been postponed until further notice due to an unfavorable weather forecast for Monday, April 23.

B747 and Space Shuttle Discovery Landing at Dulles Airport from TAKEOFF TUBE | B747 and Space Shuttle Discovery Flyovers Delight D.C. Area Landing at Dulles Airport. This is the final positioing flight for the Discovery to the Air Space Museum.

Shuttle Discovery Formation Final Flight from TAKEOFF TUBE | Formation flight with B747 carrying Shuttle Discovery to Space Museum

NYC-Bound Space Shuttle Prototype Enterprise Reunited with Carrier Aircraft - Space.com | by Robert Z. Pearlman, collectSPACE.com Editor Update for 4 pm EDT, April 20: The Intrepid Sea, Air & Space Museum has announced that Enterprise's flight to New York has been "postponed until further notice due to unfavorable weather forecast" for ...

NASA Transfers Shuttle Discovery To National Air And Space Museum from Aero-News Network | Bolden Says Agency's Focus Is Now On A 'Bold New Era' Of Space Exploration NASA transferred space shuttle Discovery to the Smithsonian's National Air and Space Museum during a ceremony Thursday, April 19, at the Stephen F. Udvar-Hazy Center in Chantilly, VA. "Today, while we look back at Discovery's amazing legacy, I also want to look forward to what she and the shuttle fleet helped to make possible," said NASA Administrator Charles Bolden.