Third Tuscaloosa Blue Angel Airshow Wows Crowd from Alabama Aviator - Aviation News | U.S. Navy Blue Angel pilot #6 LT Dave Tickle, a Birmingham native and Fat Albert C-130 pilot Capt.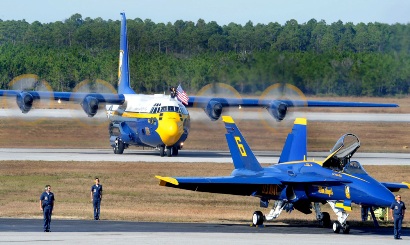 John Hecker, U.S. Marines, an Auburn graduate, along with several enlisted members from around Alabama compose the 40 plus member demonstration team that headlined the show. For those with Alabama ties, performing for their hometown crowd is extra sweet...

Fort Lauderdale Ready To Soar With Coming Return of Air Show - NBC 6 Miami | Come April 28-29, the Lauderdale Air Show will launch, featuring top-notch military aircraft along with the country's edgiest aerobatic pilots. One of them is Michael Goulian, who will fly his plane at about 275 mph, do flips and turns, ...

Baker to Thunderbird pilot from Pilots of America Message Board by Let'sgoflying! | This year's number 6 has a cool story. Apparently he first saw them fly from the roof he was working on while a baker (fixing something up there is what I heard) and that moment changed his life: Video.

It's a bird, it's a plane, it's… yep a plane - Orlando Sentinel | "So you're seeing the plane really just
put on an unbelievable aerial display with a backdrop that is second to none." You can catch Goulian and the rest of the performers during the Lauderdale Air Show April 26-29. Mike Goulian...

Tickets on sale now for Great Tennessee Air Show - The Daily News Journal | Ages 3 and under are admitted free. Box seats are $30 for adults and children. Flight line tickets, which include a catered lunch, are also available. To purchase, visit smyrnaairport.com and select Great Tennessee Air Show from the menu...

Ric Peterson – Warbird Radio LIVE! – Wednesday – 10am (EASTERN) | WEDNESDAY – Air show announcer, Canadian talk radio super star and stand-up comedian Ric Peterson joins Matt Jolley on Warbird Radio LIVE! Tune in this Wednesday morning at 10am (EASTERN) and hear what's going on in Ric's world as the 2012 air show season gets underway. For more information on Ric Peterson just click on...

WWII Heritage Days - Sacramento Bee | Experience the sights and sounds of the Greatest Generation when the Commemorative Air Force (CAF) Dixie Wing hosts the ninth annual "WWII Heritage Days" April 14-15, 2012. The history festival will be held at The Historical Airpower Facility, ...

Jerry Moore: Local resident was part of a truly heroic group - Suburban Life Publications | He was part of a crew aboard a B-25 called Bright Eyes that flew a silent mission when the plane malfunctioned and crashed. Wilson spent more than three years in the hospital recovering from multiple injuries. These included losing part of his left leg ...

WWII airman's family in Houston receives fragments of his plane in the mail... - Houston Chronicle | This is the crew of the C Batt, a World War II B-17 bomber named for C Battery at Pearl Harbor. Lt. Kemp F. Martin was the navigator. His friend, Lt. Ben Pasero, was the pilot. They served with 20th Squadron, 2nd Bomb Group...

Memphis Belle bomber plane takes shape again in restoration - The Republic | Instead, crews from the National Museum of the US Air Force in Dayton have been restoring the World War II B-17 Flying Fortress with an eye to having it back on display by 2014. Built at a Boeing factory in Seattle at a cost of about $314000, ...

Rearwin Speedster 6000M from Planeshots


1928 Heath added to Air Zoo collection from General Aviation News by Ben Sclair | The Air Zoo has added a 1928 Heath Baby Bullet to its collection. Made by the Heath Airplane Co., it was used in various air races and air fairs during the Golden Age of Aviation....

Solar Impulse Plane Could Set More World Records - Huffington Post | Pioneering Swiss solar-powered aircraft Solar Impulse piloted by German test pilot Markus Scherdel takes off for its unique flying display at the Paris International Air Show at Le Bourget airport near Paris on June 26, 2011 on the last day of the show ...

I Was There: Bring Down the Spyplane - airspacemag.com | MIG-17 vs. Lockheed U-2. | Han De Cai was born in 1933 into a peasant family in Anhui province, an impoverished area of China. He was a farm laborer and was also a beggar. In February 1949, after Communists liberated his village, he joined the People's Liberation Army. He was 16 years old and had one year of education. In June 1950, like many PLA soldiers, he answered Chairman Mao's call for a strong air force and volunteered to become a pilot....

Future of Flight's popularity soars - The Leading Aviation Industry Resource for News, Equipment and | Thanks to a recent General Electric aviation program, the center received $132000 to equip the exhibit gallery with a theater that includes a 17-by-30-foot projection screen, black curtains for the hangar door and motorized shades for the gallery ...

AH-1W Cobra Live Fire Demo (2012) from AIRBOYD.TV

Build A Plane kicks off Kids Across America from General Aviation News by Janice Wood | Build A Plane unveiled a new campaign called Kids Across America at Sun 'n Fun. The new program encourages kids to find sponsors for every mile they travel to reach AirVenture 2012 in Oshkosh. The kid who raises the most money wins a complete Private Pilot course from Red Bird Flight Simulations. Runners up can win other prizes like a week vacation to the Bahamas from Air Journey or a $1,000 scholarship from AOPA...

NASA - NASA T-38 Aircraft to Fly Over Washington Metro Area on April 5 - www.nasa.gov | NASA, in cooperation with the FAA, will conduct training and photographic flights on Thursday, April 5, over the Washington, D.C. area...

NASA Announces Events For Shuttle Discovery Departure from PR Newswire: Aerospace/Defense | CAPE CANAVERAL, Fla., April 3, 2012 /PRNewswire-USNewswire/ -- Events and operating hours for the Press Site at NASA's Kennedy Space Center, Fla., are set for space shuttle Discovery's departure. A NASA Shuttle Carrier Aircraft (SCA), a modified 747 jet, will transport Discovery to...