Navy Week begins with tall ships' arrival - WWL First News | ... take pictures, even ask questions of the sailors. The ships will be docked through Sunday afternoon. The Navy Blue Angels flight demonstration team performs two shows for Navy Week, Saturday and Sunday afternoon over Lake Pontchartrain...

DeKalb Peachtree Airport's Annual Good Neighbor Day and Open House Air Show from Alabama Aviator - Aviation News | This year's airshow sponsor, the Jim Ellis Automotive Group Atlanta, has gone over-the-top to provide what will truly be the Best Civilian Airshow in the country. Committals to this year's airshow includes: Team AeroShell, world renowned Gary Ward in the MX2, U.S. Aerobatic Champion Skip Stewart in his...

Pilots take to the sky to promote air show - New Bern Sun Journal | Sheehan and McKinley, part of the Raiders Flight Demonstration Team, spent Monday flying barrel rolls, loops and other stunts to promote the upcoming Cherry Point Air Show to be held May 4-6. McKinley, who lives in Shrewsbury, Mass., ...

Marine Aviation Centennial Bell casting ceremony and fundraising dinner - Examiner.com | The Marine Corps Aviation Association (MCAA) McCutcheon Squadron of North Carolina is erecting a memorial bell tower on the 100th anniversary of the first flight of the first Marine Aviator, Lieutenant Alfred A. Cunningham, who also became the first ...

Snowbirds annual migration to Comox Valley - North Island Midweek | The snowbird team (above and below, right) will return to 19 Wing Comox this spring, ending its visit with an air show scheduled for May 4. By Staff Writer - North Island MidWeek A sure sign of spring in the Comox Valley is not visible on the ground or ...

"Commander Frank Erickson hoists Igor Sikorsky"... from x planes


Ginger Resigns From Event Planner Position from Nordo News | I have resigned my position as event planner at Lee Bottom Flying Field....

Air show set to take off again - Grand River Sachem | The Canadian Forces Snowbirds, CF-18 Hornet and more than 40 war birds highlight the Hamilton International Air Show on Father's Day weekend in June. "We're pumped," said Al Mickeloff, marketing director at the Canadian Warplane Heritage ...

No Binghamton air show this year - YNN | The Binghamton Air Show is being cancelled for the third consecutive year. Our Melissa Kakareka spoke with airport officials to find out why it's cancelled and when the show might return. Then come back here and refresh the page...

Air Racers 3D - LiveAirShowTv.com | PFLUGERVILLE, TX - APRIL 17,2012 - LiveAirShowTV's behind-the-scenes story on the making of Air Racers 3D has been picked up and promoted by the Giant Screen Cinema Association (GSCA)! GSCA's core purpose is to advance the business of producing and presenting educational giant screen and immersive cinema experiences globally. This should bring even more attention to the Reno Air Races and this wonderful IMAX 3D film.
Click HERE to find out more about the GSCA on their web site
Click HERE to see: Air Racers 3D: A First Look

Tennessee Aviation Hall of Fame Announces New Chairman from Alabama Aviator - Aviation News | SMYRNA TN -Tennessee Aviation Hall of Fame Founder, Bob Minter of Gallatin, Board Chairman for the past decade, and Board Members presented a "plan of succession" to assure the aviation hall of fame's future. Minter announced his plans to retire following Last year's 10th Anniversary TAHF Gala event. On February 22nd Mr. Minter and the TAHF Board handed the gavel to John R. Black, Executive Director of the Smyrna Rutherford County Airport. The Board then named Minter, Founder & Chairman Emeritus as well as a lifetime board member...

Member of "Flying Tigers" comes to China again - People's Daily Online | Degraaf Hank who participated in the "Air transport mission over the Hump" is the only living member of 93 years old of the American Volunteer Group (AVG) famously nicknamed the "Flying Tigers" which fought Japanese aggressors together with Chinese ...

Adventure House Unearths a Great Aviation Series from the Pulp Era from S. Mark Rhodes |
The pulps of the 30s and 40s are a rich (though somewhat forgotten) treasure trove of American storytelling not necessarily at its best, but maybe at its most memorable and original. Memorable and...

Falling in love with a Cassutt from Steve Weaver | In the summer of 1974 I was operating a Flying Service in the northern part of West Virginia. My days were full to overflowing as I jumped between management duties and flying, managing the bustling FBO when I could and flying when I was needed to fill-in for the other pilots....

Florida Antique Biplane Association March/April Newsletter from Antique Airfield News | Here's the Florida Antique Biplane Association March/April 2012 Newsletter, along with the updated classifieds list. This month has several fly-in reports featuring the "Under the Wing Thing" at Sun n Fun.

Tommy Bullion's Military Trim Stinson V77 from Antique Airfield News | These beautiful air to air shots of Tommy Bullion's extremely original Stinson V77 are care of renowned aviation photographer Jim Koepnick. Tommy's Stinson was...

Hawker Hunter make-over 2012 update 17-4-2012 - xe606 | Second day at RAF Barkstone heath
re-painting the 8 Squadron Hawker Hunter in hangar two, which today involved a morning's 'rubbing-down' to remove the painted-on decals of the former squadron, but after some serious 'abrasive-action' this was done by just after 12.30, then after 'tea' started to put the Vinaprime 'primer' coat on the aircraft, and around 3pm, Barry rolled-up and looked 'happy' with the progress. Joining me today was...

Selfridge Military Air Museum to Restore Old Plane - Patch.com | By John Hetzler Volunteers from the Selfridge Military Air Museum watch as a crane lifts the fuselage of an F-89 Scorpion off a flatbed truck into an aircraft hangar at Selfridge Air National Guard Base, Mich., April 16, 2012...

Solar-Powered Plane Doubles Range - Engineering on the Edge | While most of the focus on electric vehicles has been terrestrial in nature, there have been significant advancements in the world of hybrid-electric aircraft over the past few years, primarily because the weight and cost of the batteries have ...

Retired Shuttle Deliveries In Progress from Alabama Aviator - Aviation News | WASHINGTON-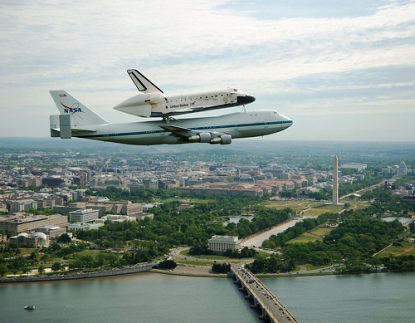 The Space Shuttle Discovery flew over Washington D.C. earlier this morning, next the Space Shuttle Enterprise will be coming to New York City on April 23rd. NASA's 747 Shuttle Carrier Aircraft (SCA) with space shuttle Enterprise mounted atop will fly at a relatively low altitude over various parts of the New York City metropolitan area on Monday, April 23...

Astronaut David Wolf from Indianapolis to speak at Purdue graduation in May - Indianapolis Star | NASA astronaut David Wolf, who graduated from an Indianapolis high school, peers through an airlock window of the International Space Station from space as he prepares to begin his third spacewalk during the STS-127 mission July-August 2009...

Aerospace Community Mourns the Passing of Warren North from The Aero Experience | ...After earning a bachelor of Science degree from Purdue and two masters degrees in aeronautical engineering from Case and Princeton, he participated in the formation of NASA, served on the selection team for the seven original astronauts, completed rigorous astronaut training with them, worked on Projects Mercury, Gemini, and Apollo and rose to one of the most important positions at NASA, Chief, Flight Crew Operations Division, Manned Spacecraft Center, Houston, Texas. Astronaut selection, training, evaluation and designs for spacecraft operations were all part of his job description....