Extreme aerobatics - Kingsville Record | Former world aerobatic champion Rob Holland takes
aerobatic performance to its extreme in his MX-2 Veterans Home Loan aircraft. Holland has been flying in air shows professionally since 2002, making him one of the youngest professional air show pilots ...

Thousands flock to air show - Radio New Zealand | The start of the Warbirds over Wanaka international air show has attracted the biggest crowd in years. The event's chief executive, Roger Clark, says about 35000 usually attend the event on Easter Saturday, but fine weather has brought more people than ...

Vintage warplanes thrill World War II vets in Oklahoma City - NewsOK.com | 'Wings of Freedom' gives World War II veterans a chance to ride on B-17 and B-24 bombers and a P-51 Mustang fighter at Wiley Post Airport. A P-51 Mustang fighter also is on display. By Matt Patterson | Published: April 7, 2012 Leave a comment After ...

Local aviation assets shown at Lone Star show - Rome Sentinel | Representatives of Mohawk Valley EDGE, Griffiss International Airport and the airport-based aircraft technician training school pressed the flesh this week at a major aviation Maintenance trade show in Dallas, Texas. The MRO Americas Conference ...

Red Arrows roar into town for Pirate Day - Hastings and St. Leonards Observer | The Red Arrows have dropped their annual display at neighbouring Eastbourne's annual Airbourne show in favour of a performance in Russia. Their upcoming visit, expected to start between 5pm and 5.30pm, comes after successful negotiations with Pirate ...

Jeff Lee from LiveAirshowTv sent in the link to this local story about Howard Pardue. It gives us some more insight into what a friend he was to everyone he met.

History takes to the air - Kingsville Record | Sponsored by the US Air Combat Command, this year's Heritage Flight promises to be a memorable event. Maj. Dylan Thorpe will pilot a US Air Force A-10 "Thunderbolt II" alongside The Horsemen Flight Team members Steve Hinton in the P-38 Lightning and ...

Fourth of July Seaplane Adventure To The Sub Arctic from Midwest Flyer by mwflyer

by Philip Mattison My wife, Kathleen (Kath), and I were looking for a floatplane trip last mid summer, so we called Brian Schanche of Adventure Seaplanes at Surfside Seaplane Base in Minneapolis. Brian invited us to fly a two-ship trip...

Sun 'n Fun At the Crossroads - AVweb (blog) | By Paul Bertorelli Walking around in our bright green AVweb newsteam shirts at shows like Sun 'n Fun has a certain advantage I had never figured on when I picked that color out of a catalog. People stop us all the time to ask questions, offer opinions...

SUN 'n FUN 2012 – Day 3, Splash-In from Other People's Airplanes by David | Today, we head on over to the Splash-In to watch airplanes land on the beautiful waters of Lake Agnus. I'm David Allen, and I'm about to take you into the cockpit … of Other People's Airplanes. Each year, SUN 'n FUN hosts a Splash-In at the annual fly-in and expo. this event always takes place on Thursday, and for the last four years, has been hosted by Fantasy Of Flight on the beautiful waters of Lake Agnus...

Forensic Analyst From Woodinville, Wash. Aids Search For Amelia Earhart - OPB News | The trailblazing aviatrix disappeared over the South Pacific in 1937. Glickman reviewed grainy, black-and-white photos of an uninhabited coral atoll called Nikumaroro. "I noticed something in this one image that just wasn't quite right," he says...

At the helm of history: Two generations of Marine aviators share pilot perspective - DVIDS | On this day, in early military aviation history, the pilot's skills can be credited with the outcome of the mission, and the same holds true throughout the last century. "The airplane itself has capabilities, but the pilot has to know how to use those ...

90th birthday marked for beloved principal, WWII vet - Winston-Salem Journal | He served as a Navy pilot in World War II, flying fighter planes off aircraft carriers in the Pacific Ocean. He called that "just a normal thing Navy pilots do." After Japan's surrender, Gibson stayed on duty, flying reconnaissance missions over China...

Aviation Kept Veteran Motivated, Involved - The Ledger | ...Black wanted to be a pilot, but instead became an aircraft mechanic and a waist gunner on naval bombers in the Pacific. Yet his career would become deeply entwined in aviation and rocketry, going from tiny spotter aircraft to the giant Saturn 5 rockets and participating in five decades of aviation and war....

Pilots in fiery Navy jet crash faced tough choices - Seattle Post Intelligencer | The Navy did not immediately return telephone messages left by The Associated Press, but media reports indicate the two aviators were able to eject from the jet before it crashed. They were being treated for injuries that were not considered life ...

Mechanical failure causes jet crash - CNN.com Video - www.cnn.com | Navy Capt. Mark Weisgerber says a "catastrophic mechanical malfunction" caused the F-18 jet crash in Virginia Beach...

Fargo Air Museum To Expand - Valley News Live | For Roers, planes are a big deal, that's why he plans to have his birthday at the Fargo Air Museum... It's a place for people who just plain love planes and can't get enough. Roers says, "Always moving to something bigger, better and newer...

Watch Brick by Brick : Rebuilding The Past - RAF Museum | On Good Friday at 9pm BBC2 showcased the Museum's Grahame-White Watch Office Restoration Project in a documentary that explored its dismantling brick by brick from its original site, relocation to the Museum's site and its restoration back to its former glory...

York Suburban grad named admiral - York Daily Record | ... Chip Miller's parents took him to watch naval service members graduate from the US Naval Academy in Annapolis, Md. Chip sat in an airfield and watched the Navy flight demonstration squadron known as the Blue Angels rip across the sky.

F-22 SCIENTIFIC BOARD FINDINGS ANNOUNCED - Avionics Intelligence | Air Force leaders provided an update on the Air Force Scientific Advisory Board study into the F-22 Raptor life support systems and flight operations during a briefing in the Pentagon March 29. Retired Gen. Gregory Martin, an aviator and a former ...

Who wants a big X-15? from The Unwanted Blog | A professional colleague of mine has produced a 1/15 scale model of the X-15A-2, and can make a few more. The first part of the photos below show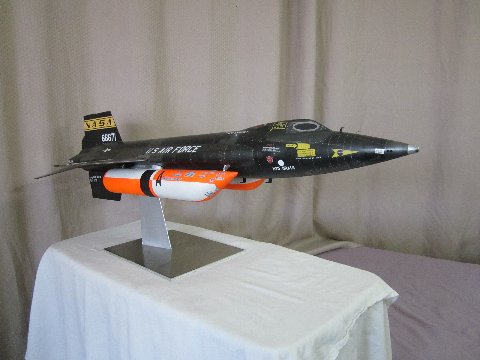 it sans stand; the second part shows it with a temporary stand. I understand that this particular model is spoken for, and will ...

My Last Post as Editor of FlightBlogger: A Thank You Note from Flightblogger by Jon Ostrower | ...This is my final post for this blog, my labor of love this past half-decade and today will be my final day as author of FlightBlogger and as a reporter for Flightglobal. FlightBlogger will continue in good hands, aerospace journalists Stephen Trimble and John Croft, who will be taking over the Boeing beat, will contribute to this page....

Kids Can Fly – And They Love it! from Flight Monkeys by Chief Monkey | Perhaps the most compelling stories we find at the airports we visit have to do with the people we encounter, not the aircraft they fly. After all, flight is natural to a whole host of natures creatures. But to mankind, it is a gift of education, respect, technology, and sharing. One of the best examples of this phenomenon that we've found lately is embodied in the father and son team of Michael and Benjamin Greenblatt....

Miracle On The Lake! - Midwest Flyer | So at last year's EAA Young Eagles dinner at EAA AirVenture, Lakeshore Aviation's seaplane instructors Curt Drumm and Dave Schmutzler donated a silent auction seaplane ride with Skiles riding along. Beau Bradley, a ...