Friends fete Hoover with Texas-sized 90th birthday party - AOPA Pilot | Among those attending were various FAA officials, including former administrator Randy Babbitt; leaders from among the FBO and fuels business; air racing aficionados; and astronauts and fellow aviators Neil Armstrong and Eugene Cernan, the first and ...

Snowbirds, fighter jets part of air show - Cambridge Times | Highlighting the show will be spectacular displays by the Canadian Forces Snowbirds, Canada's CF-18 fighter jet, daring aerobatics, warbirds and more. This two-day family event is complemented by a static display – additional aircraft parked for the ...

Air base marks 75th anniversary - Marlborough Express | Base Woodbourne trainees performed a moving Beating the Retreat ceremony last night to mark 75 years of the Royal New Zealand Air Force. Retired and serving members, including a former base commander, stood in silence as the air force ensign was ...

West Texas pilot of vintage World War II plane killed shortly after takeoff - The Republic | ...The pilot, 77-year-old Howard Pardue, was pronounced dead soon afterward....

Fantasy of Flight Hosts Seaplane "Splash-In" During Sun N Fun from Alabama Aviator - Aviation News | POLK CITY, Fla. - Fantasy of Flight once again hosted one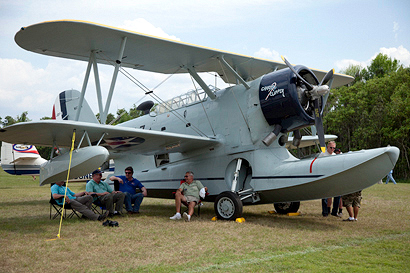 of Central Florida's splashiest events where the fun may be watered down but never diluted. The aviation attraction welcomed over 60 planes in the one-day Thursday event specifically designed to celebrate seaplanes and amphibious aircraft. Throughout the day, dozens of seaplane pilots landed in Fantasy of Flight's sparkling Lake Agnes for the fifth year. ...

Aviation company displays Clearwater man's restored Piper Cub to mark 75th ... - Tampabay.com | That all changed last week after Piper Aircraft asked her to bring her late husband's restored Piper J-3 Cub to the Sun 'n Fun Fly-In, an annual air show that attracts tens of thousands to the Lakeland Linder Regional Airport. Piper Aircraft wanted to ...

Sun 'n Fun 2012: News Coverage Round-Up from AVweb Top News | AVweb attended the 38th annual Sun 'n Fun Fly-In in Lakeland, Florida from March 27 to April 1, 2012 and brought back an assortment of news and interviews. Click here for a handy index to all our coverage from the show, including podcasts, videos, and blogs.

Sun n' Fun 2012 air show from David Cenciotti | Sun 'n Fun is a "Fly-in" and airshow held each annually at Lakeland Linder Regional Airport in Lakeland, Florida, usually in April. Participants include pilots flying their own homebuilt, vintage, restored ex-military aircraft, as well as some current display team and soloist. Among the...

Vintage plane tour concludes today at East Texas Regional Airport - Longview News-Journal | Clower was one of several area WWII veterans who made the trip Tuesday to East Texas Regional Airport to get what may be their last look at the airplanes of their youth: a Boeing B-17 Flying Fortress "Nine O Nine" WWII Heavy Bomber; a Consolidated B-24 ...

World War II planes visit Amarillo - Amarillo.com | Visitors will be able to tour and fly in a vintage World War II Boeing B-17 Flying Fortress that will be in Amarillo for three days as part of the Wings of Freedom Tour. By Chip Chandler Another unusual landing will occur Monday at Rick Husband ...

Fun with MAXshot/EXAscan – Digitizing "The Racer" Fuselage - Better Living through CNC (via AAFO) | Last week we were up in Reno, doing among other things, a digitization of a plane that is simply called "The
Racer." The Racer is an as of yet unfinished Unlimited Reno racer. It's pretty much the smallest plane you can build around a Wright R-3350, which is still a pretty big plane. The Racer is the brain child of Dave Cornell, the current crew chief of Rare Bear. It's been a 23 year, on again, off again labor of love, and now it most definitely seems to be on again. We'll be doing a whole range of projects on The Racer, starting with a new canopy plug. The current canopy doesn't come down...

Salvation of a Spitfire: For 40 years it lay decaying but thanks to one man's passion (and £3m) it's soaring again from Kathryn's Report | Cleared for take-off: The rare Mk1 Spitfire was painstakingly restored at Biggin Hill Taking to the skies again over the green fields of England for the first time since it was downed during World War II, this Spitfire in its British standard camouflage colours epitomises the heroic defiance...

Memories of the end of an era at Boeing
from Bayou Renaissance Man by Peter | ...September
18, 2010. An early Saturday morning in a rainy Seattle. 0300 hrs local time. The location: Boeing's historic Plant II - about to be torn down after three quarters of a century producing thousands of the most significant and historic airplanes ever built. In preparation for demolition, three airplanes that have been undergoing Museum of Flight restoration in the factory's assembly bays will...
Geriatric Pilots on a mission for members
- Rochester Democrat and Chronicle | WWII B-17 tail gunner Charlie Corea,90, of East Rochester talks about his experiences in Germany at a Geriatric Pilots Association luncheon at the Holiday Inn across from the airport in Rochester, NY on Thursday March 15 2012...
CAP Alabama Wing Conference and Awards Banquet
from Alabama Aviator - Aviation News | Members of Civil Air Patrol's Central Alabama Senior Squadron 132 recently attended the Alabama Wing Conference in Huntsville, Alabama. Col. J Bradford Lynn assumed command of the Alabama Wing in a ceremony presided over by Col. Alvin Bedgood, SER Region Commander...
Transition Maiden Flight
from eaavideo.org | Watch as Terrafugia's Transition roadable aircraft goes from the home garage to the gas station to the airport, makes its first flight on March 23, then is driven home. - Video from Terrafugia
'NASA Social' scheduled for May 4
from General Aviation News | EDWARDS, Calif. - 75 fortunate social media followers will go behind-the-scenes and learn more about NASA's Dryden Flight Research Center on Edwards Air Force Base. The Dryden facility is NASA's primary center for atmospheric research and operations. The "NASA Social" will begin at 7:30 am and will include tours of current aircraft and presentations on cutting-edge aeronautical research and science projects. Not only...