THUNDERBIRDS SELECT NEW TEAM MEMBERS FOR 2012-2013 - ICAS Fast Facts | Major/Lieutenant Colonel-select Greg Moseley has been named as commander and leader of the U.S.A.F. Thunderbirds for the 2012 and 2013 air show seasons. Currently stationed at Fort Leavenworth, Kansas, Moseley will replace current team lead, Lieutenant Colonel Case Cunningham, at the conclusion of the 2011 air show season. The Air Force also announced that Major Caroline Jensen, currently serving as a T-38 instructor pilot at Sheppard Air Force Base, will join the team as Thunderbird Number 3, the team's right wing pilot. Captain Blaine Jones, an F-22 pilot currently stationed at Langley AFB, will become Thunderbird Number 6, the team's opposing solo pilot. Captain Michael Fisher, an F-16 pilot currently stationed at Luke AFB, will become Thunderbird Number 8, the team's advance pilot and narrator.

Blue Angels, balloon pilots arrive in B.C - Battle Creek Enquirer | The 2011 version of the Battle Creek Field of Flight Air Show and Balloon Festival begins when gates open at 5 pm today for a pre-festival concert featuring the band, Story of the Year. But Wednesday was the first good day to look up, starting early as ...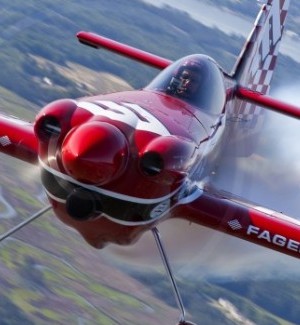 Fair St. Louis flies high for the Fourth of July
- STLtoday.com | Air-show superstar Greg Poe in his Fagen MXS. He will perform at Fair St. Louis. (gregpoe.com) As Americans, we can count on bipartisan bickering, congressional sex scandals and Fair St. Louis. We know that every Independence Day weekend, St. Louisans ...
EAA Salutes Our Veterans Throughout AirVenture
from News from EAA AirVenture Oshkosh | This weekend marks Independence Day celebrations in the United States, and in three weeks EAA and hundreds of thousands of attendees will continue honoring those who have defended our nation's freedom throughout AirVenture 2011, July 25-31 at Wittman Regional Airport in Oshkosh.
Mass Arrival Update: Airplane Groups Preparing for Oshkosh
- from News from EAA AirVenture Oshkosh | EAA has received updates this week from the numerous aircraft groups planning to arrive en masse at Wittman Regional Airport for AirVenture 2011.
Snowbirds flyover thrills mom
- The Beacon Herald | Maybe you saw them and maybe not but that roar over the city around 11:30 am Tuesday was from the Snowbirds. The unheralded flyover was a salute to Eva Denham, mother of the Snowbirds' current crew chief, Sgt. Douglas ...
Vintage Aircraft Flyover for Canada Day
- Aviation.ca | The Alberta Aviation Museum/Edmonton Aviation Heritage Society, working with The Canadian Space agency, Discovery Air Hawk One, Edmonton Celebrates, Edmonton Garrison and Vintage Wings of Canada is pleased to announce a special Canada Day Treat for the ...
Waddington Airshow podcast 4 - June 2011
Our last podcast before the Airshow includes an interview with the Chief of the Air Staff, RAF Waddington Station Commander and the Airshow Director.









Blue: with the Patrouille de France

- Sport365.fr | Ten pilots of the Patrouille de France have been moving in Marcoussis to provide support to the XV of France. The players of the France rugby team will lunch on Thursday with ten pilots of the Patrouille de France, who came to ...

scalaria air challenge the Wolfgangsee staged as a pilot dream

- Salzkammergut newspaper | As a highlight of the evening presented Hannes Arch, his character Red Bull Air Race champion, the first time in Europe its production of "Rhythm & Air". Accompanied by the Vienna experimental sound artists Noisia and an ensemble of the Vienna ...

A famous warplane comes to Lincoln Land

- Illinois Times | The Boeing B-17 was the world's first long-range, strategic heavy bomber, deployed to England in 1942 to help retake western Europe from the German war machine that had invaded in 1940. Before the war a newspaper reporter, ...
ACC INITIATES AIR SHOW COST CUTTING POLICY
- ICAS Fast Facts | Effective immediately, U.S. Air Force single ship demonstrations at air shows and open houses will be limited to one team per weekend to help reduce spending during a period of increased operations tempo for the Air Force (e.g. support for operations in Iraq, Afghanistan and Libya). According to a statement issued by U.S. Air Force Air Combat Command, air shows that previously had two demo teams scheduled to appear will have one team removed from the schedule and no new shows will be added. This action will remain in effect until further notice.
ROETMAN, ROWER TO OFFER FORMATION ACT
- ICAS Fast Facts | ICAS member and air show performer Buck Roetman has joined forces with ICAS member and performer Gary Rower to present a new Christian Eagle/Stearman formation act during the 2011 air show season. Although both the Eagle and Stearman have well-deserved reputations as air show workhorses, the dynamics of the two dissimilar aircraft flying formation aerobatics together make for a unique and interesting act. For more information on this new act, contact Buck Roetman at
buckeagle2@hotmail.com
or Gary Rower at
gary@rowerairshows.com
.
WWII Airborne Demonstration Team Open Hanger Day/Fly In
- Frederick Press | To culminate the WWII Airborne Demonstration Team's Summer 2011 Jump School, the Team will be hosting an Open Hanger Day and Fly-In on July 23rd, 2011, 8:00 am to 4:00 pm. The Open Hanger Day and Fly-In will be held at the historic Frederick Army ...
Lockheed Leading in 2011
from Vintage Aeroplane Writer | From: Les Whittlesey and team re-recreated the first flight of the Lockheed 12 prototype - here's the story by Les: ...
Vintage warplanes headed to Calgary for Stampede
- Calgary Herald | On July 9, a charitable organization dedicated to aviation history, Vintage Wings of Canada, will land a P-51D at Springbank Airport and connect the past with the present. "A couple of pilots who used to fly these planes will be there to talk about the ...
B-25 Yakima tour will be cut short
- Yakima Herald-Republic | Maid in the Shade is maintained by the Commemorative Air Force Arizona Wing Aviation Museum, which also flies a restored B-17 bomber that has visited Yakima in the past. We have temporarily suspended the reader commenting system on yakimaherald.com as ...
Hero's Welcome Home for Honor Flight Vets
- Patch.com | Hundreds packed the St. Pete-Clearwater airport late Tuesday night to greet the 70 WWII vets who were honored with a free trip to Washington DC By Jeff Rosenfield | Email the author | 7:35am Air Force veteran Jerry Saleny salutes during his welcome ...
'Black Wings' soar into Hyde Park
- RedEye Chicago | "Chicago is one of the major circles of African-American aviation history," said Marquette Folley, a project director for the Smithsonian Institution's Travelling Exhibition Service. From the aerial exploits of Bessie Coleman, ...
Vietnam War Enemies Now Reconciled
- Hartford Courant | "My Enemy, My Friend" was published in 2009 by Aviation Heritage Park Inc., a nonprofit group Cherry founded to protect and maintain historic aviation artifacts. That year, he and Nguyen received some national media attention. ...
Relatives of Sgt. Steinford hear first-hand account of another WWII airman
- Vinton Today | Waters, like Steinford, was a World War II Army Air Corps airman on a B-17, serving in the 2nd Bomb Group. Like Steinford, he climbed into a B-17 in Italy, and head for German targets throughout several countries of Europe. Like Steinford, Waters faced ...
WWII vet brings reality of war to Northville classroom
- Hometownlife.com | Don Manly's experience during World War II makes him a valuable resource. He can bring to life stories through
references to flying through the air in a glider toward enemy-held territory or having his face turn black with smoke as he ...
Flypast: A magnificent woman - Heathrow Skyport - The independent voice of the airport since 1976
from www.skyport-heathrow.co.uk | Her passion was flying. Not gazing down in comfort from some sun-bound jet while sipping a G and T, but proper flying - solo, at the controls of small planes on unpredictable, often dangerous, record-breaking adventures across mountain ranges, deserts and storm-wracked oceans. ...