Greg Poe Airshows:
(via Team FB page, photo via team website) To all our friends and airshow family - Greg Poe died today of a heart attack near Boise. This is a great shock and certainly a very sad day for his family, our team and the airshow family he dearly loved. A formal release will be forthcoming with details regarding services and arrangements. Greg was at the top of his game and rising, and he will be greatly missed.
Greg Gibson / Team Cooordinator / Greg Poe Airshows
EAA AirVenture
- OnMilwaukee.com | The members of the EAA make this annual event the world's most impressive showcase of attractions representing innovation, history, technological advancement, and current and future trends in aviation. More than 12000 planes of all kinds -- military, ...
OSHKOSH 2011: A farewell tribute to Burt Rutan
from The DEW Line | New ideas are powerful things, even when they are wrong. Aviation legend Dick Rutan is not criticising his younger brother when he says the aerodynamic ideas of the now-retired founder of Scaled Composites are generally wrong two times out of three. After a 46-year career as a test pilot and pioneering aircraft and spaceship designer, a list of Burt Rutan's failed projects could fill the world's most eclectic aviation museum. But, oh, the ideas that worked...
Boeing 787 Dreamliner coming to EAA AirVenture
- Milwaukee Journal Sentinel | Boeing's new 787 Dreamliner will make one of its first public appearances at EAA AirVenture that starts Monday. The plane Boeing is banking on as its next generation commercial airliner is scheduled to arrive Friday ...
AirVenture fans will want to keep an eye on the AirVenture Facebook page. Posted yesterday, the group photo of Bonazas 2 Oshkosh and a look at the North 40.
Complete AirVenture News can be found HERE
Inside air traffic control at EAA
- Fox11online.com | We're just hours away from the world's largest aviation celebration. EAA AirVenture 2011 kicks off Monday in Oshkosh. While hundreds of thousands of people will be watching the planes from the ground, a select few will have an important job to watch ...
AirVenture visitors reunite at five-day flight convention
- Herald Times Reporter
Airplane noise is a nuisance to some but for guests of the Experimental Aircraft Association's annual AirVenture the familiar sound is often described as relaxing. "I work all year to spend the week here at Oshkosh," said Mark Gilmore of Indiana. ...
A Sunny Launch For AirVenture 2011
- AVweb | In contrast, AirVenture 2011 has opened to more manageable conditions, with bright sun and low humidity. Scattered clouds caused occasional IFR en route weather for some travelers, and a few showers at the field, but campgrounds and aircraft parking ...
T-28 aircraft in area to practice near Ashwaubenon for EAA AirVenture
- Green Bay Press Gazette | More than two dozen T-28 military aircraft will practice formation flying and aerobatic exercises through Monday in preparation for the EAA AirVenture air show and convention in Oshkosh. The planes are privately owned and come from across the country ...
1938 Lockheed flies again for Phillips 66 Aviation
from General Aviation News | It ferried sales-hungry oil executives out of Oklahoma in art deco style, became a nuts-and-bolts workhorse for the military during World War II, then tolerated extensive modifications from a 50's decade intent on modernization. Now, 73 years later, that 1938 Lockheed 12A Electra Junior – gleaming in its original, polished metal splendor – will be reunited with its first owner, Phillips Petroleum Co., at this week's AirVenture. ...
A Passion for Flight at AirVenture
from Business Aviation Now | I had hoped to debut my 1926-era Staaken Z-21 Flitzer, a plans-built all wood and fabric biplane with a strong German heritage designed by Welshman Lynn Williams, at this year's EAA AirVenture. But in common with the Airbus A380, Boeing 787 and Lockheed Martin F-35 Joint Strike Fighter, the program ran into unexpected delays and is now running three years behind schedule. ...
Heli jump! Did you already jump from an helicopter? from Bonjour BlueSky
Rain grounds planes, but not spirits at PNC Air Show - Peoria Journal Star | The Air Combat Command Demonstration team salutes the pilot of the F-16 aircraft as it prepares for takeoff on Sunday afternoon at the PNC Air Show at the Peoria International Airport. By PHILIP JOHNSON The Growing Up Great tent provided dry fun for ...

Range Regional Airshow: Flying With the Golden Knights - WDIO-TV | A crowd of all ages gathered at the Range Regional Airport in Hibbing Saturday to see planes flip, turn, and loop-de-loop. While spectators watch from below, Eyewitness News found out what It's like to be up in the air, with the United States Parachute ...

Heads turn skywards in Bray as 80000 enjoy spinning and diving of airshow ... - Irish Times | MET ÉIREANN may have had to apologise for not predicting rain last week but it couldn't have been expected to forecast the sand storm that struck Bray yesterday afternoon. In fairness to the weather forecaster the event was not a meteorological ...

B-17 not making Bellingham visit, B-25 arrives Thursday - TheNewsTribune.com | The twin-engine B-25 nicknamed "Maid in the Shade" will be arriving about 10 am Thursday at the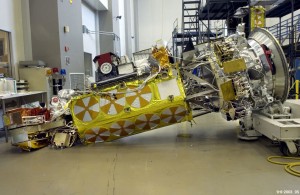 Heritage Flight Museum at the airport. Tours will start Friday, as will 30-minute flights. Tours are $5; flights are $425 to $600. Call 602-448-9415 to book ...
How to ruin a satellite from The Unwanted Blog | In 2003, at the Lockheed Martin factory in Sunnyvale, CA, a NOAA GOES satellite ("NOAA-N Prime") was being readied. It was bolted to a "turn over cart," a mechanism that allowed the satellite to be tilted up or ...