How To Stay Cool At Air Show - WHIO Dayton | DAYTON, Ohio -- The US Air Force Thunderbirds will rock the 2011 Vectren Dayton Air Show this weekend. However, temperatures will be a bit on the warm side, so organizers are working to keep spectators safe. Air Show officials said the National Weather ...

Last B-29 Bomber is coming to Oshkosh next week - Today's TMJ4 | Finally, Country Star Aaron Tippin will do a concert with the airplane Saturday, July 30th in Oshkosh at EAA AirVenture 2011. For more information about the B-29, you can visit the Commemerative Airforce siteas well as the EAA AirVenture site for more ...


Disabled American Veterans Returns to EAA AirVenture with Message of Support and a Salute to Veterans
by DAV Flight Team | Oshkosh, WI – Disabled American Veterans (DAV) returns to EAA AirVenture, bringing its message of service and volunteerism in support of our nation's combat-
wounded men and women to world's greatest aviation celebration from July 25-July 31. As part of an outreach program to increase public awareness of disabled veterans, the DAV Flight Team will be on hand at EAA AirVenture with two historic, fully restored Navy warplanes. Known as classic warbirds with legacies of ...
Friday's FIX of PIX!! July 22nd, 2011
from Military Photos | DEARBORN, Mich. (July 20, 2011) Rear Adm. John E. Jolliffe, vice commander of U.S. Naval Forces Central Command, sits behind the wheel of the Navy Blue Angels Ford Mustang. The car will be auctioned off at the ESL International Air Show to raise funds for student aviation scholarships. Jolliffe and Sailors from local commands visited the Ford Motor Company corporate headquarters during ...
SolarWorld Presents Electric Aircraft, Elektra One, in U.S. Debut at Huge ...
- Bradenton Herald | SolarWorld, the largest US manufacturer of solar panels for more than 35 years, will showcase the maiden US appearance of a zero-emissions electric aircraft at EAA AirVenture Oshkosh 2011 in Oshkosh, Wis., starting Monday. SolarWorld and Germany's PC ...
Podcast: AirVenture 2011, How To ...
from AVWeb Podcast - Podcast | Thursday, AVweb's Glenn Pew spoke with EAA's vice president of membership Adam Smith about the coming AirVenture show held this year July 25 through 31 to get a "Do Not Miss" list and tips and tricks for attendees.
"Let's do the Airshow Again" UCAP #244-alpha
from Uncontrolled Airspace: General Aviation Podcast | The boys are back together in the same zipcode again for the World's Greatest Aviation Celebration.
Flying high: Airshow takes to the skies
- stv.tv | The annual airshow at the National Museum of Flight will see aerial display teams perform above East Fortune. Thousands of people are expected to flock to East Lothian this weekend for the annual airshow. The National Museum of Flight at East Fortune ...
Air Show of the Cascades
- Visitor's Choice USA | August 26th and 27th, Madras Airport: Expect an
exciting Friday twilight show, as well as a full day of family fun on Saturday. See the Commemorative Air Force B-17 Sentimental Journey, along with Maid in the Shade, ...
Airship Ventures Zepplin Eureka Scheduled to Visit St. Louis Downtown Airport Aug. 16-21
from The Aero Experience
CF-18 Fighter Jet Ready To Wow Airshow Crowds
- 94.1 CJOC-FM | The Lethbridge County Airport was a beehive of activity Thursday as most of the permorming planes for this weekend's airshow flew into town. Two Canadian Forces CF-18 fighter jets flew into Lethbridge Thursday afternoon as they get ready for this ...
Airspeed Announces Acro Camp 2 Cast
from AcroCamp | After a long and difficult process (made even harder by the outstanding number and quality of applications), Airspeed has announced the cast for the second installment in the Acro Camp series of documentary feature films.
Feel-good aerobatics
from Letters from Flyover Country | I've never had a desire to do aerobatics when -- or if -- the RV-7A is finished. I wouldn't know how to do an aileron roll even if I had. SlickHutto on YouTube is the guy who makes those fabulous post-Oshkosh videos each year and he can make any activity look inviting. ...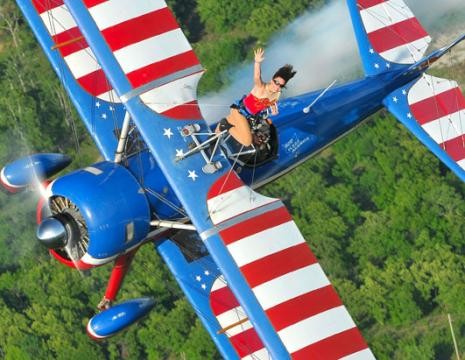 Secrets of a Wing Walker: Woman Performs Aerobatics on Top of Flying Airplanes
- ABC News | Ashley Battles is a leading aviatrix in the death-defying art of wing walking. "I felt up until I started wing walking, I was always looking for my niche in life. … I couldn't imagine being anywhere else. ...
Hunter celebrates 60th anniversary of first flight
- Flight Global | Flightglobal may well have reported it in the magazine at the time but I've not been able to find it in any of the pages. Any help in finding the link to the article where Flight recorded the first flight of the Hawker Hunter will be welcomed. ...
Penny and the Jets
- Aviation Avenue | "My involvement with AirRace21 and flying the Raju Grace in the Reno Air Races last year was both destiny and the fulfillment of my family legacy," says Penney, mother of two daughters and Director, USAF Air Superiority Programs for ...
Air race flyover planned
- Otago Daily Times | A planned air race for corporate high-flyers may bring up to 40 privately-owned jet aircraft to the Warbirds Over Wanaka Airshow next April and boost business links between China and New Zealand. ...
Baby Great Lakes : why is the gear designed like it is?
from The Biplane Forum | I flew a Der Yager with an O-320. It had plenty of power but I can't imagine one with a VW in it. The one I'm familiar with had landing gear problems until the gear was changed ...
Honoring a local hero
- Mountain Home News | Richard Aguirre was a navigator on the B-17 Honi Kuu Okole, which was shot down on May 21, 1943. This article is the first in a series prepared by Hiler that will focus on the background of several parks located in Mountain Home. ...
A-10 Warthogs Could Serve Until 2040
- from Defense Tech | So it might be 2040 before the Air Force's fleet of A-10 Warthog attack jets is replaced by the F-35 and whatever drones emerge in the coming years. ...
Airbus plays down A380 scrape in Tokyo
from Pilot News Magazine | PARIS – AIRBUS on Friday sought to minimise the scraped engine suffered by one of its A380 superjumbos operated by Korean Air as it banked while landing at Tokyo Narita airport.