Great Lakes Airshow Takes Flight - BlackburnNews.com | The Snowbirds are on the tarmac and ready to take to the sky over the St. Thomas Municipal Airport this weekend. The Great Lakes International Air Show. gets underway Friday night with the Hour of Power. Gates open at 4 pm and some of the aircraft will take flight at 7:00. Organizers say it's a preview of the full weekend shows....

High flying Team Aerodynamix on top of their game for Cherry Festival air show - UpNorthLive.com | GRAND TRAVERSE CO. -- Team Aerodynamix was flying high over the Grand Traverse Bay to prepare for the Cherry Festival Air Show on Saturday....

Aaron Tippin to Pilot Rare Plane to Nashville - The Boot | Aaron Tippin will arrive in Nashville on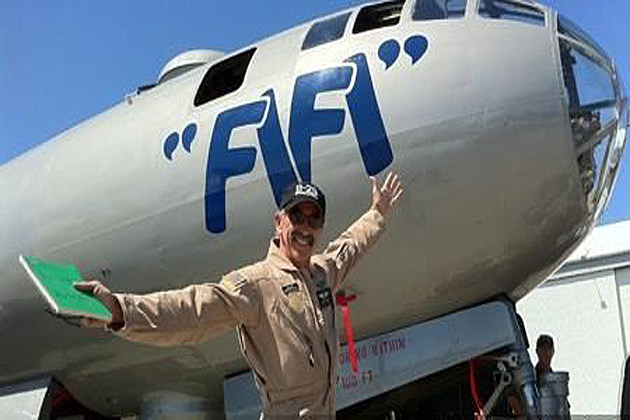 Tuesday, July 2, in style. The singer-songwriter will co-pilot the Commemorative Air Force's (CAF) famous Boeing B-29 Superfortress for a six-day stay at the Smyrna Airport, located just outside of Music City. "For me, this is an opportunity of a lifetime to bring aviation enthusiasts and country fans together," Tippin notes (quote via Country Music Tattle Tale). "I'm blessed because my kind of country music is patriotic and all-American. My involvement with the CAF caters to both aviation and country music enthusiasts."...

McCampbell Airport Hosts Fly-in Event this Saturday - KRIS Corpus Christi News | SAN PATRICIO COUNTY - The TP-McCampbell Airport will host a 'Fly-in' presented by SkyView Aviation and Skydive South Texas on Saturday, June 29th. Four types of WWII-era airplanes from the Commemorative Air Force will take part in the event. Two of these planes are 1941 N2S-2 Stearmans, the same type of aircraft used by NAS-Corpus Christi to train naval aviators during WWII...

Ohio Air News #234 - Charles Johnson | Solar Impulse in Cincinnati

Fly-in set for Aug. 24 - Your Daily Globe.com | IRONWOOD — Changes are coming for this year's Gogebic-Iron County Airport Fly-In, slated for Saturday, Aug. 24. "We are hoping for better weather with the earlier date," said Fly-In committee chair Donna Scorse....

Texas Flying Legends Museum's Ambitious Flight Plan · WarbirdsUpdate | An instant air show wherever they land, Texas Flying Legends Museum's fleet is traveling the country this summer. (TFLM) of Houston, Texas should perhaps have the word "Flying" in their name in all capital letters. Their ambitious plans for the summer has significant portions of the museum's collection of warbirds appearing en masse all over the country this summer for static and aerial display as well as offering flight experiences to the public....

Third Coast Squadron holds Fly-In event with WWII plane flights - Corpus Christi Caller Times | Then head out to the Third Coast Squadron fly in event at 9 a.m. Saturday at the McCampbell Porter Airport in Ingleside. Enjoy a fly-in of World War II planes, sky dive demonstrations and take flights that day on historic planes....

Grounded: Military jets out of Tacoma air show - Q13 FOX | SEATTLE — Federal budget cuts will keep military jets out of Tacoma's Freedom Fair air show next week. As a result of sequestration, the Department of Defense canceled all military involvement in air shows across the country this summer — it's the same reason the Blue angels will not fly at Seattle's Seafair....

INDEPENDENCE DAY : Air show in Redlands - Press-Enterprise | Redland is celebrating its 125th anniversary this summer and sticking with its traditions for this year's Fourth of July celebration. But the aerial portion of the celebration will be a little different. This year's military flyover will be by the Van Nuys-based Condor Squadron Officers and Airmen's Association in a World War II training aircraft called the AT-6 Texan....

Soaring lineup for the 2013 Pensacola Beach Air Show - Splash Pensacola Beach | The July air show over Pensacola Beach is the tent pole weekend for this area's summer season, and in spite of one notable setback, this year looks to be as big as ever. The obvious absence of the Blue Angels this year is as much of a disappointment to the show's organizers as the rest of us, but Robbie Lofty with the Santa Rosa Island Authority says they're not dwelling on the no-Blues blues...

Gallery: Weston Air Day sees Red Arrows fly over Grand Pier - Weston & Somerset Mercury | CROWDS descended on Weston on Saturday as all manner of aircraft ascended through the skies and roared across the town. Weston Air Day saw the Red Arrows and displays as well as a variety of period aircraft flying over the Grand Pier and the seafront. There was also a Dancing Tiger Moth 1930s biplane...

Suzi Perry Typhoon Flight | From Fast Cars to Fighters Jets -- Formula 1's Suzi Perry flies in an RAF Typhoon for the Royal International Air Tattoo. At home and abroad, the Typhoon Force stands ready, every minute of every day on Quick Reaction Alert in defence of UK citizens. For the first time, see one aircraft from each of the fighter Squadrons together at RIAT, 20-21 July 13.

Michale Combs Inspires the World · Karlene Petitt | Friday's Fabulous Flyer... | Michael did not have money. He did not know how to fly. And his health was so poor that he fought for life daily. His heart stopped twice over the span of three days, and his doctors did not believe he would survive. But none of this stopped him from living his life to the fullest....

Paris Air Show 2013 | The first Paris Air Show, in 1909, was described by the New-York Tribune as a "fairyland" surpassing all expectations. Twenty-four airplanes were displayed in the Grand Palais, with the Blériot monoplane that flew across the Channel the centerpiece of the show. Pear-shaped balloons and yellow dirigibles floated gracefully above the crowds...

Purdue pilots make final landing after 37th Air Race Classic - Purdue Exponent | Hangar 6 of the Purdue Airport sat open and quiet Wednesday evening, a small gathering of people holding flowers, leis and balloons anxiously waiting there, despite the muggy heat, for one last plane to arrive. After a long week of getting up before the crack of dawn and fighting unfortunate delays, Purdue's Air Race Classic team returned to the Purdue Airport to the applause and hugs of family and friends after having made an impressive showing in this year's race...

Historic B-17 flies over Tulsa - KOKI FOX 23 | The Aluminum Overcast B-17 is a piece of living World War II history in the sky. The EAA restored B-17 has been touring the United States since 1994. Tulsa area-residents will be able to experience that piece of history at the Jones Riverside Airport at Jenks from Friday through Sunday. The B-17 plane was donated to the EAA Aviation Foundation back in 1981 with the provision of being maintained in airworthy condition...

Wright Brothers Bumped by Gustave Whitehead as First To Fly in Connecticut - Newsmax.com | The Wright Brothers have been legislatively discredited as the first American aviators by the state of Connecticut. Gov. Dannel P. Malloy announced on Wednesday his signing into law a bill that names German immigrant and Connecticut resident Gustave Whitehead as the first American to successfully fly an aircraft. The move continues a century long debate as to who was the nation's actual first-in-flight aviator....

Mustang · Mick | In the late 1930′s, as a war with Germany was looking inevitable, it came as a matter of great urgency for both the United Kingdom and France to expand their air forces, so in 1938, the British Direct Purchasing Commission (BDPC) visited the United States of America looking at purchasing US aircraft. At the time the US was neutral on the current world events, but they had no objections to selling equipment to countries not already at war, so the Commission visited a number of aircraft manufactures placing orders for various types of aircraft....

Aircraft Wreckage Sculpture at the VMHM · joseph_may | A sculpture of made of war wrecked aircraft stands in the courtyard of the Vietnam Military History Museum (Bảo tàng Lịch sử Quân sự Việt Na) in Hanoi Vietnam. French aircraft from the war there in the 1950s are combined with portions of Unites States Armed Forces aircraft from the Vietnam War (a B-52 and an F-111 are represented). It is a stark monument and we have Catherine Dowman's sharing of her photos to thank
so that we can see it — and see Vietnam's interpretation of events....

AF Week in Photos - af.mil

WAI Cover Girl Capt. Kathi Durst Pays It Forward Every Day · Amy Laboda | Kathi Durst, American Airlines 737 Fleet Captain and 25-year veteran with the company never forgets that she is a role model. Durst was on the cover of the March/April 2012 issue of Aviation for Women magazine, the official publication of Women in Aviation, International. She was recently profiled by ABC News....