Vintage aircraft, Harrier to star in today's Atlantic City Airshow - Press of Atlantic City | A host of vintage aircraft and one modern fighter jet will take to the skies today in the first Atlantic City Airshow without a single military act. Organizers searched farther than ever to find enough acts to round out a lineup that took a hit, along with the rest of the country's airshows, when federal budget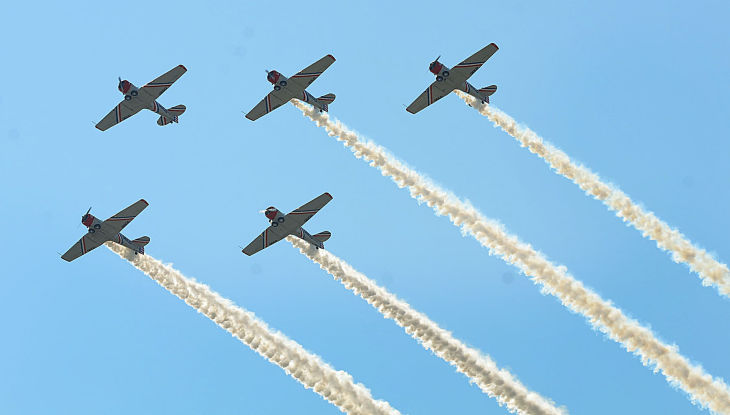 cuts grounded nonessential military flying....

Hundreds of beachgoers catch practice for Atlantic City Airshow - Press of Atlantic City | Beachgoers were treated Tuesday to a preview of the airshow slated for today as pilots practiced their aerial stunts. Hundreds lined the beach looking up as the planes flew by, down from last year's practice, said a police officer on duty. "Last year practice day was a little busier," said Derek Leyman, of the State Police....

California Heroes Air Show 2013, Set For June 29 - Aero News Network | SoCal Event To Be Held At Hansen Dam Recreation & Sports Complex In The San Fernando Valley | The southern California edition of an event billed as the nation's premier aviation event devoted exclusively to helicopters is set for June 29 in the San Fernando Valley. Since 1993, this admission-free event has been educating the Southern California community as to the unique capabilities and dynamic role of helicopters in law enforcement, fire service, public safety, national defense and homeland security. With aircraft from local, regional, state and Federal / DOD agencies, guests are treated to an up-close look at why these aircraft and their crews are on the front line of public safety and community service....

FAA regulates air shows and performers - WDTN.com · Natalie Tendall | DAYTON, Ohio (WDTN) - Every year, there are approximately 325 air shows put on in the country and the Federal Aviation Administration is regulating every single one of them. Not only are they making sure the site of the show is following procedures, they also have set rules for performers. You see the planes and tricks, but there's a lot preparation those flying in an air show have to go through before they take to the skies for an audience. "Air show flying can be dangerous and the rules in place have evolved over the last 100 years," said John Cudahy, President of the International Council of Air Shows. The council represents air show organizers and performers....

Air Show Report: 2013 Dayton Air Show - Warbird News | ...On Thursday, I had the opportunity to do a photo shoot with aerobatic pilot, Michael Goulian of Goulian Aerosports in his Extra 330SC. Mike is one of only seven people to have been awarded all three of the air show industry's most prestigious awards, the Art Scholl Memorial Showmanship Award, the Bill Barber Award for Showmanship and the ICAS Sword of Excellence. I was very excited to be able to photograph this engaging performer doing what he does best, fly. For my air to air shoot of Goulian, I flew in his team's A-36 Bonanza. The Bonanza is a ...

Behind the Scenes, Air Show Performers are Prepped for Action by CAF Dixie Wing - Warbird News | In addition to adding some minor upgrades to the wing's facility, the members of the Commemorative Air Force's Dixie Wing have been hard at work, working on their warbirds. In preparing their North American P-51D Mustang, "Red Nose" and their Douglas SBD-5 Dauntless for the long flight north into the heart of Yankee Country, Reading, Pennsylvania for the Mid-Atlantic Air Museum's 23rd Annual World War II Weekend from which we recently reported...

6 Awesome Aircraft From The 2013 Paris Air Show - Popular Science | Designed by European Aeronautic Defence and Space Company and Aero Composites Saintonge, the E-Fan is a two-seat
training plane that's fully electric....

27 Awesome Moments From The 2013 Paris Air Show - Business Insider

Making it Real · Steve Tupper | Since going for a fateful haircut in Detroit last March, I have amassed something like 112 hours in the TG-7A, about 70 hours of that in formation. I've flown three airshow demos as the sole pilot of one of a team of two or four aircraft. I've flown as observer in one show....

Summer celebration of flight · Dan Johnson | As summer begins to heat up, that can mean only one thing to true-blue aviation enthusiasts. Yup, AirVenture is coming at us like a jet fighter. In mere weeks, the annual migration of tens of thousands of pilots will start to converge on the small town of Oshkosh, Wisconsin. The population swells from 50,000 to almost a quarter million. It's been called the summer celebration of flight and that is one of the more accurate tag lines the Experimental Aircraft Association marketing department has invented....

Airplane Dropped From Helicopter During Salvage Attempt - Aero News Network | A helicopter engaged in the salvage of a Piper Cherokee that had made an emergency landing about 50 yards from Waiehu Beach on Maui dropped the airplane in the ocean when the helo began struggling with the load. First the good news. None of the three people on board the Cherokee were injured when they made their off-airport landing, and the salvage helo, which belongs to Pacific Helicopters, also landed safely. But not before some reportedly harrowing moments as the helicopter transported the damaged Piper....

Kids Fly High at Sky Camp in Eastman - 13WMAZ | Kids at Sky Camp in Eastman built rockets, assembled gliders and launched a balloon into the atmosphere. Its ascent took 1 hour and 42 minutes, reaching 98,000 feet in the air. But it only took 29 minutes to fall, landing in Pulaski County...