Wright Flyers Take to the Sky in Ohio and Alabama - Alabama Aviator | MONTGOMERY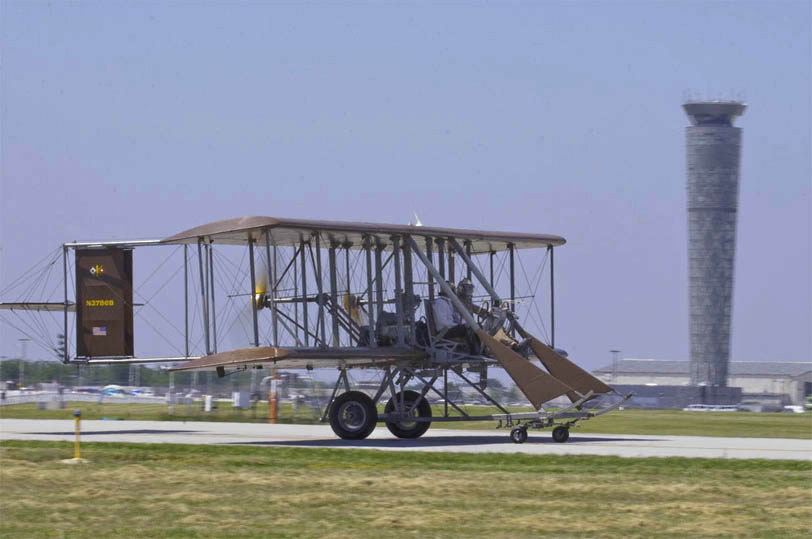 ALABAMA- This weekend the Dayton Air Show in Ohio honors the Wright Brothers and a Wright Flyer takes to the sky. In Montgomery, Alabama a new Wright Flyer replica will permanently soar thirty feet in the air at the overpass that leads to Maxwell AFB....

Fly-In Movie and Family Night is tonight - Havelock News | Amanda Ohlensehlen got a chance to test a dragonfly toy that will be given away during the Fly-In Movie and Family Night on Friday at the Havelock Tourist and Event Center. "I know I played with it in the office and all of our board members were using it," said Ohlensehlen, staff director of the Eastern Carolina Aviation Heritage Foundation. "If that's any indication of how much fun the kids will have, I think we'll be alright."...

Red Arrows to perform high-flying display over Weston and Brean today - Burnham-On-Sea | The world-famous Red Arrows will take to the skies over Brean today (Saturday) during the annual Weston Air Day. The event will take place on Saturday June 22nd and is being organised by North Somerset Council and will feature a number of famous aviation names...

Pilots flip for Lone Star Aerobatic Championship - KTEN | DENISON -- Forty pilots from all over the country are participating in the Lone Star Aerobatic Championship at the North Texas Regional Airport. The competition is the first of three major aerobatic events set to take place at the airport this year. National championships will be in September and World Championships will held in October.
David Martin pilots a Breitling-sponsored plane and is expected to compete in the world championships....

Ohio Air News 223 - Charles Johnson | Ohio Aerobatic Open - Snowbirds over the falls and photo from the UK

Check Out A WWII B-17 During Airport Appreciation Days (VIDEO & PHOTOS) - Indiana's NewsCenter | FORT WAYNE, Ind. (www.incnow.tv) -- Airport Appreciation Days are a big part of the 50th Annual Heritage Days in Huntington. Friday, Saturday and Sunday, a B-17 Yankee Lady Flying Fortress WWII bomber is on display from the Yankee Air Museum in Ypsilanti, Michigan...

Video: A Mosquito in Flight - airspacemag.com | Restored from the hull up by Avspecs Ltd in New Zealand, a de Havilland Mosquito flies over the Hauraki Gulf near Auckland before being shipped, via the Panama Canal, to Jerry Yagen's Fighter Factory/Military Aviation Museum in Virginia Beach. The "Wooden Wonder" will perform in Geneseo, New York, on July 13 and 14, 2013.

Antique Airfield:

St. Mary's Airport hosts Young Eagles Fly-in
- Bay Net | The St. Mary's Experimental Aircraft Association (EAA) Chapter 478 held their annual Young Eagle Rally at the St. Mary's County Airport Saturday morning. The premise of the national and international Young Eagle program is to get children between the ...
AIRSHOW-Europe tests reusable spaceship - Reuters
| PARIS, June 21 (Reuters) - The European Space Agency is preparing to launch an experimental reusable spaceship next summer following a successful atmospheric test flight this week, officials said at the Paris Airshow. A mock-up built by Thales Alenia Space was dropped from a helicopter flying 1.9 miles (3,000 kilometers) above the Mediterranean near Sardinia on Wednesday to check its handling and parachute system, company officials said....