First Flight For Jetman No. 2 - AVweb | Until this week, Yves Rossy was the only human to have flown the jet-pack that he designed, but now there's a second flyer, after two years of training. Vince Reffet on Monday became the second person to fly the Jetman wing, and Rossy's Facebook page promised that soon there will be news of a Jetman Team....

Heart of Texas Airshow to make its debut in September - General Aviation News Staff | In a year when so many airshows have been cancelled due to sequestration, D&D Marketing Concepts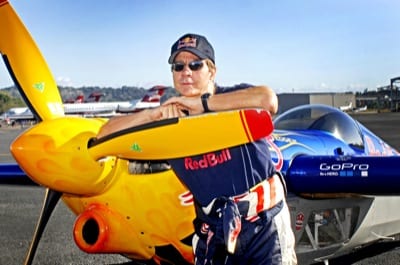 Inc. will debut The Heart Of Texas Airshow Sept. 28 at Texas State Technical College Airport (CNW) in Waco, Texas. The Heart Of Texas Airshow promises to provide something for everyone in an action-packed day of fun for the entire family, organizers promise. Before and after the airshow crowds will be entertained with helicopters, airplanes, warbirds, powered parachutes, skydivers, radio control aircraft and more, in static displays and demonstrations. Flights will be available throughout the day to the public in helicopters, airplanes, historic warbirds and biplanes...

Airport at 80 - Colleton Today | Saturday the Lowcountry Regional Airport celebrated its birthday. Exactly 80 years ago C.C. Anderson Landing Field was dedicated. Nine years later the United States Army Air Forces moved in, turning the airport into a training center as America went to war...

WWII Airborne Demonstration Team Open Hangar Day/Fly In date set - Altus Times | The WWII Airborne Demonstration Team's Summer 2013 Open Hangar Day and Fly-In is set for Saturday, July 27. The Open Hangar Day and Fly-In concludes the teams Summer Jump school, which will be held at the at the historic Frederick Army Airfield ...

Sauk Prairie Fly-In - Baraboo News Republic | Please login or register at this time to enjoy articles and other website features as a registered user -- or to enable your subscription. No Thanks. Thanks for visiting. You're entitled to view free articles every 30 days, and you currently have free...

Cruise-in/Fly-in Nights in Stow - The Beacon-Villager | In cooperation with EAA #196, Friends of Minute Man Air Field, and Nancy's Air Field Café, the Rotary Clubs of Nashoba Valley, Acton-Boxborough, and Maynard are holding the first annual Wings & Wheels program, a summer-long cruise-in/fly-in event at...

Another Event Lost To Sequester - AVweb | While EAA and Sun 'n Fun weren't happy about paying for their own controller staff for their air show events, at least they had the resources to do it, which isn't true for many smaller events around the country. At Columbia Airport in Tuolumne County, Calif., the 47th annual Father's Day Fly-in never happened last weekend, due to the cost for the FAA to staff a temporary tower...

Antique Airfield:

Photos: On this day – June 18, 1928 – Amelia Earhart First Woman to Fly Across Atlantic
- York Daily Record | On this day – June 18, 1928 – Aviator Amelia Earhart becomes the first woman to fly in an aircraft across the Atlantic Ocean (she is a passenger; Wilmer Stultz is the pilot and Lou Gordon the mechanic). Earhart was the first female pilot to fly solo across the Atlantic Ocean. She received the U.S. Distinguished Flying Cross for this record. She set many other record...
Sherman Mills Fairchild: Aviation Inventor and Entrepreneur
| Born in Oneonta, New York, on April 7, 1896, Sherman Mills Fairchild made a major contribution to the development of the aviation industry with his many inventions. An astute businessman, Fairchild founded more than seventy companies, including the Fairchild Aviation Corporation, the parent company for many of his aviation-related firms. In addition to designing and building aircraft, Fairchild developed aerial photography for commercial and military use, with his inventions for aerial photography being used on NASA Apollo missions 15, 16 and 17...
Boeing Chief Test Pilot Dave Desmond Retires
| The Aero Experience salutes Boeing Chief Test Pilot Dave Desmond on his retirement!
The Soplata Airplane Sanctuary
- Air & Space | Of the 20 stray aircraft his father rescued, the author remembers that first bomber best.
Fighter squadron inactivation signals end of A-10s in Europe
- af.mil | 6/18/2013 - SPANGDAHLEM AIR BASE, Germany (AFNS) -- The Air Force inactivated the 81st Fighter Squadron June 18, here, in support of force-shaping procedures across the service. The squadron employed the A-10 Thunderbolt II, and the closure signals the end of A-10 operations in Europe....
B-1B Lancer: More than meets the eye
- af.mil | SOUTHWEST ASIA (AFNS) -- Carrying the largest payload of both guided and unguided weapons in the Air Force inventory, the multi-mission B-1B Lancer is the backbone of America's long-range bomber force, and is flown here by the 34th Expeditionary Bomb Squadron....
Historic Landing of MV-22 "Osprey" on Foreign Ship
- Photorecon | For most of the month of June,
Operation Dawn Blitz 2013 will be happening off of the San Diego County coastline from Coronado to Camp Pendleton and will include exercises at San Clemente Island. Three Japanese ships are currently using Naval Base San Diego this month for this historic exercise aimed at demonstrating confidence in the Marine Corps' Osprey, the hybrid helicopter-airplane...
Being Electric Doesn't Keep This Plane From Serious Aerobatics
- Wired | The E-Fan is the brainchild of Didier Esteyne, an engineer and pilot with a knack for electric aircraft. Two years ago he unveiled an electric version of the diminutive Cri-Cri, which made its debut here last year. Esteyne worked with EADS — corporate...
Kids learn about aviation from model flyers
- Journal Courier | Many of the children were wide-eyed as they learned how airplanes fly. They hung on Chris Scheldt's every word as he described how air moves over planes' wings and rudders, ailerons and elevators control movements...
Young Eagles Flight Rally to allow children, teens chance to take free airplane rides
- The News-Herald | Area young people ages 8 to 17 will have a chance to take to the skies on Saturday as Experimental Aircraft Association Chapter No. 5 hosts a Young Eagles Flight Rally at the annual Wheels and Wings Event...
Today in 1983: Sally Ride became the first American woman in space
- National Air and Space Museum, Steven F. Udvar-Hazy Center, Smithsonian Today, June 18th 12:35pm | Today in 1983: Sally Ride became the first American woman in space. Ride traveled aboard the Space Shuttle Challenger on mission STS-7.