CAF AirPower History Tour at Cincinnati Lunken Airport
-
www.airpowertour.org
| The Cincinnati Warbirds Squadron 18 will be hosting the CAF AirPower History Tour at Cincinnati Lunken Airport (KLUK) on June 27-30, 2013 following their appearance at the Dayton Air Show the preceding weekend. The tour includes the B-29 Fif, as well as the B-24, P-51, C-45, T-6, and Stearman all offering rides and static tours. In addition to the CAF aircraft, additional warbirds will be on display including a T-28, L-17, and the B-25 from Tri-State Warbird Museum. Several veterans will be on hand to share their stories. Admission is $10pp or $20 for a family.
4th Annual "Warbirds Over the Roanoke" set for June 15
- South Hill Enterprise | Come join the 95th Squadron Radio Control Model Airplane Club for its 4th Annual Warbird Fly-in event on Saturday, June 15, at the Club's flying field in Gaston, N.C. This is a Lake Gaston 50th Anniversary Splash event. RC pilots from the Virginia...
Antique Aero BBQ-2013
- Around the Pattern | A friend of mine was nice enough to wrangle an invitation for me to attend the annual invitational BBQ at the Antique Aero shops of Chuck Wentworth on the Paso Robles, CA airport (KPRB). The weather even cleared up between Reno and there after a week of on-again-off-again storms and wind. It was a nice 2-hour flight to KPRB in the Swift on Friday morning. I was welcomed into the group that...
Fly-in scheduled Saturday
- Osceola Sentinel Tribune | The public is invited to the second annual Taylorcraft Fly-in/Drive-in, which is scheduled all day Saturday at Osceola Municipal Airport. There will be antique aircraft and more. This is a schedule of Saturday's events. 8-9 a.m ...
Historic Swedish aircraft to debut at Waddington Air Show
- The Lincolnite | The 19th annual RAF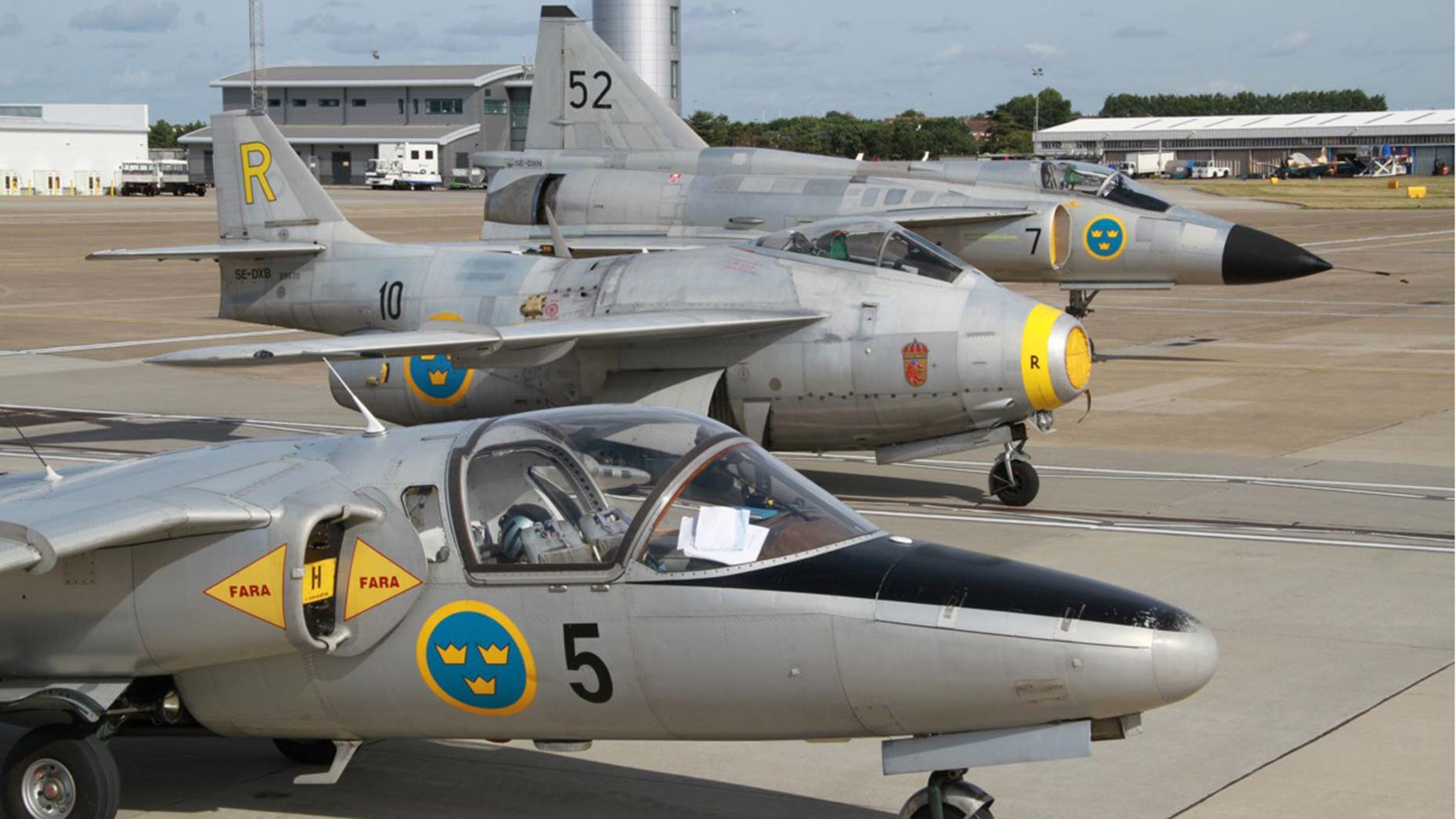 Waddington International Air Show will host some of the Swedish Air Force's historic aircraft. For the very first time at RAF Waddington, visitors will see three of Sweden Air Force's most historical planes the SK60, the Tunnan and the SAAB JA37 Viggen....
Transcontinental air race to make first stop here Home
- Mountain Home News | Commemorating the legacy of women's air racing, which began in 1929, the Air Race Classic represents the "epicenter" of women's air racing, according to event organizers. Race teams featuring at least two women pilots navigate the route using visual ...
Pilots prepare to take wing in annual air race
- Washington Post | Forty-seven planes will soar through the air over Washington state to begin their race against the clock in the 2013 Air Race Classic. Pilots Debi Dreyfuss of Potomac and Linda Knowles of Falls Church will be in one of those planes next Tuesday.
UND duo to compete in female aviation competition
- WDAY | School officials say student Amy Warbalow and instructor Katrina Kugler are slated to leave Thursday from the Grand Forks airport. The Air Race Classic begins next week in Pasco, Wash. Aviation teams are given four days to fly the 2,400 miles to...
OHIO AIR NEWS 231
- Charles Johnson | Photo's from TICO in Florida and Waterloo, ON
9th Annual Gulf Coast Hot Air Balloon Festival Video
- Alabama Aviator | FOLEY ALABAMA -Fathers Day Weekend, June 14-15, 2013 at the Foley Sports Complex, 18507 US Highway 98 West, Foley, Alabama- The Gulf Coast Hot Air Balloon Festival, presented by Tangier Outlets, welcomes more than 50 hot air balloonists from across the country. Enjoy the floating works of art as they grace the skies of South Baldwin County on Friday and Saturday morning. Get up close and personal as the hot air balloons and their pilots light up the evening skies at the nightly balloon glows, held Friday and Saturday night....
RAF Museum Pays Respects at the Gravesite of Dornier 17 Bombardier
By WarbirdsUpdate | On the same day that the plane that carried him for his final flight was raised from it's watery grave, the gravesite of Luftwaffe Corporal Heinz Huhn was visited by Alex Medhurst, the General Manager of the Royal Air Force Museum Cosford, who laid a wreath at the stone marker....
Hidden Warbirds
by travelforaircraft | Read this book if you are interested in learning about the culture of people and organizations which search and find historic aircraft wrecks of the Second World War. Better, read this book if you want to learn the back stories of the recovery of many of these warbird wrecks from WW II to flying status as well as becoming exhibits in museums. Best, read this book for the stories of the service personnel who died within or survived the crashes that wrecked these aircraft — often, incredible stories of survival after becoming stranded in the remotest of territories are part of each war wreck's tale....
Pilot, teacher, entrepreneur Judith Redshaw gives back
- SunHerald.com | During her career, Redshaw was a pioneer for women in aviation. A native of Denham Springs, La., she began her career as a teacher, heading up the Orleans Regional Institute, a leading edge vo-tech school in New Orleans. In her spare time, she learned...
Wichita Aero Club awards first scholarship
- Wichita Business Journal | Hutchinson is working toward a bachelor's degree in aeronautical technology at K-State-Salina. He is already a licensed pilot and is nearing his certified flight instructor rating. He plans to pursue a career as an airline pilot. The Aero Club has more ...
International Young Eagles Day Free Flights Re-Scheduled
- Southern Maryland News Net | EAA SOA PMS The Experimental Aircraft Association (EAA) will provide airplane rides for young people (ages 8 to 17) at the St. Mary's County Regional Airport on Saturday, June 15, 2013. The flights will take place between 9:00 am and 1:00 pm. The ...
EAA's Annual Young Eagles Rally
- The Oshkosh Northwestern | Autumn Landrath, 9, smiles at her parents, not pictured, as she takes off in an Experimental Cubby, which is a home built version of a Piper Cub, during a Young Eagles Rally at Orion Flight Services in Oshkosh on Saturday, June 8, 2013. The annual ...
Roseburg pilot Larry Durst reaches milestone in taking Young Eagles skyward
- NRToday.com | MICHAEL SULLIVAN/The News-Review Lily Creekmore, 11, of Roseburg and her uncle, 12-year-old Cole Brecht of Roseburg, react with excitement Friday after landing with pilot Larry Durst of Roseburg as part of the Young Eagles Program at the Roseburg...
Taikonauts Return to Earth Orbit
- Spaceports | China began its longest manned space mission yet Tuesday, June 11, 2013 with the launch of the Shenzhou-10, state television showed, as the country steps up an ambitious exploration program symbolizing its growing space power. Later this year, the nation plans its first unmanned probe to land on the surface of the Moon...