2011 air show at Pease earns honors - Seacoastonline.com | The U.S. Army Golden Knights have named the 2011 Service Credit Union Boston Portsmouth Air Show as their air show of the year. The announcement was made recently during the 2011 International Council of Air Shows convention in Las Vegas, Nevada. Members of the Golden Knights parachute team presented air show officials with the award recognizing the show for their outstanding 2011 event.....

US Navy Blue Angels to headline NY's Jones Beach Air Show in 2012 - Washington Post | The United States Navy Blue Angels military jet team has just been announced as the headline attraction at the Jones Beach Air Show. The popular shows take place on Memorial Day weekend. The state Office of Parks, Recreation and Historic Preservation....

RIAT 2012: Polish Mi-14 and An-26 from Hungary - Defense Online | The 2012th 7 to 8 July. held between the Royal International Air Tattoo n (RIAT) is a - a rarity nowadays - types of involvement
have been confirmed among the first of the invited countries, such as the Polish Navy Mi-14 Haze ...

So much awesome in this photo. A beautiful Grumman F7F Tigercat... from You like airplanes, too? | So much awesome in this photo. A beautiful Grumman F7F Tigercat in...

Heart of America Sport Aviation Classic set for 2012 from General Aviation News | A new fly-in event, the Heart of America Sport Aviation Classic (HOA Classic for short), catering to the experimental, light-sport and ultralight segments of general aviation will be held in Lee's Summit, Missouri, October 5-7. This free-to-the-public event is...

Backers of grounded Homestead aircraft show seek new flight plan - Miami Today | Miami economic development officials are scratching for alternatives to keep alive their idea of bringing a
world-class aircraft show to the region. Their hopes were doused last week when the US Air Force again turned down their request to use the military's Homestead Air Reserve Base for the proposed Miami International Air Show....

Martinsburg air show to fly again - Heral-mail | The 167th Airlift Wing of the West Virginia Air National Guard will host an air show and open house again next year at Eastern West Virginia Regional Airport south of Martinsburg. The 2012 Thunder Over the Blue Ridge Air Show and Open House will be held at Shepherd Field on Sept. 15 and 16 in partnership with the community, the Airlift Wing announced....

Recovery continues for Reno crash survivor Larry Cruz from General Aviation News | I spoke with Larry Cruz's wife, Tracy, last week about his recovery from the accident at this year's Reno Air Races. He finally made it home on November, two months after the accident. While hospital-bound, friends and family outfit their home to make it easier, and safer, for Larry to move around. A new prosthetic arm is on order and he's....

Bob has Gone West Skuldt from Wisconsin Aviation History by John Dorcey | The fabric of aviation is interwoven with threads of aviators of all types. A common part of each of those threads, each of those aviators, is passion. That fabric lost a thread on Monday, December 19, 2011. Bob Skuldt, a very passionate aviator, has gone west. Bob's passion for aviation was evident that day in [...]

Tributes paid to former RAF pilot from Much Hadham - Herts and Essex Observer | He started off as a pilot officer with a four-engine Lancaster bomber, and soon went on to become part of the reserve team for the New Zealand Air Race in June 1953. At the last minute, Mac got his chance to take part in the race and, together with his ...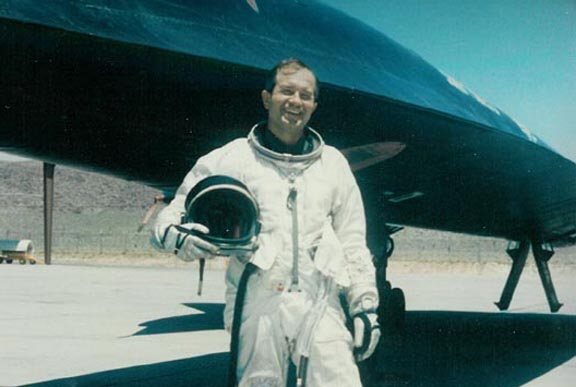 CIA A-12 Pilot Ken Collins Enshrined in KAHOF by TD Barnes, President Roadrunners Internationale | Rushing back from Paris, France where Colonel Collins spoke at the Aeroclub de France re the A-12, he honored all Roadrunners by his being enshrined into the Kansas Hall of Fame. His Hall of Fame plaque is on display at Topeka's Great Overland Station railroading museum at 701 N. Kansas Ave. in Topeka, Kansas. Following his induction, he returned to California where he spoke on Veterans Day in Redlands....

Cultivating passion through rockin' technology: N Flight Cam joins our adventure from Amelia Earhart | ...I had a great conversation yesterday with a new friend who also shares my love of aviation. We talked about the fact that in order to grow this field, and inspire others to fall in love with the
freedom of the sky, we must reject...

Pioneering flight over Mt. Tam made 100 years ago - San Francisco Chronicle | Nineteen eleven was also the year of the first transcontinental air race. William Randolph Hearst, the publisher, sponsored a race with a $50000 prize for the first flier to cross the country within 30 days. Calbraith Perry Rodgers made the trip, ...

Videos of the year: Editors' picks - The Seattle Times | In 2011, Seattle Times photographers and videographers captured the screaming of the Blue Angels and first flights of the Boeing Dreamliner, slipped underwater to see salmon swim in the Elwha River and traveled far and wide to create videos for ...

Video: Now, With Music - Neptunus Lex | Courtesy of occasional reader Kirk, LMCO's promo video of the F-35B's sea trials aboard Wasp...

Week in photos Dec. 15, 2011 from U.S. Air Force Live | The Operation Toy Drop photo from this week's Air Force week in photos exemplifies one of the Air Force's most valuable contributions while bringing smiles to faces of children during the holiday season....

Lexington grad, elite naval aviator causes commotion on trip home - Lexington Herald Leader |
Fiebing said that while women are increasingly a part of the Navy, only about 6.5% of the Navy's total population of aviators are women. "When you add all of the Navy's female aviators together, the total female population grows to over 800 that fly ...

Hobby Quest: Kids Can Learn the Science of Flight - Patch | ...The class gives resident children something to do during their winter break. They will learn all about the science of flight, develop skills, and create and fly a model airplane - which they get to keep! All materials will be provided by the instructor of the class....

The best and worst of 2011 - Flight Training Blog | Welcome to the second annual Best and Worst of for the flight training industry. The 2010 blog, which you can read here, pointed to flight...

So, how will Stratolaunch stack up? from The Original Rocket Dungeon | Parabolic Arc just posted this cool graphic to compare Stratolaunch with other US space launch systems. The graphic is sorted by LEO lift capability. Visit the Arc for the...