Navy Blue Angels to perform in March at Thunder Over Utah Air Show in St. George - The Republic | The U.S. Navy Blue Angels will be the featured performers at the next Thunder Over Utah Air Show at the municipal airport in St. George. The show is set for March 17-18. This will be the
Blue Angels' first time performing in southern Utah....

Phantoms and Angels: Blue Angels F-4 Phantom Teams | Precision, team work, unending dedication to perfection. Since its formation in 1946, these have been the traditions of the United States Navy Flight Demonstration Squadron - the Blue Angels. From 1969 to 1973, the Blue Angels flew the F-4J Phantom II, a high-performance jet fighter which flew more than 1,600 miles per hour and achieved altitudes in excess of 100,000 feet. For the first time, read the first hand accounts of the Blue Angels who flew on the wings of the F-4 Phantom....

My biggest fan came for a visit in Burbank - Flying with Amelia | We woke in Oakland, CA to a
bank of fog that keep many a pilot on the ground. Rather than taking off at 6am and heading straight to Burbank, we waited until 9 am to head to the airport when the fog cleared. We thanked the crew at Attitude Aviation for their hangar space and gracious hospitality. With a cliff bar in hand, we climbed in the plane and started a cold engine. We decided to fly VFR to Santa Barbara in...

Air show officials remember pilot - News and Sentinel | Local air show officials remember a pilot who was a staple at the Mid-Ohio Valley Regional Airport events and other aerial programs throughout the state. On Dec. 22, pilot Michael Lakin, 42, who had participated in many Air Expos at the Mid-Ohio Valley Regional Airport, was killed while performing aerial stunt maneuvers for recertification near Columbus, Ohio....

More Info On Sponsorship for the Air Race Classic - You Fly Girl | We can certainly use all available hands. But I would like to add a comment about sponsoring the race: Sponsorship does not entail thousands of dollars. We have sponsors for $25 on up and we have many who sponsor the race by...

Air Racers 3D | 3D Entertainment has released the new poster for the upcoming Giant Screen film "Air Racers 3D." - "A Spectacular Air Show Experience"
Fly into Nevada's "Valley of Speed" for a breathtaking exploration of the fastest race in the world
combined with spectacular air show entertainment: the legendary Reno National Championship Air Races. Join today's elite pilots as they fight for position, wingtip-to-wingtip, and skim 50 feet (15 m) above the ground around an oval course at twice the speed of a "Nascar" race.
Discover this ultra-competitive world through the eyes of rookie pilot Steve Hinton Jr. as he attempts to fly his P-51 Mustang fighter plane to victory in the most highly-anticipated and unpredictable race class. Learn about the history and science behind the sport, whose concept dates back to the dawn of aviation and see top-notch aerobatic performers, including the Canadian Forces Snowbirds.
With spectacular aerial photography filmed entirely in 3D and unprecedented access granted to the course, Air Racers puts you in the cockpit to experience the intensity and high-speed thrills of a sports event like no other for the very first time in IMAX 3D theatres.
The film opens in IMAX and Giant Screen theaters April 5, 2012.

Old Buckenham airshow to return in 2012 - Norfolk Eastern Daily Press | Officials from the Touchdown Aero Centre, which operates the airfield, said the airshow would offer displays from perennially popular vintage aircraft to the latest in modern aerobatic machines. The event will also feature a fairground, military static...

Venues set New Year's Eve plans By LINDSAY PEYTON, CHRONICLE CORRESPONDENT | As 2011 draws to a close, local restaurants are creating special menus and area venues are booking acts for their New Year's Eve celebrations. Spring residents will have their pick of entertainment for the big evening – from listening to the classical compositions of the Houston Symphony to dancing to Sinatra tunes in an airport hangar-turned 1940s nightclub....


Studio plans to film 'Duggy' episodes - AndersonValleyPost.com | He recently starred in "Thunder Over Reno," a film that partially takes place at the Reno Air Races. The movie was directed by Mitch Farley, creator of "Duggy." "He (Foxworthy) did share his excitement for the project and he appears to have quite a bit...

Museum to feature B-25 - Fremont News Messenger | The centerpiece at the Liberty Aviation Museum, under construction at the Erie-Ottawa Regional Airport, will be a B-25 bomber manufactured by NA Aviation in 1945. The plane has 13 machine guns and is one of only 30 worldwide....

U.S. Air Force & Combat Infantry: Intense Love-Hate Relationship - Salem News | ...The first American Airplanes got to Britain in June '45. By July 27th there were 47 B-17 Bombers, 74 P-38 Fighters and 52 C-47 Cargo planes. Almost none of the Bombers survived their missions. The Memphis Belle was the first to survive 25 missions to great celebration!...

Secret Squirrel Stratofortress — the B-52 known as El Lobo II - Travel for Aircraft | 16-17
December 1991: 57 men in 7 B-52 Stratofortresses completed a record setting historical combat mission which was designated Secret Squirrel. This mission was the first strike of Operation Desert Storm — initiating Gulf War I — flying 35 hours over 14,000 miles to...

Video: Nearly 14' Wingspan RC Airbus A400M - With Paratroopers! - AirPigz | This amazing and very large (1:10 scale) Airbus A400M RC model has been around for a while but there's so dang much cool stuff on the interwebs these days that sometimes it takes a while to find the must-see items. With a nearly 14 foot wingspan, a little over 90 pounds, and with 18 servos operated by two people with two radios, this is one complex RC model. And, as this video shows, it has video cameras mounted in the cockpit(!), under the...

Video: Wingsuiters at it again - in formation! - Bayou Renaissance Man

Aviation for Kids - NBC26 | E.A.A. Airventure may be about a half a year away, but that's not stopping the staff at the E.A.A. Airventure Museum from getting Northeast Wisconsin kids excited about airplanes....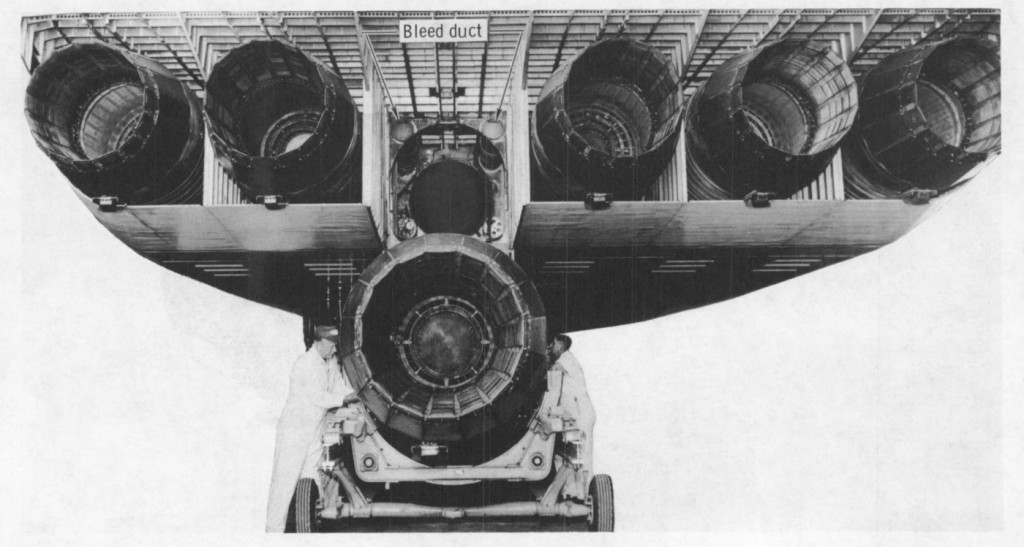 XB-70 Engines - The Unwanted Blog | A photo from a NASA report showing the tail end of a B-70, with engine #3 removed. The B-70 was a carefully shaped vehicle, every line and....

NASA space camp scholarship offered to children of military from Air Force Link Top Stories | NASA Space Camp is a place of learning where children come together for a journey they will never forget. For many, it is a life-changing event - helping them make decisions about their educational and vocational careers. This extraordinary adventure teaches our youth about astronauts and space travel and so much more. They learn leadership and they develop bonds of friendship that can last a lifetime....