In 1937 or 2011, it is still Amelia's Airspace: A photo recreation over Treasure Island
- Flying with Amelia | Day one: Denver to Oakland | As we launched out of Centennial Airport at 7:00 am on Monday December 26th, a huge mountain wave cloud sat over the foothills of Denver, waiting to rock our wings and remind us that flying is still a challenge and a feat that is not for the faint of heart. After a clearance... [Also:
9News Coverage
]
Cable Air Show Jan. 7-8
- Upland Now | The 37th annual Cable Airshow will be from 8 a.m. to 4 p.m. Jan. 7-8 at Cable Airport, 1749 W. 13th St. in Upland. Admission is $7 for adults, $5 for kids ages 5-12 and free for children under 5 years old. Parking is free. Just in Time Skydivers and the Freedom Parachute Team will jump...
Warbirds, wheels to fascinate all
- Otago Daily Times | After many months of preparation, the Warbirds and Wheels attraction at Wanaka Airport will open its doors to the public for the first time today. The attraction is located in a purpose-built hangar opposite...
CAF B-29 Pilot David Oliver
– Warbird Radio LIVE! – Tuesday | Commemorative Air Force B-29 pilot David Oliver joins Matt Jolley on Warbird Radio LIVE! It's our first...
Skip Hit - Low level flying in West Germany
- Vintage Wings of Canada | Seems a long time since
we had enemies we could trust! The Cold War was real: a long, bi-polar stand-off stretching from the end of the Second World War until 1989 - when the time was right for The Wall to be taken down. It was a time fraught with real uncertainty and both real and perceived risks affecting the entire world under the sword of nuclear deterrence. The period was really a measure of why the RCAF and Canadian Army were stationed at bases and casernes across Western Europe. After all the sacrifices of the Second World War, we had to continue our air and ground presence and readiness to swiftly counter the Eastern Bloc nuclear and conventional threat....
Aviation enthusiasts work to identify plane found in water off Jupiter
- Palm Beach Post | Randy Jordan was just following the fish. Diving at a depth of about 200 feet four miles off Jupiter Tuesday, the owner of Emerald Charters wasn't expecting to see much more than sand and seafood. But the deep waters were hiding something: the remains of a mostly intact aircraft upside down on the ocean floor....
Scuba Diver Uncovers WWII Plane
- ABC News Video | The fully intact plane could contain live ammunition or human remains.
Tonopah Air Field had its share of tragedy during WWII
- RGJ | Tonopah has a secret, a jinxed World War II military base. The Tonopah Army Air Field played an important role during the war but is known today to few, except military buffs, outside the area....
Former female WWII pilot takes to the skies again
- Sun Sentinel | Every person is filled with stories, and for Tex Meachem, the roar of a propeller is one that tells hers. The 93-year-old woman lives in John Knox Village in Pompano Beach and her home shows hints of her past: a teddy bear dressed as a pilot, old photographs of her in a jump suit. While men were shipped overseas to fight in World War II, the women held down the fort back home. Meachem was one of a handful of women who pioneered the skies as a member of the Women Airforce Service Pilots, or WASPs....
The Great Female Pilot – Pancho Barnes
- Top Secret Writers | Pancho Barnes was an unconventional character that had a big effect on aviation and aviators during some of the most dynamic years in aviation history. Though living through pain, prejudice, and the Great Depression, she maintained a love of life. ...
High Flying Fiorello and the Airfield that Bares His Name
- Patch.com | And with so much oft-overlooked trivia about this hub of aviation history, there's certainly a whole lot for passengers to ponder the next time they wait patiently in line at LGA's security check point. Like the fact that Time once called Queens' ...
Secret Japanese Aircraft of WWII
- Military Photos | History Channel - Starting in the 1930's, Japanese aircraft designers made incredible strides, and by the time hostilities broke out, the Imperial Air Force had some of the most sophisticated and effective planes in the world. SECRET JAPANESE AIRCRAFT OF WORLD WAR II traces the development of the Japanese industry and its famous creations, like the Nakajima Ki-43 Oscar and the Mitsubishi A6M Zero. But the program also exposes the...
Eastern Airlines DC-7B — her latest challenge
- Travel for Aircraft | Ralph Petterson wrote this
article from September 2008 on the aircraft and the work done by the Historical Flight Foundation (link also provided by Dave "Mac"). There is also this more recent article from August 2010, also by Ralph Petterson. She has been flown on revenue flights for the last year or so, as far as Oshkosh. On her latest flight, in...
Notes on the Sea Dart and the Atlantis
- Travel for Aircraft | ...article written by Robert F. Door that is the most concise and thorough history of the Convair Sea Dart I have read....may be the last photos of the cockpit as well as payload bay of Space Shuttle Atlantis prior to her preparation for display...
F-16 Pilot Reaches 4,000 Flight Hours
- Airforce-magazine | Lt. Col. Brian Egger, an instructor pilot with the 480th Fighter Squadron at Spangdahlem AB, Germany, became only the 34th USAF pilot to amass 4,000 flight hours in the F-16, according to members of the unit. "This is very rare," said Lt. Col Aaron Piepkorn,...
Rise of the drone: From Calif. garage to multibillion-dollar defense industry
- Washington Post | Lake Forest, Calif. — In 1980, Abraham Karem, an engineer who had emigrated from Israel, retreated into his three-car garage in Hacienda Heights outside Los Angeles and, to the bemusement of his tolerant wife, began to build an aircraft. The work eventually spilled into the guest room, and when Karem finished more than a year later, he wheeled into his driveway an odd, cigar-shaped craft that was destined to change the way the United States wages war....
China to start work on world's highest airport
- Pilot News Magazine | China will start work on the world's highest airport next year, in Tibet's Nagqu town, state media said on Tuesday, which will be about 100 metres (328 ft) higher than the existing record holder in another part of the remote and restive region. Nagqu airport will be at an altitude of 4,436 metres (14,553 ft) above sea level, slightly higher than the airport in Qamdo town at 4,334 metres (14,219 ft), Xinhua news agency reported....
Replica of Wright brothers' invention soars at Bozeman High
- Bozeman Daily Chronicle | Kelsey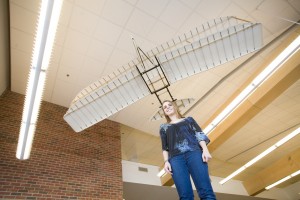 Horn was thrilled Thursday when the replica she built of the Wright brothers' 1902 glider was installed in its permanent home in Bozeman High School's library...
Aspiring pilots win Young Eagles scholarships
from General Aviation News by Janice Wood | Four young people are on the path to fulfilling their aviation dreams as recipients of scholarships through the EAA Young Eagles Scholarship Program, which funds flying lessons and flight experiences for teenage student pilots interested in aviation and aviation careers...
December 27, 2011 Girl Scouts at Texas Gulf Coast Regional Airport
- Ely Air Lines | It was a stormy day last week when eight girls, ages 8-9, climbed inside the airport fire truck. There a fireman entertained and educated the group, pushing the water cannon button blasting 750 gallons a minute in a high arch across the ramp so they could see how it works....
Why aviation people need to be better at telling media's stories
from Letters from Flyover Country by Bob Collins | I'm a big fan of the podcast, Uncontrolled Air Space, which is three very knowledgeable gentlemen gassing on for an hour about all things (general) aviation. They're smart, they make excellent points, and they're a great companion for me out at the hangar....
The Dungeon's Top Ten of 2011
- The Orginal Rocket Dungeon