2011 ICAS Opening Session - www.airshowbuzz.com | Here's the opening video for the ICAS convention produced by Mark Magin and Onboard Images.

Navy Blue Angels to be part of 2012 Westmoreland Air Show - Pittsburgh Tribune-Review | The Blue Angels will take flight in Westmoreland County again. A year after returning a scaled-down version of the Westmoreland Air Show, the Westmoreland County Airport Authority is looking at a full-fledged comeback this summer. The Navy Blue Angels will perform at the Arnold Palmer
Regional Airport on June 23 and 24 at the air show, the first time they've performed at the air show since 1998, authority Executive Director Gabe Monzo. The...

Untitled - Bonjour Bluesky

Scott Air Force Base Air Show Confirmed - Gather | An indirect confirmation of tthe 2012 Scott Air Force Base Air Show has been revealed by the Air Force Thunderbirds precision jet demonstration team. The Thunderbirds announced at the International Council of Air Shows that they will headline the Scott Air Show September 15th and 16th of 2012. The air show was not held ithis past fall because of a conflict with a major base inspection but it appears it is back on for next year....

2012 Air Show Season shaping up! - Dan Marcotte Airshows | We're just back from Las Vegas and the 2011 ICAS Convention. It was great to catch up with old friends and make some new ones too! Will was a star in his lobster costume at the Welcome Reception (pictures coming soon!) and Sarah did a great job in the ICAS Has Talent production....

PATTY WAGSTAFF JOINS PLANE & PILOT MAGAZINE AS A MONTHY COLUMNIST - Plane & Pilot | Jessica Ambats, editor of PLANE & PILOT, is excited to announce that Patty Wagstaff has joined her team of monthly columnists. Patty WagstaffAir show pro and industry figure Patty Wagstaff will be writing a new monthly column! "Let It Roll" will feature the observations, ponderings and philosophical meanderings of an air show pilot, flight instructor and life adventurer who loves to compare aviation with non-aviation experiences. Upcoming columns will showcase her passion for flying with exciting—and sometimes quirky—stories of aerobatics, learning to fly, airplanes and the pilots who fly them....

Blue Angels Mission for Toys for Tots - YouTube | Each year employees from Lockheed Martin partner with the Blue Angels and Toys for Tots to deliver holiday magic to communities devastated by natural disaste...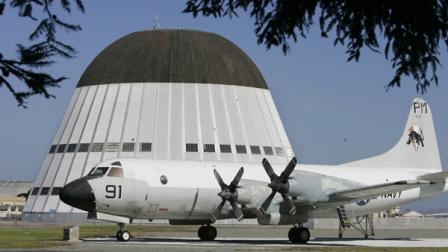 Google founders want to restore Moffett hangar
- ABC7 | A company controlled by the founders of Google has offered to pay the full cost of preserving a hangar at Moffett Field in Mountain View. Hangar 1, as it's known, is contaminated with toxic chemicals and scheduled for...
Gone West: WASP Betty Haas Pfister
- Aero-News Network | One of aviation's pioneer women passed away November 17th. Betty Haas Pfister, who served as a WASP during WWII, died at her home in Aspen, CO, at the age of 90....
I'm stumped! It's a mystery! What sort of plane is this?
- Rodney's Aviation Ramblings | ...Yep, it's true. I've photographed a plane and I have no idea what type it is! If anyone has any ideas, I'd love to hear them. This aircraft went over head Wellington [or just north of] at about 12:21pm this morning [Saturday 10 December]. We only noticed it because of the condensation trail behind it which was well formed, indicating low winds at altitude....
F-35A Pushes to Mach 1.6
- ARES | ...At that time, Griffith had taken one of the initial F-35A test aircraft to 583 KCAS (exceeding Mach 1.2). Now, as the pace of testing continues to accelerate despite earlier delays caused by an inflight dual generator failure, and problems with the integrated power package (IPP), the jet has been flown to Mach 1.61....
787 breaks endurance records
- Flightglobal | Boeing has pushed its 787 to the outer limits of performance, breaking two endurance records for an aircraft of its size. 787 test aircraft ZA006, powered by twin General Electric GEnx-1B engines, departed Boeing Field in Seattle at 11:02 local time on an eastward route to Dhaka, Bangladesh on 6 December covering a distance of 19,835km (10,710nm) overflying New York and Luxor, Egypt on its leg to South Asia. The leg broke the distance record for...
Hamilton Metalplane on skis getting a tow
- Planeshots
NASA Announces Launch Date and Milestones for Spacex Flight
- NASA | WASHINGTON -- NASA has announced the launch target for Space Exploration Technologies' (SpaceX) second Commercial Orbital Transportation Services (COTS) demonstration flight will be Feb. 7, 2012, pending completion of final safety reviews, testing and verification. NASA also has agreed to allow SpaceX to send its Dragon spacecraft to rendezvous with the International Space Station (ISS) in a single flight....
Colorado Seeks Spaceport Status
- AVweb | Colorado Governor John Hickenlooper has sent a letter to the FAA seeking designation as a spaceport and the ability to create facilities for that purpose. Colorado ranks third for highest state revenue generated from the aerospace industry, according to the Governor. It also hosts 140 aerospace companies, the Air Force Space Command headquarters and NORAD. The Governor's target is Front Range Airport, about 20 miles east of Denver. If federally approved...
Space Tourists' Spacecraft to Join Shuttle Exhibits on Both Coasts
- Space.com | A self-funded space traveler loaned his Russian spacecraft to a museum Thursday (Dec. 8), where it will be exhibited near a full-size mockup of a U.S. space shuttle. The donation was anything but a...