Thunderbirds arrive, volunteers get ready for weekend air show - Newton Daily News | WATERLOO (MCT) — Organizers are counting on a couple of teams to propel the Thunder in the Valley Air Show: the US Air Force Thunderbirds and a legion of volunteers. Both made their first appearance ...

Blue Angels will fly at Miramar air show - NavyTimes.com | SAN DIEGO — The Blue Angels flight demonstration team will highlight this year's Miramar Air Show, the Marine Corps announced Friday. The Navy's blue-and-gold team of F/A-18 Hornet fighter jets will perform during the annual air show, which runs Sept. ...

Mike Goulian Airshows - Coming to the Brunswick Air Show this weekend? I am bein... from Air Show Buzz's Facebook Wall | Mike Goulian Airshows - Coming to the Brunswick Air Show this weekend? I am being hosted by Wells Fargo Advisors and will be meeting with friends and fans at the Wells Fargo Stagecoach immediately following the show. Come and say hi. Will be great to meet all of the New England air show fans.


Picture Of The Day
from US Army Golden Knights by Rachel Medley
"Thunder Over the Valley" in Santa Maria this weekend
- KSBY San Luis Obispo News | The Santa Maria Museum of Flight has been putting on this air show for about 15 years and it features vintage and modern-day warbirds. KSBY News Reporter Monica Quintero will have a preview on KSBY News at 5 and 6. She went up on a North American T-28C ...
Classic Warbirds at the 2011 Wings Over Camarillo Airshow
from Randy Rothhaar Photography | A couple of the many classic warbirds at the 2011 Wings Over Camarillo Airshow.
Air show offers more than aircraft
- Journal Pioneer | They will be giving rides this weekend at the Atlantic Canada International Air Show. Though the Atlantic Canada International Air Show this weekend will have a lot of aircraft displays, they won't be the only attraction. The Canadian army will be ...
The Aluminum Overcast
- The Star-Ledger - NJ.com | By Ed Murray/The Star-Ledger John Lyon of Caldwell in the bombardier compartment in the nose of The Aluminum Overcast, a WWII era B-17 bomber gave rides to veterans and others at the Essex County Airport in Fairfield on Friday, August 26, 2011. ...
Former RAF comrades pay tribute to fallen Red Arrow pilot Jon Egging
- Bridport and Lyme Regis News | By James Tourgout » FORMER RAF comrades have paid tribute to heroic Red Arrow pilot Jon Egging who died shortly after a flypast of a village fete. Flt Lt Egging was killed when his Hawk T1 aircraft – Red Four – crashed near Bournemouth International ...
Thousands leave tributes to brave Red Arrows pilot in Bournemouth
- Bournemouth Echo | A week after Red Arrows pilot Jon Egging lost his life in Bournemouth, those were among the thousands of moving words left in tribute. Bournemouth council has decided to keep its books of condolences open for ...
F16 fighter to fly in for Portrush Airshow
- Belfast Telegraph | An F16 fighter jet has been confirmed for last-minute inclusion in the Portrush Airshow. The jet will soar high over the skies at the Northern Ireland International Airshow courtesy of the Belgian Air Force. The new attraction will go some way to make ...
Fighter Wing Heads to Indiana to Escape Hurricane Irene
- wibc.com | Grissom Air Reserve Base in Miami County will be a "home away from home" for a fighter wing unit based on the east coast. Tech Sgt. Doug Hayes says approximately 20 F-22 Raptors and support personnel from the 1st Fighter Wing will arrive Friday from Langley Air Force Base in Virginia. ...
Planes collide in Mujuru flypast
- The Zimbabwe Standard | There was near-disaster at the National Heroes Acre during the burial of former army commander Solomon Mujuru yesterday after two of the three jet fighters appeared to partially collide mid-air during a flypast ...
WWII planes above Grand Pier
- Weston & Somerset Mercury | THE Grand Pier will play host to a RAF Battle of Britain Memorial fly-by this afternoon (Fri). To send a link to this page to a friend, simply enter their email address below. The message will include the name and email address you gave us when you ...
1952 Powder Puff Derby Program
from You Fly, Girl by Cathy Gale | Giving you a preview of what's in store for you. I've got a 1952 Powder Puff Derby program, and I'll be scanning it and sharing it here. ...
Hot Air Balloon Launch Canceled Due to Bad Weather
- KEZI TV | Dozens of hot air balloons were supposed to fill the morning sky at the Northwest Art and Air Festival in Albany Friday, but that picturesque view had to be canceled last minute. They were supposed to launch at about 6:45 am, but due to bad weather, ...
Canopy Piloting events in Klatovy: Day 5
from Fédération Aéronautique Internationale - FAI | Friday 26th August Due to my internet problems did not receive the final report from Klatovy yesterday until this morning - "Finished the last round of Distance about 16.20 - see results. Competitor meeting in 45 minutes to discuss the Freestyle event planned for tomorrow. The jury has given the organisers their blessing to move up the closing ceremonies to tomorrow evening." ...
Parachuting competitions in Kikinda: Day 6
from Fédération Aéronautique Internationale - FAI | Day 6 - 26th August Congratulations to all our new European Champions in the 6th FAI European Freefall Style & Accuracy Landing Championships : ...
Aircraft VC-9C "Air Force Two 'is now part of the Museum of Air Mobility Command U.S.
from CavokBlog - Translated | ... After landing at the airbase, the ceremony of the arrival of twin VC-9C began with the traditional water jet by two fire trucks. Local community members joined members of the Dover Air Force Base on track to receive the aircraft and crew, who flew from Scott Air Force Base, Illinois. Colonel Mark Camerer, the commander of the 436 th Airlift Wing, addressed the crowd when the plane finally came to a stop location. ...
Museum soars
- Press-Enterprise | The March Field Air Museum is making a quantum jump in telling the rich history of one of the nation's oldest military airfields and preserving space program artifacts. The museum just won national accreditation and opened a new hangar for its military ...
In Russia will be restored the legendary plane
from Aviation news - Planegrazy | A legendary plane, IL-2, soon will return to its historic homeland, in Samara. This famous fighter aircraft has become a symbol of Samara during the years of the Second World War. The plane was found on the border with Finland and delivered to Novosibirsk. Now specialists of plant Aviakor in Samara carry on the restoration of the aircraft. The plane was found in a swamp by ...
English Electric Canberra - decals and warning placards as art!
by shortfinals | In the immediate post-WW2 era, the United Kingdom was in a terrible situation. Severe damage to various cities, no foreign currency reserves, a worn-out infrastructure, and initially, food rationing more strict even than that imposed during the war (even bread was rationed, for a while) . It would seem that Britain had ...
Jolly Green Giant Lifts Sea King
from Ares | I don't know if the Germans call a CH-53 a Jolly Green Giant like Americans do, but the German version of the heavy-lift helicopter was used yesterday to bring a German navy Sea King home. ...
"Where was I when the Rockets came to life…"* (Become a Pilot Day 2011)
by Joe Sterne
Around the time that Jules and I attended the Air Show at Andrews AFB, I saw a tweet to enter a contest sponsored by the Smithsonian to be a VIP attendee for a "Pilot Day" in late June. I entered all my information in the form and submitted my entry not thinking much of it. A couple weeks later, ...
"Fabulous Five" UCAP #251
from Uncontrolled Airspace: General Aviation Podcast | The first 20 minutes notwithstanding, this is an aviation podcast, it really is, really. Uncontrolled Airspace Episode #251.
Feds Sign Off on Boeing's 787 Dreamliner
from Autopia | EVERETT, Washington — The flight testing is done, the Federal Aviation Administration has issued its approval and as of today Boeing can say the 787 Dreamliner is certified to carry passengers. The FAA presented Boeing with a type certificate and production certificate for the innovative composite airliner during a ceremony at Boeing's factory north of Seattle. The pieces of paper mean the Dreamliner can begin commercial service, and they represent the culmination of several billion dollars of investment for the ...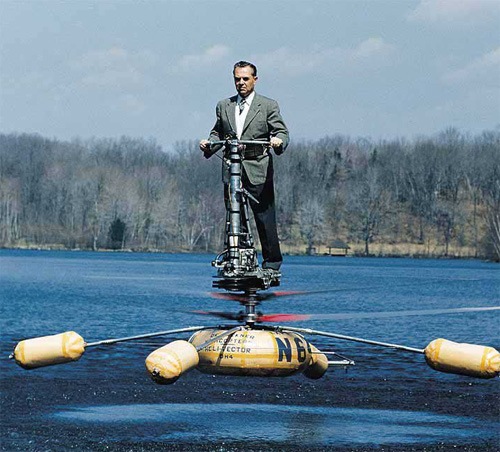 Embry Riddle Begins GFC Test Flights
from CAFE Foundation Blog | On August 23, 2011, the Embry Riddle Aeronautical University's Green Flight Challenge hybrid-powered modified Stemme S10, the Eco-Eagle, began its ground tests on the Daytona Beach International taxiways, "Getting ATC used to us!" The next day saw several ground-skimming "flights," starting at 2-feet, and ...
Gentleman takes his heli-vector for a spin
from Boing Boing by Mark Frauenfelder