Tucker, Kittinger to Appear at Pre-AirVenture Program at Theater in ... - airventure.org | July 17, 2013 - AviationSpeakers.com will present its 28th AirVenture kickoff program, "An Evening With Champions," Sunday evening, July 28, at Theater in the Woods. Featured presenters include aerobatic legend Sean D. Tucker, aviation humorist Dr. Jerry Cockrell, and record-setting high-altitude parachute jumper Col. Joe Kittinger. The pilots have flown more than 56,000 hours collectively. For the third year the program will be emceed by Tye Mortensen, son of Danny Mortensen, who emceed the event for 25 years...

Volunteers needed for AirVenture Cup - Mankato Free Press | The EAA AirVenture Cup Race was founded in 1997 in the spirit of recreating the old Bendix Trophy Race and is dedicated to aviation advocacy and preserving the rich heritage of cross-country air racing. The general public is invited to the Mt. Vernon ...

Terrafugia Readies Flying Car for First Public Air Show - Wall Street Journal (blog) By Jonathan Welsh | Flying-car maker Terrafugia said its Transition vehicle will make a demonstration later this month during EAA AirVenture, an annual gathering of aviation enthusiasts and industry insiders in Oshkosh, Wisc. The event, known by the airplane crowd simply as "Oshkosh," will also mark the first public airshow appearance of the Transition, which can be driven on roads and highways like a car and flown off airport runways where other small aircraft operate. Its wings fold electrically for driving and extend for flight....

Sporty's releases official AirVenture app · General Aviation News Staff | Sporty's 2013 free EAA AirVenture app is now available for download – and it's free. Now in its third year, the app has been continually enhanced with user feedback, according to Sporty's officials. "With literally thousands of exhibitors, airplanes, workshops, forums, talks, social gatherings, and displays, you have to approach AirVenture with a plan," says Sporty's Vice President John Zimmerman. "Spend some time organizing your visit, stick your phone in your pocket and you're set."...

This Weekend: Find the air show closest to you on the Fencecheck calendar! Lots of choices.

AIR TATTOO A SATURDAY SELL OUT - ONLY SUNDAY TICKETS REMAIN | Royal International Air Tattoo | We have now announced that tickets for tomorrow (Saturday, July 20) have completely sold out - however, a number are still available for Sunday, July 21 from our website here. No one should turn up at the Air Tattoo over the weekend without a ticket as none will be available to buy at the gate on either day....

THANK YOU TO SEA KING SAVIOURS - Royal International Air Tattoo | AIRCRAFT to the rescue! The Operational Theme at this year's Royal International Air Tattoo is SkyGuardian, recognising the role of civilian and military aircraft around the world in rescuing those in need. And one of the visitors to the show, Janice Brown from Dorking, is happy to testify to the value of airborne services after the crew of a Sea King helicopter came to her rescue when she suffered a serious injury while caving back in April 2000....

Vulcan bomber hopes are sunk - Dartmouth-Today | He said that next month's regatta spectacle includes helicopter displays, The Blades aerobatics show, the famous Red Arrows display and the Battle of Britain Memorial Flight. 'That really is plenty,' he said. 'We weren't going to have the Typhoon but ...

Scotland's National Airshow 2013 is on July 27th! - People's Postcode Lottery (blog) | Scotland's National Airshow is a spectacular day out for all the family. Aircrafts old and new take to the skies for an afternoon of breathtaking aerial displays over the skies of East Fortune and the National Museum of Flight. This year the RAF's supersonic Typhoon will take centre stage, with a Supermarine Spitfire and Hawker Hurricane from the Battle of Britain Memorial Flight. We welcome back the breathtaking Breitling Wingwalkers, a P 51-D Mustang and the Sea King helicopter. You will also be able to see spectacular aerobatic displays from the SWIP team and the Trig Aerobatic Team....

Red Arrows on their way to Cowes - Isle of Wight County Press | There had been fears the aerobatic team would not feature at the regatta after a post on the official Red Arrows Facebook page said the display had been cancelled. But, the County Press can exclusively reveal the team will be performing their stunts in ...

CAF's B-29 aircraft to return in Midland for three weeks - Midland Reporter-Telegram | Although Midland is still not its permanent home, the Commemorative Air Force's B-29, known as FIFI, will return for three weeks. From Aug. 24 to Sept. 17, FIFI will be on display at the George H.W. and Barbara Bush Commemorative Center at the CAF Airpower Museum. During that time, the plane will undergo maintenance while being on display for viewing and tours...

Remote control air show is back - Niagara Frontier Publications by Maddy Matthews | For the past 19 years, spectators have come to enjoy the Fly Over Niagara Remote Control Airshow. Hosted by The Wing and Rotor Flying Club of WNY, this event started as a way for remote control airplane enthusiasts to do what they love and for the public to understand the skill of this hobby...

Postal Service to issue 'inverted Jenny' collector stamp · Jill Tallman, AOPA Pilot Blog | Philatelists,
start your engines: The U.S. Postal Service plans to issue a collector stamp commemorating "the most famous error in the history of U.S. stamps": the 1918 misprint that produced an upside-down Curtiss-Jenny biplane....

Wings for Maggie Ray - Indy Film Fest | The film is the true story of Margaret Ringenberg, a US Army Air Force WASP pilot in World War Two, and later a renowned long distance aviation racer who competed well into her late 80s. The story is told through exciting re-enactments, meticulously researched archive photos and film, and insightful interviews, including unique perspectives from Indycar racer and team owner Sarah Fisher, and Lieutenant Colonel Nicole Malachowski, the first female pilot to perform with the US Air Force demonstration team, the Thunderbirds.

Mig-25 defection: How a Soviet Pilot Brought a Secret Warplane To The West · Jacek Siminski | Viktor Belenko, is a Mig-25 pilot who defected to the United States via Japan on Sept. 6, 1976. The then Lieutenant Belenko was a pilot with the 513th Fighter Regiment, 11th Air Army, based in Chuguyevka, Primorsky Krai, in the east of the country. When he brought his Mig-25 "Foxbat" to Hakodate he gave the Western intelligence officers the opportunity to give a first close look at one of the most secret airplanes of those years: a supersonic interceptor featuring a powerful radar, four air-to-air missiles and a top speed above Mach 3....

Air Force Week in Photos | This week's photos feature Airmen around the globe involved in activities
supporting expeditionary operations and defending America. This weekly feature showcases the men and women of the Air Force.

New Fort Bliss combat aviation leader says she's soldier, aviator first - Las Cruces Sun-News | FORT BLISS -- A pioneering Army aviator has landed at Fort Bliss. Col. Carey M. Wagen, of St. Petersburg, Fla., took over as commander of the 1st Armored Division Combat Aviation Brigade on Thursday. Wagen, a helicopter pilot, is the first woman to command a combat aviation brigade and just the second woman commander of any aviation brigade in the Army....

Two Super Hornet video clips · Peter | The Boeing F/A-18E/F Super Hornet and its EA-18G Growler electronic warfare variant are currently the front-line fighter and strike aircraft in the US Navy. Here are two interesting video clips depicting the aircraft....

American Military Aircraft: a century of innovation - Travel for Aircraft | Jim Winchester, the general editor of this title, has produced an attractive and comprehensive coffee table book on U.S. produced military aircraft. Over 3000 photographs are included to illustrate nearly all of the U.S. armed forces aircraft placed into service since just before World War II. The author...

How our shaken Reg Playmonaut survived a 113000ft stratodangle - Register | We're pleased to report that the intrepid Playmonaut who last weekend soared to 34,571m (113,421ft) during the test flight of our Special Project Electronic Altitude Release System (SPEARS) control board is, although somewhat shaken, otherwise none the worse for suffering a dramatic stratodangle...

Amazon CEO says discovery is Apollo 11 rocket engines - CNN | Amazon founder and CEO Jeff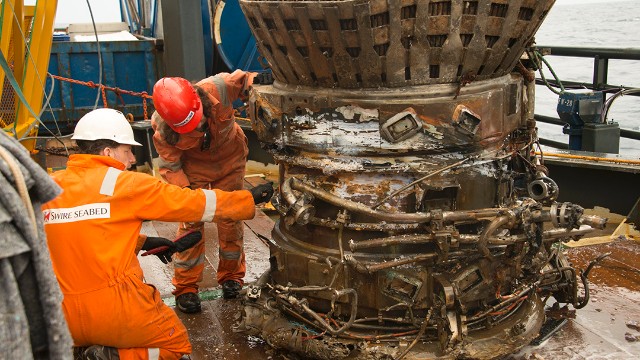 Bezos rescued sunken treasure in the Atlantic this year: components of two F-1 rocket engines. Now he says he has verified that they are engines from Apollo 11, the first mission that took U.S. astronauts to the moon. The timing, as Bezos is aware, is appropriate. Saturday is the anniversary of the 1969 moon landing. "44 years ago tomorrow Neil Armstrong stepped onto the moon, and now we have recovered a critical technological marvel that made it all possible," Bezos wrote on his blog....

The Other Guys - airspacemag.com | NASA needs a space taxi. The likely pick is SpaceX—but don't count out Colorado-based Sierra Nevada. | Standing beside Dream Chaser, it's hard to ignore its resemblance to the space shuttle. It's smaller—only 30 feet long from nose to tail—and the wings are upswept and canted. But in overall shape, the kinship is clear. Still, the company building this vehicle says it is not trying to make Shuttle 2.0. "We're not fixing all the shuttle's problems," avows Jim Voss, the avuncular vice president of Sierra Nevada Corporation's Space Exploration Systems division. "We're an evolutionary step from the shuttle, taking everything we learned from it and applying that to our vehicle to take [spaceflight] to the next generation."...