EAA AirVenture 2013 gets off the ground - Fond du Lac Reporter | The Experimental Aircraft Association's AirVenture 2013 will take off on Monday, July 29, and continues through Sunday, Aug. 4, at Wittman Regional Airport, 525 W. 20th Ave., in Oshkosh. Fly-ins are expected to begin on Sunday, July 28. The EAA AirVenture 2013 will feature programs and activities designed for all ages...

The Lure of AirVenture - Alabama Aviator - Aviation News | As soon as it is over, it is missed and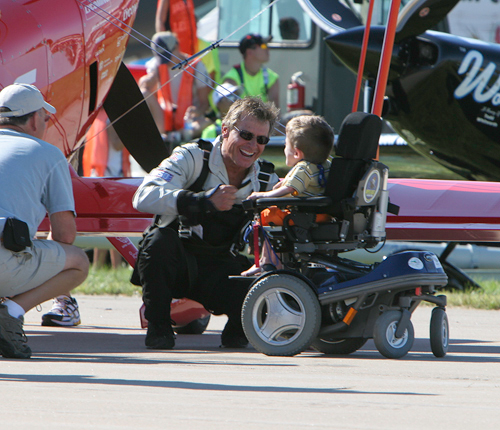 longed for until next year when for just one July week in Oshkosh, Wisconsin, anything and everything that is aviation is there. Anyone who is someone in aviation comes there. It is the ultimate gathering of passionate aviation aficionados from around the world who embrace the Experimental Aircraft Association and what it professes. "EAA is dedicated to serving all of aviation by fostering and encouraging individual participation, high standards, and access to the world of flight in an environment that promotes freedom, safety, family, and personal fulfillment."...

Ready for Round Engine Rodeo at Oshkosh - News from EAA AirVenture Oshkosh | A true paradise for enthusiasts of radial engine aircraft will be blooming next week as the Vintage Aircraft Association (VAA) hosts the Round Engine Rodeo during EAA AirVenture 2013.

Enjoy AirVenture Live All Week - News from EAA AirVenture Oshkosh | Whether you are on convention grounds or following from afar, you can connect to EAA AirVenture 2013 through AirVenture Live.

The Hartman & Hilt Show – AirVenture 2013 Pre Show! | WarbirdRadio.com – Gather round and get ready for AirVenture 2013 with Hartman & Hilt. Listen in and the guys get ready for aviation's big event and learn a few tips for your own trip.

#Oshbash Awards Update: Sponsors Step Up to Help Airplanista Celebrate Aviation Social Networking - Airplanista Aviation Blog |As this is being written, the 2013 edition of EAA's annual airplane party, family reunion and trade show/convention is set to launch in a few days. For those of us who cannot wait for the next trip to KOSH, this is the "most wonderful time of the year"...far surpassing even Christmas. Yeah, Santa is pretty cool, but even WITH flying reindeer, he cannot compete with AirVenture....

OSH13 Will Be The Best Oshkosh Ever! - AirPigz | It's a bit of a tradition now for me to make that
statement... that this year's Oshkosh will be the best one ever. What's the reason it's the 'best ever' each successive year? Because the best Oshkosh is the one you can experience RIGHT NOW! Avgeek memories of past Oshkosh weeks are awesome, amazing, and many are truly unforgettable, but the ability to experience Oshkosh in the here-and-now always trumps the memories for me...

The Aero Experience Lands at EAA AirVenture Oshkosh 2013 Tomorrow - The Aero Experience | The Aero Experience will land at EAA AirVenture Oshkosh 2013 tomorrow and begin our week-long coverage of the largest aerial extravaganza in the nation. Contributors Carmelo Turdo and Fred Harl will team up to capture as much as humanly possible and report back to our growing audience.The Aero Experience is unique in that we continue our coverage of this monumental Midwest Aviation event throughout the year, and as with our current 2012 series, bring you gems from the previous year that are still as thrilling as ever....

Mooney to Celebrate 60th Anniversary at AirVenture 2013 - Alabama Aviator - Aviation News | Kerrville, TX, July 25, 2013 - Free commemorative shirts, guest appearances from top pilots and legendary aircraft are all part of The Mooney Aviation Company's AirVenture lineup as it celebrates its 60-year anniversary of when Mooney began to manufacture its legendary M20 fleet of fast, safe, and efficient airplanes.

Beechcraft to Bring Seven Aircraft to EAA AirVenture 2013 - Alabama Aviator - Aviation News | AT-6 light attack aircraft makes Oshkosh debut | WICHITA, Kan.- Beechcraft Corporation today announced it will feature a mix of its commercial and military products, as well as historic aircraft, at the 2013 Experimental Aircraft Association (EAA) AirVenture. The show runs July 29 through Aug. 4 in Oshkosh, Wis...

EAA AirVenture Oshkosh 2012 Reprise: Tora! Tora! Tora! - The Aero Experience | One of the most dramatic airshow performances ever presented is the reenactment of the Japanese attack on Pearl Harbor by the Commemorative Air Force's Tora! Tora! Tora! team. There is nothing like seeing that first Zero fighter wave approaching from a distance, followed by explosions and (at some venues) antiaircraft fire and wounded soldiers being carried off the field. Another wave of bombers and torpedo planes comes in, followed by more explosions, followed by another wave of fighters and bombers, then another. Then...