AirVenture race ready for takeoff - Mt. Vernon Register-News | VERNON — A misty rain late Friday afternoon prevented many of the participants in the inaugural EAA AirVenture Cup Race from landing at Mt. Vernon Airport, and to make preparations for Sunday's race. Manager Chris Collins though said the airport will ...

Air race, open house today at Mount Vernon - The Southern | MOUNT VERNON — Planes will buzz across the Southern Illinois sky as pilots take flight from Mount Vernon Outland Airport this weekend. The pilots and their exotic-looking homebuilt aircraft are participating in Experimental Aircraft Association's AirVenture Cup 2013, a cross-country race that begins in Mount Vernon Sunday. While the race is Sunday, the birds began flying into the airport Thursday and nearly 60 are expected to arrive in time for today's activities at the airport....

Don't Look Now, But It's Time For Oshkosh - Aero-News Network | The ANN Team Is Geared Up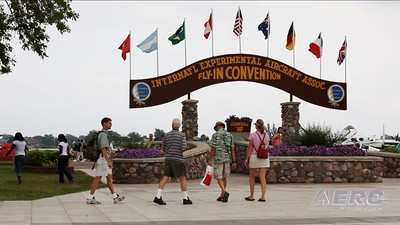 And Ready To Go | In case you hadn't heard, aviation's crown jewel will get underway Monday. But ANN has had people on the ground at Wittman Regional Airport for more than a week getting ready to bring you great coverage of the show. Oshkosh may feel a little different this year. While the Blue Angels and the Thunderbirds have not recently been part of the show, there has been a lot of military hardware on display. Because of sequestration, it's a pretty fair bet that the active-duty military airplanes won't be in attendance at the show in 2013, and the sound of jets flying over the airport will not be as pronounced as it has been in years past, particularly during the afternoon air shows...

Wis. Air Show Leads Fight Against Federal Fees - ABC News | One of the nation's largest air shows begins Monday in Wisconsin, and for each of the 10,000 planes flying in, the federal government will collect about $45 for air traffic control services. The fee has angered pilots, who already pay for air traffic control through a fuel tax, and aviation enthusiasts, who say air shows have been disproportionately hurt by the automatic federal budget cuts that went into effect earlier this spring...

Storms postpone Waupaca flight to Airventure - WAOW | Storms caused pilots in Waupaca to postpone their formation flight to "Airventure" until Saturday. More than 50 pilots and air enthusiasts gathered at the Waupaca Municipal Airport for the flight. It was scheduled to leave around noon, but severe ...

19-year-old Australian pilot to visit Oshkosh | FOX6Now.com· Melanie Lawder |OSHKOSH (WITI) -- A 19-year-old Australian teenager is attempting to break a world record by becoming the youngest pilot ever to fly around the world, alone. Ryan Campell has his sights set on big things. He "always wanted ...

Coming from near & far, on their way to AirVenture 2013 · Judy | They're coming from near and far, all headed to the busiest airport in the world for one short week. Look out Oshkosh, here we come!! Brian Matz. "Waitin' on weather in Kankakee, IL. Only 2.5 hrs to Oshkosh. Got time to spare ...

Classic Airborne--Oshkosh 07.27.12: Cessna, House Aviation, Piper's Numbers - Aero News Network | Looking Back At Oshkosh 2012--Part Five: Two members of the House Aviation Subcommittee and two other members of Congress held a town-hall-style meeting at AirVenture Friday. The members addressed issues ranging from user fees and aviation fuel issues to UAVs in the national airspace and the Pilot's Bill of Rights....

Half a Lifetime Ago at Oshkosh 1986…. - Photorecon | ...Family traditions die hard, they also make memories that last forever. In our family we have been going to EAA Conventions since 1966 in Rockford. Forty seven years is a long time to go to these events. It's amazing to see how many airplanes that were at the conventions ended up in museums. I can't count how many friends we have that we only see one week a year. Countless family memories are associated with the EAA. I was scanning slides the other night from Oshkosh 1986 and had a few I'd like to share....