Reading Air Show to be dedicated to fallen wing-walker - WFMZ Allentown | Organizers are putting the finishing touches on the South Pacific Fly-in Clam Bake and Reading Air Show. The inaugural event will take place Saturday at the Reading Regional Airport in Bern Twp., Berks Co. There will be motorcycle stunts, a clam bake, a Polynesian barbecue, a custom car show and more than 200 planes. Wing-walker Jane Wicker was scheduled to perform before her death at an air show in Ohio last month. Organizers said they're going forward with the show in her honor...

Fireworks and night aerobatics: Friday evening at Oregon ... | The Oregon International Air Show kicks off Friday evening with night aerobatics and fireworks. Gates open at 6 p.m. and performances
get underway about 45 minutes later. It's Community Kids Night and people are encouraged to bring school supplies for the air show's school supply drive...

Fly-in at Port of Friday Harbor Saturday, July 27 - SanJuanIslander.com | The 4th Annual Friday Harbor Airport Fly-In and Open House is scheduled for Saturday, July 27. The day starts at 8 a.m. with a pancake breakfast. The show starts at 10 a.m. and ends at 3 p.m. For lunch you can choose among burgers, pizza, bratwursts, ice cream and popcorn. One of America's favorite flying destinations, Friday Harbor Airport draws more than its share of interesting aircraft, including antiques, warbirds, and homebuilts....

Fly-In and Air Show returns to JFK Memorial Airport - Ashland DAily Press | ...The event will feature four aerobatic shows, including pilots Peter Tallarita, Darrell Massman, William Cowden and Grant Nielson. Also on tap is a pancake breakfast to be put on by Pierce's Peppers 4H club members as a fundraiser for the American Cancer Society Relay for Life event. JFK Memorial Airport Manager John Sill said he hopes the event will top the 1,000 or so spectators who came to watch last year's show. "The fun begins at 1 p.m. Saturday afternoon," said Sill. "In between the shows, we will have radio control airplanes flying around."...

Terrafugia Transition Driving, Wing Folding, Flying Demo Set for EAA ... - Aviation International News | One of the most eagerly anticipated demonstrations at this year's EAA AirVenture Oshkosh show is the first publicly planned flight of the Terrafugia Transition flying car. "This is the first public display of the Transition doing its thing," said ...

Phillips 66 Aviation Celebrates 20 Years of Young Eagle Rebates - The Leading Aviation Industry Resource for News, Equipment and | Phillips 66® Aviation is celebrating 20 years of providing fuel rebates to Young Eagles pilots, who volunteer their time, aircraft and money to introduce young people to the joys of flight.

Scotland's Airshow: Crowds set for flight museum - Edinburgh Evening News | THOUSANDS of people will have their eyes on the skies tomorrow as a series of spectacular aircraft soar above East Lothian. Scotland's Airshow returns to the National Museum of Flight in East Fortune for the 16th year, with organisers promising a "fantastic line-up of entertainment"...

Wingwalkers and aerobatic planes take to the skies for the airshow - stv.tv | An RAF Typhoon, a Supermarine Spitfire and a Hawker Hurricane from the Battle of Britain Memorial Flight are all appearing at the East Lothian airshow this weekend. The show at the National Museum of Flight at East Fortune will also feature the Team Breitling wingwalkers and aerobatic displays from the SWIP team and Trig team. Around 11,000 people are expected to attend the annual show on Saturday. On the ground, there will be the chance to meet former Concorde pilot Tony Yule and record-breaking balloonist Brian Jones...

See WW2 Flying Fortress bomber - This is Hull and East Riding | Humberside Airport will welcome an American B-17 Flying Fortress bomber this weekend. Sally B, the only aircraft of its kind in Europe, will stop overnight at the airport between air displays at Cleethorpes Air Show tomorrow and Sunday....

War hero takes to the skies over Sunderland - ITV News | An airman is stepping back back nearly 70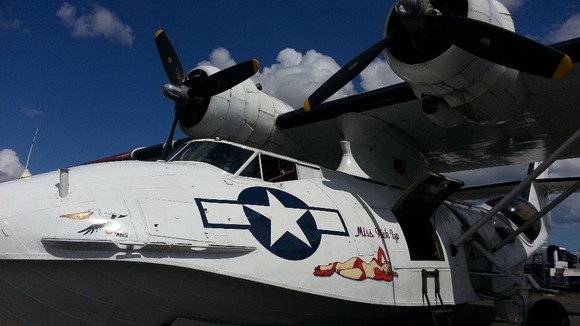 years as he gets the opportunity to fly in a Catalina flying boat for the first time since 1945. 97-year-old World War Two hero Lance Robson is joining The Blades aerobatic display team as they practice ahead of the Sunderland Airshow this weekend....

B-29 bomber's visit to Madison a trip back in time (minus the bullets) - 77Square.com | It took a few minutes for Staff Sgt. Oliver Hantak, 92, and First Lt. Jack Jerred, 90, to climb into the world's only flying Boeing B-29 Superfortress on Thursday afternoon at Wisconsin Aviation. It had been 67 years since either of the World War II veterans and Madison residents had been on the same type of aircraft that released the atomic bombs over Hiroshima and Nagasaki, which led to the end of the war....

First electric flight for Erik Lindbergh · General Aviation News Staff | When a leading proponent of a fresh idea, in this case airplanes powered by electric motors, finally has a chance to use the technology it can significantly heighten his motivation. Such was the case when Erik Lindbergh took the opportunity to fly GreenWing International's pure-electric eSpyder. About his first flight in electric aircraft Lindbergh observed, "Like any first flight it was thrilling and nerve wracking at the same time. I had never flown an ultralight before and had never soloed in an aircraft that I hadn't first had dual instruction from someone sitting next to me."...

Montgomery model aircraft club takes to the sky during airshow for kids on AUM ... - al.com | The Radio Aero Modelers of Montgomery treated children enrolled in Auburn University at Montgomery's Early Childhood Center to an airshow on Friday. Founded in 1966, The Radio Aero Modelers of Montgomery are part of the Academy of Model Aeronautics, a national organization that includes more than 2,400 model airplane clubs in the United States. The Montgomery chapter is one
of 13 clubs that have been enrolled in the organization's community service leader program for the past 20 years....

Air Force Week in Photos - af.mil | This week's photos feature Airmen around the globe involved in activities supporting expeditionary operations and defending America. This weekly feature showcases the men and women of the Air Force.

Hall of Fame: Decorated aviator flew secret Cold War missions - Portage Daily Register | One of the premier aerial reconnaissance operatives in the U.S. Air Force, Ret. Col. LaVerne Griffin, began his career piloting a box off a roof in Wyocena. "I remember the time he took his brother Duane and put him in an orange crate with a rope on it. Duane volunteered to go on it to see if it would fly. That's why we knew he was interested in flying," said Terry Pease, a childhood friend.The decorated aviator "Griff" grew up in rural Wyocena and led top secret missions during the Cold War that he was unable to reveal to a single soul for decades...

Apache, inverted (almost) - Flight Image of the Day | Another great photograph from the UK's Defence Images website, this one showing a Westland/Boeing Apache attack helicopter from the Army Air Corps' Apache display team being put through its paces at RAF Cosford earlier in the year....

Big party for local man's 100th birthday - Columbia Basin Herald | MOSES LAKE - ...Aviation has part of Ebbert's life since those lessons in 1929 and his first solo flight in 1931. It's been his experience, he said, that flying is something people either love or hate. "I liked to fly so I stayed with it."...

Tornado pilot narrowly avoided smashing into glider over Scotland by flipping ... - The Independent | A Tornado fighter pilot narrowly avoided smashing into a glider by flipping his plane into an inverted loop at 500mph, it was revealed today. The RAF pilot was on a low-level training mission when he was forced into the manoeuvre, known as a 'bunt' just 250ft above the ground. The pilot had a mere quarter of a second to carry out the aerobatic move after seeing the glider "at the very last moment" and missing it by just 100ft....

Grab the Airplane and Go - Air & Space Magazine | "What year did we snatch the president of the Congo's airplane?" Nick Popovich asks. Outside, chilly rain soaks the pastures of his rolling Indiana country estate. From a pond with a gushing fountain, waterfowl honk faintly. An assistant rifles through records as Popovich assures me cheerfully, "We're not going back to central Africa soon. There's still a death warrant out for me." Driving to Valparaiso on a two-lane blacktop, I saw only a sign with the name of Popovich's horse farm. But once I turned off the road, drove up the driveway, and entered this opulent ranch-style residence, I found a global operation ticking with the stealthy clockwork of a CIA front. From these headquarters, Popovich plots to repossess some of the world's largest aircraft. If you've been leasing a $150 million jumbo jet and missed a few payments recently, you might want to glance outside and make sure it's still there....