Heritage Aviation Days Airshow is CANCELLED | July 19, 2013 – July 21, 2013 | The Heritage Aviation Air Show originally scheduled for July 19-21, 2013 at the Penn Valley Airport in Selinsgrove, PA has been CANCELLED.

Gathering of Eagles – Lost Nation – Saturday · Steve Tupper | Yeah, being the narrator is cool. You get the ears of everyone at the show for 15 minutes each day. And, if you really rock that mic, you occasionally get asked to pick up another performer and narrate for him or her, too. It's also cool to get up and fly the demo liaison and media flights, whether solo or in a formation. Watching the guy in the next aircraft over work out the camera angles and try to get the right light. Or watching the face of the guy in your own aircraft when you hand over the controls on a single-ship ride and and let him or her fly over his home town....

Good ole-fashioned Arlington Fly-In · General Aviation News Staff [with photos] | ARLINGTON,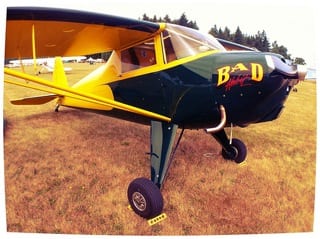 Wash. – Good weather blessed Arlington Fly-In attendees this year. While aircraft traffic was light on opening day, Friday morning the aircraft show line filled up fast. Before the airshow started Friday afternoon there were few open parking spots...

Air Power History Tour Flying into Duluth in August - Northland's NewsCenter |Duluth, MN (NNCNOW.com) - A national historic air tour is coming to the Twin Ports this summer. The Commemorative Air Force "Air Power History Tour" will feature 10 different planes from war-time past. The Headliner is the B-29 Superfortress, known as Fifi....

Air Show Coming To Warsaw Airport - Stacey Page Online | It's been several years since an air show was featured in Warsaw, but it's happening this year and it promises to be a big event. The 2013 Air Show of Warsaw and EAA Fly-In will be held from 9 a.m. to 3 p.m. Saturday, Aug. 17, at the Warsaw Municipal Airport....

Hunter wants numbers on air show - U-T San Diego | U.S. Rep. Duncan Hunter, R-Alpine, has dispatched a letter to the Pentagon asking what math went into the decision to scratch military flights for the Miramar Air Show in October -- a move announced Friday that will drastically curtail what's billed as America's largest air show...

Goulian and Tucker to Give Aerobatic Performances at Plymouth Airport (KPYM) | Please join Goulian Aerosports and Team Oracle for an intimate, late afternoon air show. Watch aerobatic performances by superstar air show pilots, Mike Goulian and Sean D. Tucker over the Plymouth Municipal Airport (KPYM), Plymouth, MA on Saturday, August 24th, 2013. As new residents at the Plymouth Airport, Goulian Aerosports is producing this show with great community support from the
Plymouth Airport Commission, Civil Air Patrol, Project Arts, announcer Rob Reider, and other local aviation organizations....

Wichita Flight Festival poster contest winner announced - KSN-TV | City officials today unveiled the winning artwork for the 2013 Wichita Flight Festival poster contest. The first place entry titled "Flight over the Plains" was created by Wichitan Lacy N. Young. Her poster design will be used to promote the Wichita Flight Festival to local, regional and national audiences and be included on souvenir lapel pins....

Restoration of famed WWII bomber Memphis Belle flies high - CNET (blog) | Staring at the B-17, large parts of it nowhere to be seen, big holes in its belly, and little of its original paint, you would never know that this is one of the most famous planes in U.S. military history. Once just another B-17 bomber among thousands sent to Europe to fight World War II, this is the Memphis Belle, the plane that helped convince dispirited Americans that it might be possible to defeat the Nazis by successfully flying 25 bombing missions and then return home to the U.S...

SLIDESHOW: B-17 Memphis Belle - Meadville Tribune | SLIDESHOW: B-17 Memphis Belle.

2013-07-16 - Royal Thai Air Force F-16 Demonstration Team | ...Thailand traces its aviation history all the way back to 1912 when three of its military officers—Maj. Luang Sakdi Sanlayawut, Capt.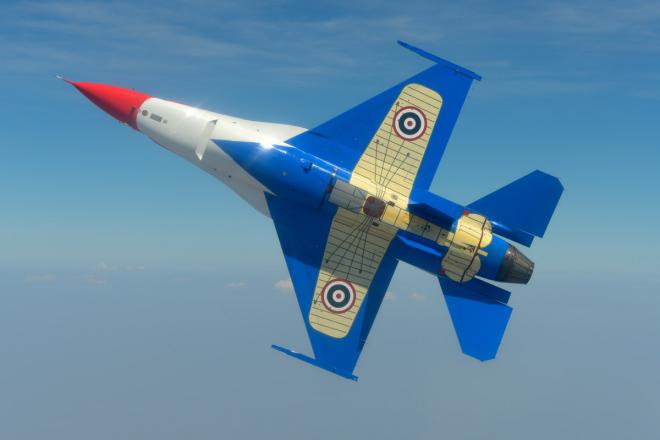 Luang Arwut Likitkam, and Capt. Tip Ketuthat—earned their wings after successfully completing flight training in France. Their achievements made Thailand—then called Siam—the first country in Southeast Asia with a military flying unit...

Royal Thai Air Force Centennial Falcon | To signify the origins of flight in Thailand, the undersides of the aircraft feature a drawing of a Nieuport II—the first RTAF fighter aircraft. [More photos at link]

A Flight Out of the Past Lands at Local Airport - Wheeling Intelligencer | An image out of America's past came to rest at the Wheeling-Ohio County Airport on Monday. A B-25 Mitchell bomber, designed by Wheeling native Howard "Dutch" Kindleberger, is on display on the runway for people to see. It is scheduled to be joined by a P-51 fighter plane Friday to kick off a weekend of aviation history...

Historic B-17 to take flight in Erie - GoErie.com | It is big, grayish-green, and smells of oil. At 68 years old, this B-17, nicknamed the Flying Fortress, is an aviation relic, designed just four decades after the Wright Brothers first bounced into the air from a North Carolina sand dune. Many of the more than 12,000 Boeing-designed bombers were shot down during the Allied campaigns versus Germany and Japan....

Movie Replica Mitsubishi Zero Goes on Display in Japan Warbirds News | ...Eien no Zero tells the story of Saeki Kentaro, who after failing the National Bar Examination several times who feels like he was losing a grip on his life, and his sister, Keiko, a freelance writer. The pair begin looking into the story of their looking up their grandfather, Miyabe, who died in the Second World War as a Kamikaze pilot. Miyabe had tremendous ability as a fighter plane pilot, but was extraordinarily afraid of death. His two grandchildren started wondering why he applied for the kamikaze corps and end up discovering a surprising secret....

2013 Doolittle Raiders Last Reunion By Herb Foreman | Frank Kappeler in 2006 in front of B-25 Sunday Punch at age 93. (Herb Foreman)Recently, many aircraft publications have contained articles regarding the 71st, and final, Doolittle Reunion held in Ft. Walton Beach, Fla., April 16-20, 2013. Ft. Walton is where the original group came to practice short-field take offs flying from Eglin Air Force Base. The actual Rain, composed of 80 men in 10 B-25s, took place on April 18, 1942, eight days before my 16th birthday. I remember it well! My older brother had volunteered for the U.S. Navy the day after the Pearl Harbor attack by the Japanese....

Nine-O-Nine: The Collings Foundation's B-17 Flying Fortress Story Courtesy of The Collings Foundation | The sixth annual Bomber Camp held at Taigh Ramey's Vintage Aircraft in Stockton, California was held on May 29-30 featuring the Collings Foundation's famous B-17 Nine-O-Nine. Being used for the first time to drop 250 lb. concrete bombs this former air-sea rescue SB-17G s/n 44-83575 had last dropped a lifeboat more than 60 years ago prior to taking on this new role. Since its start in 2008 Bomber Camp had used the B-24J 'All American' to make the bomb...

Military Aviation Museum By A. Kevin Grantham and Stan Piet | The de Havilland Dragon Rapide. One of the museum's crown jewels. This particular airplane was originally built in 1944 and is restored to resemble the aircraft that was ordered by the Prince of Whales in 1935. (A. Kevin Grantham)Virginia Beach, Va. is well known as one of the best places on the east coast to visit and enjoy the surf and sand of the Atlantic Ocean. It is also the home of Gerald "Jerry" Yagen's Military Air Museum, which is quickly becoming a major attraction for the resort town.

A Super Hornet's first flight · Dave Majumdar, The DEW Line | "One company pilot who flies some of these test missions is Steve \"Bull\" Schmidt, a former Navy F-14 Tomcat aviator. According to Boeing, Schmidt has flown more than 400 production first flights in the T-45, F-15 and F-18. In this video, Schmidt takes the viewer through one of these check rides...

Aviation Inspiration, Motivation, and Change... - Flight To Success | ...More than all this, he is yet another Alaska/Horizon executive giving back to the community. He has been visiting colleges and universities looking to address the pilot shortage. He is inspiring the students. I'm telling you, the executives at Alaska give back tenfold. Remember what Bill Ayer did in March?...