Former Navy Blue Angels Pilot to Tell of Adventures Aloft - University of Texas at Dallas | The Blue Angels perform a delta formation at an air show in Hawaii. The squadron performs about 30 maneuvers during a typical aerial demonstration. Retired four-star Adm. Patrick M. Walsh of Dallas will discuss his experience as a combat pilot and member of the Navy's precision Blue Angels flight squadron in a sold-out public lecture Saturday, July 13....

Air Show to hit the skies - Airdrie Echo | As Airdrie gears up for its third Air Show, board members are putting the final touches together. "We've got a phenomenal show coming up," said Peter Brown board chair and mayor. "We're so excited to showcase not only the great things in the sky but our great city here in Airdrie. (We are) looking forward to hosting a safe and fun event."...

Fly-In lands in Arlington July 11-13 - Arlington Times | The Arlington Fly-In returns this year with a three-day run that's shorter than previous years, from July 11-13, but it will still be offering its "Kids Day" on its opening day of Thursday, July 11, during which all children accompanied by adults are admitted for free. Activities begin at 9 a.m. and are set to include flight simulators, candy airplane making, face-painting, helicopters, "Bubble Mania" and a NASCAR simulator....

Sunderland Airshow 2013 - guide to show on July 27 and July 28 in ... · Richard Fletcher | Sunderland Airshow 2013 celebrates its 25 anniversary and promises plenty of excitement from the Red Arrows through to funfairs...

EAA AirVenture Oshkosh 2013 Features and Attractions - EAA Video | July 10, 2013 - Jim DiMatteo, EAA Vice President for AirVenture Features and Attractions, presents the latest news on what to expect at AirVenture 2013.

Legendary P-51 Mustang, 'Strega' To Compete At 50th National Championship Air Races - Aero News Network | Precious Metal, Dreadnought, And Argonaut Also Announced As Competitors In This Year's Event | On the heels of last week's initial competitor announcement, the Reno Air Racing Association (RARA) announced this week that legendary Unlimited & Warbird Class (UWRC) racers "Strega," "Precious Metal," "Argonaut," and "Dreadnought," are the latest entrants into the historic event's most recognizable racing class. In a surprising twist, however, "Strega," which has been flown to victory the past four years by defending champion Steve Hinton, will be flown by Air Race veteran Matt Jackson. As previously announced, this year Hinton will be flying another Air Race favorite, the purple and yellow P-51 Mustang "Voodoo" as well as Stu Dawson set to return in Rare Bear. These latest additions round out one of the Reno Air Races' most competitive and anxiously anticipated racing fields in the history of the event, which will take place at the Reno-Stead Airport Sept. 11-15...

Ohio challenge aims to rise again By Eric Robinette Dayton Daily News | Rainy conditions deflated the hot air balloons and attendance at last year's Ohio Challenge. But as the hot air balloon and skydiving festival lifts off for its 11th year on Friday, organizers are anticipating clearer skies and larger crowds...

B-29 Superfortress Coming to Southern Illinois - WSIU | Southern Illinois residents are in for a treat next week when a famous WW II aircraft will find its way to the area. The Commemorative Air Force's Boeing B-29 Super fortress bomber FIFI will fly into the Southern Illinois Airport in Carbondale, alongside several other aircrafts. This famous aircraft is the last of its kind that is still able to fly. Sam Hoskins, a local resident assisting with the event, says this is a great opportunity for kids and adults to get an idea of what it was like to serve in World War II when they see these unique aircrafts...

Michigan WW2 vet gets into a B-25 again - WWMT-TV | A World War II veteran took a trip back in time, reliving his time as a war-bird pilot. On Wednesday, Stanley Stepnitz flew in a B-25 from the Kalamazoo Air Zoo. Newshcannel 3 had a chance to put a camera inside the war-bird for the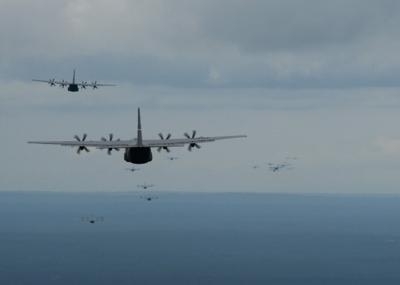 incredible ride. Stepnitz was accepted into the Air Force back in 1943....

Airmen Set World's Record During Exercise - Aero News Network | Airmen from the Dyess's 317th Airlift Group set a world's record for the largest C-130J formation during a Joint Operational Access exercise on June 19.

A World Away: Modern Bush Flying in Papua - Back Country Pilot | A true modern day bush pilot working a Pilatus Porter in the mountains of Papua Indonesia gives us a glimpse into what he considers to be the ultimate pilot's life.

Pilot offers advice on Alaska flying · General Aviation News Staff By BILL WALKER | Air charter company owner Will Johnson built a successful business over the past three decades flying tourists, hunters and fishermen around Alaska. And, in the process, the 20,000-hour pilot, who operates Yute Air Taxi in Fairbanks, has had plenty of time to formulate advice for aviators contemplating their first trip to his home state...