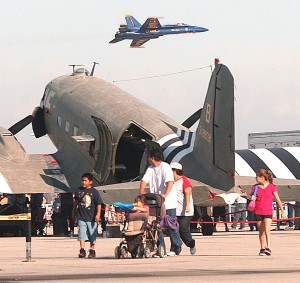 Air show thrills thousands at NAS Lemoore
- Hanford Sentinel | Breathtaking feats of precision maneuvers and aerial acrobatics by vintage planes and sleek new aircraft resulted in endless "oohs" and "aahs" during the 2011 Naval Air Station Lemoore Air Show this weekend. Thrills were plentiful as thousands of people from...
Plane buffs flock to Houma airport for fly-in
- Houma Courier | Diroir is one of several Young Eagles who hitched a ride through the sky Saturday as part of the annual fly-in hosted by the Houma chapter of the Experimental Aircraft Association. Diroir's father, Keith, said he didn't know what to expect when he...
Thousands expected for model air show
- This Is The Westcountry | AROUND 2000 model aircraft enthusiasts are expected to descend on the Fleet Air Arm Museum's autumn model show on Saturday, October 22, from 10am. The British Model Flying Association's spectacular display will take place outside the museum on the...
High-flying class lands in Nevada aerospace hall
- Las Vegas Review Journal | From a turn-of-the-century daredevil to a commander who flew Soviet MiG jets out of Area 51, this year's class of inductees into the Nevada Aerospace Hall of Fame is steeped in significance and intrigue. In all, eight aviators and aerospace industry pioneers were inducted Friday night into the Hall of Fame at its second induction ceremony at The Landing at Henderson Executive Airport. That is one less than in last year's inaugural class. The large number of inductees for the first two classes is an attempt to catch up with other states, such as Arizona, Iowa, Wisconsin and Ohio, that have recognized famous aviators for many years, said T.D. Barnes, director of the Nevada Aerospace Hall of Fame. Barnes and Robert Friedrichs founded the nonprofit institution, which is dedicated to preserving the legacy of the men and women who pioneered aviation in Nevada...
Rob Reider strums again
- Cincinnati.com | It's the first concert in eight years for the popular "Bob Braun Show" and "Midwestern Hayride" singer, who has become one of the nation's top air show announcers. "I just want to have fun. I'm not trying to prove anything," said Reider, 63,...
Blue Thunder II Crew Report
- John Parker | In the light of the unfortunate results of the September air race event, I think that a reviewing of the year and the successes would be beneficial for this report...
Video: A memorial to Jimmy and Galloping Ghost
- Pit Lizards, Unlimited
James May at the Edge of Space on BBC America
from www.bbcamerica.com | James is no stranger to outrageous challenges on Top Gear, but this time he is put to the test by three days of intense training with the U.S. Air Force as he prepares to go for a ride on the famed U-2 spy plane. He will have to train like an Apollo astronaut and learn how to emergency eject from the cockpit, survive the thirteen mile fall back to Earth and wear a spacesuit to stay alive in air so thin it can instantly kill. All for a once-in-a-lifetime journey that will take him 70,000 feet into the stratosphere to a place the U.S. Air Force calls the "space equivalent zone" —giving him a close-up of space and an astronaut's view of Earth...[
video here
]
Maurice Tabuteau wins Michelin Cup 1910
- Passionate About Aviation | Responding to the appeal I made on my profile, Denys Tabuteau, great-nephew of Maurice Tabuteau (1884-1976) sent me an email with the photo above you can see where Henri Farman (kneeling) load a fuel tank of 300 liters of the plane of its competitor. But he did not know that the plane could not take off with full results. To win the Michelin Cup (price of 25,000 gold francs) founded in...
Packing up Our Secret Decoder Ring
from AirSpace by Allan Janus | ...You know when you're packing up for a move to a new house — boxes everywhere — frantic activity to get everything stored away before the movers arrive, and you still have to clean out the fridge. Suddenly you come across an old family treasure — a photo album, your old baseball cards, or maybe your raygun collection — and everything stops while you rummage nostalgically for a few minutes. That's what's been going on from time to time in the Museum's Archives Division offices, as we prepared for our move to the Stephen F. Udvar-Hazy Center this month. We would...
Glider Pilot Killed Shooting GM Spot in Washington State
from Adweek : Advertising & Branding by Tim Nudd | The pilot of a glider being pulled by a vehicle was killed on Thursday when his aircraft crashed during the filming of a General Motors commercial in Washington state. William Weller, 53, was the only person on board the DG Flugzeugbau glider when it crashed into trees immediately after takeoff in Cle Elum, Wash., the Seattle Times reports. The production company was...
Eagle eye view of Heritage City
- Fraser Coast Chronicle | Hosting the "Come And Try Gliding Day", event organiser Janet Neisler of the Maryborough Aero Club said she was thrilled with the public support on the day. With about 100 people in attendance and only two available gliders, she said the main challenge...