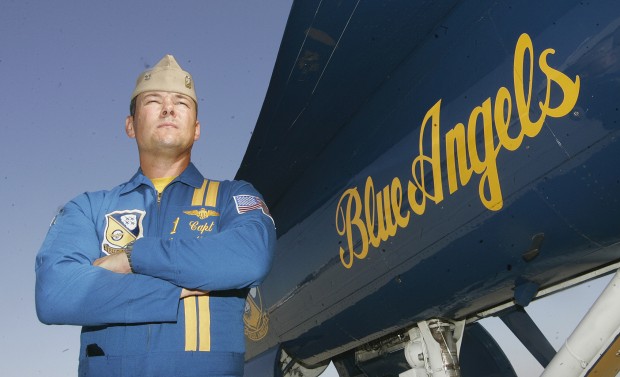 Lemoore naval station's got the 'Blues'
- Hanford Sentinel | The Blue Angels flew into Naval Air Station Lemoore this week for the Central Valley Air Show today and Sunday. Capt. Greg McWherter, commanding officer and No. 1 pilot for the Navy's Blue Angels, said he has fun traveling around the country, performing demonstration flights. But the most rewarding part of his job happens on the ground. "I think most young people are just like me when I was younger," McWherter said. "They're fascinated...
'Wacky Women Week': Perdido Key getaway for a good cause
- Orlando Sentinel | A show by the US Navy Blue Angels is among the actvities at Wonderful Wacky Women Week in Perdido Key. (Orlando Sentinel) Somehow, when I hear about an event called "Wonderful Wacky Women Week," the image that comes to mind is a cross between spring...
Wings over Houston Air Show headed for Ellington Field Oct. 15-16
- Your Houston News | The Wings Over Houston Air Show is set to soar across the skies above Ellington Field Oct. 15-16. Air shows guests will have a chance to see the Hawk Advanced Jet Training System (AJTS), which includes two Royal Air Force Hawk aircraft from the United...
Boshears Skyfest's organizers, pilots say air show will be safe
- The Augusta Chronicle | Responsibility rides on the shoulders of Larry Garner when airplanes traveling up to 200 mph take to the skies this weekend performing loops, flips and nosedives at the 19th annual Boshears Skyfest at Daniel Field...
International Performers WOW China GA Airshow Fans
from Alabama Aviator - Aviation News | CAIB -China Aviation Industrial Base- Pucheng Airport Xi'an, Shannxi Province, China International General Aviation Convention 2011, Oct 13-17th is happening now. Once every two years the convention brings together worldwide exhibitors and attendees to share products, knowledge and technical information in...
Jimmy Leeward Air Race Photo Memories
from www.aafo.com
Indianapolis Medal of Honor Bridge Festivities - Wednesday, October 19th
Veteran recalls bombing runs over Europe
- Anniston Star | Frank Boullemet sat in the bombardier compartment of his B-17, lining up the sights on his German target. Even if the enemy's anti-aircraft flak had not been heavy that day in 1944, Boullemet would have been ...
Paramount Hiring Writers For 'Top Gun 2′
- /FILM | Ashley Miller and Zack Stentz, who were jointly responsible for one of the middle drafts of X-Men: First Class, are in talks to write Top Gun 2 (or whatever it will eventually be called) for Paramount and David Ellison's Skydance Productions. ...
Space shuttle main engines to be used in NASA's new heavy lift vehicle
from PhotoBlog | Six of the fifteen space shuttle main engines (SSME's) are viewed inside the engine shop on October 14, 2011 at Kennedy Space Center, Florida. NASA plans to use the shuttle main engines on their new heavy lift vehicle to go beyond Earth orbit....