Return of Blue Angels highlights Naval Academy Commissioning Week - Baltimore Sun | Annapolis and the Naval Academy are preparing for a week of festivities to mark the end of the academic year and the commissioning of a new batch of officers — including a return of the Navy's Blue Angels elite flight team. The Blue Angels have not performed their traditional Commissioning Week shows over the Severn River since 2010....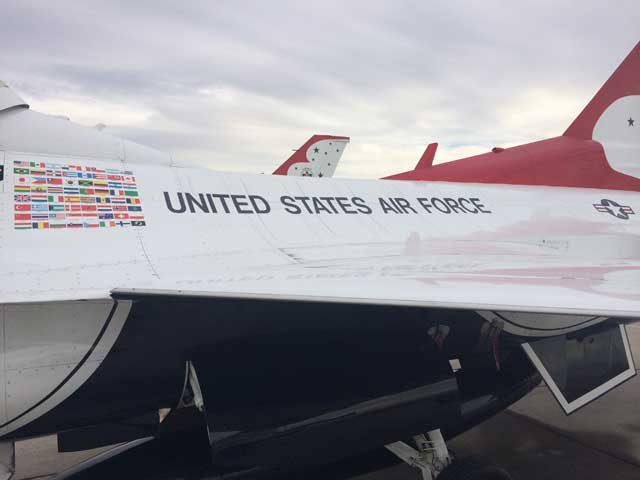 Thunder Over the Valley * WFMJ | 21 pictures

Air show takes excitement to new heights - Youngstown Vindicator | Sibling rivalry usually conjures up images of arguing and fighting about who's the cutest, smartest or gets the most parental attention, but brothers Billy and Dave Werth have placed that style of competition on the fast track. "We named it that when we were sitting around thinking of something for us to do," said Air Force Maj. Billy Werth of Indianapolis, referring to the name of their fast-paced race between a motorcycle and a plane....

Night flying and fireworks at the US Marines Cherry Point airshow by Bob Gosford | On the Friday night before the two daylight flying displays at the 2014 Cherry Point Marine Base air show the organisers presented a night-time flying show. First up just on dusk was the Black Diamond Jet Team [pictured]. The Black Diamond's are the leading civilian-owned aerobatic jet team in the USA and is made up of former military fighter pilots from the Navy and Air Force. The pilots fly five Czechoslovakian Aero L-39s and one Lockheed T-33 Shooting Star which are all painted in a distinctive arctic camouflage paint scheme. More on this fantastic team in a later post....

Helicopters of the 2014 US Marines Cherry Point Air Show by Bob Gosford | I've just spent the last three days at the Cherry Point Marine Base in eastern North Carolina attending the annual air show and caught up with a few aircraft new to me. I'll put up a few more posts over the next day or so but thought I'd start with one of my favourite aerial platforms, the helicopter....

Cape Girardeau Regional Air Festival: Arrivals and Practice Airshow * The Aero Experience | It is time for the Cape Girardeau Regional Airshow preview! Check out the arrivals and practice airshow from Friday...

Photos: Legendary WWII warbirds in Central TX * KHOU | HONDO, Texas -- History buffs and plane enthusiasts had an opportunity Saturday to see and explore famous World War II aircrafts...

Hangar 24 Presented Air Fest 2014 by Paul Prado | Last weekend, at the Redlands Airport, Hangar 24 hosted its annual Air Fest 2014. The event boasted a variety of aircraft, food vendors, live music, and Hangar 24's own crafted beers. Rich Piccirilli, with Just in Time Skydivers, parachuted to the ground with an American flag waving below his feet to start to weekend-long festival....

Airshow Report: 2014 Planes Of Fame Airshow · WarbirdsNews | Over the past several years the Planes of Fame Airshow has been recognized as one of the best Warbird Airshows in the country. It's no surprise as the airshow is based out of Chino Airport, home of the Planes of Fame Air Museum which houses some of the rarest and most interesting aircraft left in the world. Each year the Airshow is centered on a theme and this year it was a salute to the mighty Eighth Air Force....

Veteran Lamb leaves rivals trailing in Malaysia * Redbull.com | In his seventh year of racing, Nigel Lamb took his first win on Sunday at the third round of the Red Bull Air Race World Championship 2014. It was a disappointing day for fellow Brit, and the current Red Bull Air Race World Champion, Paul Bonhomme – for the first time in 19 races, Bonhomme did not make the podium, exiting at the Super 8 stage prior to the four-man final, and handing the initiative in the title race to long-time rival Hannes Arch. The Austrian finished second in Malaysia to move out in front in the overall standings....

Third spot for Matt Hall in latest Red Bull Air Race round - Newcastle Herald | In a thrilling final held in searing heat and thick humidity, Hall blasted out a personal best time for the course but was unable to overcome Great Britain's Nigel Lamb and series leader Hannes Arch. It was Hall's first podium finish of the season and the 18-year veteran of the Royal Australian Air Force is in fifth place on the series standings...

Tuskegee Airmen exhibit and drones headline Virginia fly-in · General Aviation News | SUFFOLK, Va. — The Commerative Air Force's Red Tail Squadron's Rise Above Tuskegee Airmen exhibit, as well as a rare P-51C, will be prime attractions at the 17th Virginia Regional Festival of Flight, slated for May 31-June 1 at Suffolk Executive Airport (KSFQ). Plus, for the first time, 10 exhibitors will be showing and demonstrating Unmanned Aerial Systems (UAS), commonly known as drones....

JF 'Skeets' Coleman dies at 95; test pilot for perilous XFY-1 Pogo - Los Angeles Times | J.F. "Skeets" Coleman, who was the test pilot on one of the oddest military airplanes ever produced, died Tuesday of natural causes at an assisted-living facility in Oceanside, said his daughter, Nancy. He was 95, a life span especially notable given the precariousness of the plane he tested in the 1950s, the Convair XFY-1. It was a vertical-takeoff-and-landing vehicle featured on the cover of the 1990 book "The World's Worst Aircraft."...

Rumpler Taube 1 of 2 by travelforaircraft | Hanging in the lobby of the Museum of Flight, just before entering the Main Gallery with its dozens of aircraft, is a fantastic looking flying machine — its birdlike wing and tail, open cockpit, two blade propeller and wire spoke wheels mark it as one of the machine of the early adventurous age prior to World War I. This aircraft is a faithful full-scale replica of the Edmund Rumpler Company Taube and was built by Art Williams, who completed it in 1984...

The Bronco up close * Apron 6 | 25 degrees today and an airshow about 60 km from my house and
all I did today was writing my thesis! I could also do a flight this evening but couldn't make it. Big bummer! Anyway, if all goes well in two weeks and half things should get more relaxed and in a month it's holidays....

The Boomerang (Burt's Favorite Creation) And The Oregon Aero Custom Interior (12 Pix) · AirPigz | When world-famous aircraft designer Burt Rutan completed the Boomerang in 1996, the design looked wildly unusual, even for one from a designer who was well known for shattering conventional thought. But while aircraft from Burt like the VariViggen (his first design) and the Long-EZ (his most popular) and SpaceShipOne (his most widely known) were all very different than what we used to seeing, they all were at least symmetrical designs... meaning, if you cut them in half down the middle, the left and right sides had the same shape. But with the Boomerang, even deciding where the middle was might leave you confused! And once you decided where you were going make that cut, you sure weren't going to get a left and a right that looked anything alike....