Thunderbirds arrive for Youngstown air show - WFMJ | The skilled crew of U.S. Air Force pilots and their team are on the ground, preparing of this weekend's Thunder Over the Valley event at the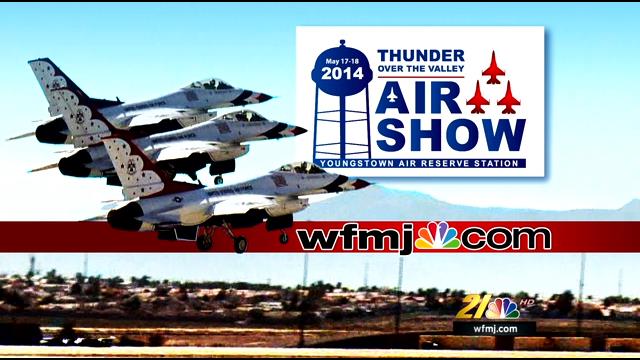 Youngstown Air Reserve Station. The skilled airmen, known for their close quarter aerial stunts, touched down just before noon Tuesday flying their F-16 Phantom jets...

History of the Air Force Thunderbirds - WFMJ | Power, precision, pride. The U.S. Air Force Thunderbirds are the epitome of a team and all this week, Derek Steyer will have an exclusive, in depth look at the worlds best air demonstration squad...

Blue Angels return to Annapolis to perform at US Naval Academy May 20-21 * The Republic | ANNAPOLIS, Maryland — The Blue Angels are returning to Annapolis after three years away and will perform for the U.S. Naval Academy's commissioning week. The academy announced Tuesday that the Navy's flight demonstration squadron will fly a team ...

Video: Sean Tucker And The Extreme Machine! * AirPigz | I listened to Sean Tucker talk at an event in the Theater in the Woods at Oshkosh last year and I went from being a guy impressed with Sean's flying to being a guy impressed with Sean as a person...

Video: Armed Forces Day Salute - U.S. Air Force volunteers - KTLA | Gayle Anderson continues the KTLA Morning News weeklong salute to Armed Forces Day in Camarillo with information about the U.S. Air Force at the Commemorative Air Force Southern California Wing. The Southern California Wing, one of the largest units in the CAF in membership, aircraft, and capabilities, was formed in 1981. There are 11 aircraft on display, most of them participate in air shows throughout the Western states...

World's only airworthy Canberra added to RNAS Yeovilton International Air Day line-up By WG_JTaylor - Western Gazette | The world's only airworthy Canberra PR9 (XH134) has been added to RNAS Yeovilton International Air Day's 2014 line-up. Only recently-reflown, this sole survivor is operated by the Midair Squadron, whose Hunter T7 XL577 will also be at the show...

OAN 257 - Charles Johnson | Coverage of: Funday Sunday Fly-in; Goodfolk and O'Times Airplane Rides and Aerodrome Les Noyers.

Aviation Spotlight Episode One- The 2014 Planes of Fame Airshow * Photorecon.net | Aviation Spotlight is our new aviation based series from AIRSHOWVID.com hosted by Daniel Wotring. This is the first of four episodes that will be produced as a test of concept. Daniel is himself a pilot with over 4,500 hours in all types of single engine aircraft and owns his own company, Aviator Flight Training where he provides flight instruction for general aviation aircraft and high performance warbirds...

Mooney International: Planes of Fame's Airshow Sponsor * Photorecon.net | Chino, CA – Mooney International's comeback tour landed at the Planes of Fame Airshow on May 3-4, as they played host sponsor of the show. Mooney International was founded in 1929, and has manufactured more than 11,000 aircraft worldwide. After being dormant for five years, Mooney's manufacturing headquarters has restarted its production line...

Delivering the EAA Sweepstakes Stearman * NORDO News | There it is in Oshkosh - No bugs and only 20.3 hours. It's finally home. I can't believe it. Six months of clearing up details and waiting out weather have finally paid off. Ralph Lloyd has his plane and I am happy to say I delivered it. Here's how it happened....

Flying in My Father's Footsteps Aboard a Vintage B-24 Bomber - Noozhawk | Sitting on a hard bench — half standing, really — I exchange glances with the young woman strapped in closely beside me. I can tell she's not sure what she's gotten herself into, and although my heart is racing a bit, the certainty of my own mission is clear...

Barnstormers fly in circles over Fort Worth - Plainview Daily Herald | Hundreds of Cow Towners skipped church on Sunday, May 19, 1929, and slipped out to the municipal airport to give the "Fort Worth" a rousing send-off. Though dangerously overloaded with fuel and every conceivable carry-on, the monoplane cleared the runway with plenty of room to spare at exactly 11:33 a.m. Reg L. Robbins and James Kelly climbed to 2,000 feet and set their course for nowhere. To inscribe their names in the aviation annals, the barnstormers hoped to break the world record for continuous flight by circling the city for a solid week...

Warbird Pinup Girls – The Interview * Warbirds News | As most of you will recall, 1940s America is famous for its flamboyant and often risqué portraits of glamorous women in magazines and on billboards. During WWII, these images, whether photographs or illustrations, frequently found themselves pinned upon the barracks room walls, in the lids of foot lockers and maintenance workshops etc. of young servicemen in the US military. While the US Navy frowned upon the practice at the time, the US Army Air Forces accepted aircrew naming and painting a representation of these...

Air Museum seeks donations - UpperMichigansSource.com | K.I. SAWYER -- The K.I. Sawyer Air Heritage Museum is in need of money. It's now collecting donations online through a crowd-funding website. It's going toward the purchase of their building...

Old Shakey walkaround — Douglas C-124 Globemaster II, second of three by travelforaircraft | This
is the second of a three post walkaround photo essay of this Douglas C-124 Globemaster II which is displayed in Heritage Hill Air Park. This air park is part of the McChord Air Museum and Heritage Hill Air Park and offers wide spaces around the aircraft which offer more photography angles than most exhibits are able to provide...

Teaching and Keeping the Edge * Photorecon.net | While nothing can match actual aerial combat, or even just normal flight time for a Marine fighter pilot, modern technology can lend a helping hand in keeping these Marines trained and ready for any combat mission that is handed to them....

World's First Electric Aircraft Takes to the Skies [PHOTOS] - International Business Times, India Edition | Airbus' latest experimental aircraft 'E-Fan' has successfully taken to the skies for its maiden flight in France. The eco-friendly flight, powered by electricity took off from an airport close to Bordeaux in south western France. Developers believe that their maiden flight could cut down the cost of air travel by a third....