Your air shows for this weekend - from Fencecheck

» Utti Army Base Open Day 2014 - 05/09/14
» Winston Salem Fun Fly-In 2014 - 05/09/14
» Stow Maries Great War Fly-in 2014 - 05/10/14
» Thomas Airshow & Fly-In 2014 - 05/10/14
» Corsicana Airsho 2014 - 05/10/14
» JB McGuire-Dix-Lakehurst Open House 2014 - 05/10/14
» Vero Beach Air Show 2014 - 05/10/14
» Holloman AFB Open House 2014 - 05/10/14
» Strejnic Airshow 2014 - 05/10/14
» FASHKOSH Fly In and Airshow 2014 - 05/10/14
» Dni z Wojskiem Polskim 2014 - 05/10/14
» Support Our Paras 2014 - 05/11/14
» Kjeller Flydagen 2014 - 05/11/14
» Shuttleworth Season Premiere Airshow 2014 - 05/11/14

Joint Base air show returns this weekend - www.app.com | The air show and open house at Joint Base McGuire-Dix-Lakehurst is back. A year after federal budget cuts forced the cancellation of the popular event, the Joint Base will host the show Saturday and Sunday. The free-admission event attracts tens of thousands of spectators to the Air Force field in Burlington County, where military and civilian aviators perform in a day-long series of events, capped by the Air Force Thunderbirds team in their F-16s at 3 p.m. each day...

Video: John Doetkott Flies With John Klatt Airshows * KAALtv.com | Although you might not know it, one of the nation's best airshow teams is based in Owatonna. The team at John Klatt Airshows travels all across the country, performing in front of millions of people worldwide, and on Thursday they took ABC 6 News reporter John Doetkott up in one of their high performance aerobatic planes to put him through his paces....

Valdez fly-in celebrates Alaska GA - AOPA Pilot | The fun of a May fly-in, set against a backdrop that only an Alaska aviation destination can provide, would tempt any pilot out of a long winter's hibernation. And that is precisely what awaits those who turn out for the Valdez Fly In and Air Show, scheduled May 9 to 11...

Thousands attend first AOPA Regional Fly-In · General Aviation News | More than 2,500 people took part in the Aircraft Owners and Pilots Association (AOPA) 2014 regional fly-in held in San Marcos, Texas, last Saturday. This was the first of seven fly-ins AOPA will host this year...

Aircraft from Royal Navy to take part in this year's Royal International Air Tattoo at RAF Fairford - Gloucestershire Echo | The Fleet Air Arm of the navy will bring a number of currently serving aircraft into the flying display and onto the show ground. Held between July 11 and 13, the show draws thousands of people from around the world to RAF Fairford every year...

Farnborough Airshow countdown: The 1970s and 1980s - gethampshire.co.uk | Farnborough
Airshow continued to grow during the 1970s and 1980s as planes from further afield attended. It was a time when Concorde appeared and when planes such as the Lockheed SR-71 flew from New York in under two hours in 1974....

B-17 Flying Fortress carries visitors into America's past - Herald & Review | DECATUR – Bombs away: An iconic World War II-era Boeing B-17 Flying Fortress is now sitting at Decatur Airport packed with a high-explosive load of nostalgia and ready to fly you into the past. The circa-1945 bomber, named Aluminum Overcast, is on a national tour and will be stationed at Decatur from today through Sunday. Those brave enough can book a ride and get lifted into the sky by its four massive engines and gaze out of glass canopies bristling with 13 machine guns that once underlined the Flying Fortress reputation with a wall of lead...

Museum to host antique auto show · General Aviation News | WINDSOR LOCKS, CONN., April 29, 2014, – The New England Air Museum will hold its annual Antique Auto Show on Sunday, June 1...

Blue Angels 3-Part Mega Post! Fri-Sat-Sun (Video+CoolPix+Desktop) Part 1 * AirPigz | The
AWESOME Blue Angels are in Vero Beach Florida this weekend to wow airshow fans with what hard work, discipline, and pure dedication can produce... the world's greatest aerobatic team! But if you're like me, it doesn't look like Vero Beach out your window....
Also: CoolPix On AirPigz... Over 160 Awesome Hi-Res Aircraft Images!

Timeless Voices - Paul Redemann · eaavideo.org
Paul Redemann enlisted in the Army in 1968. After completing helicopter training, he was sent to Vietnam to fly UH-1 Huey helicopters. He was 20-years old at the time. After starting out flying transports, he transferred into gunships.

French pilot Maurice Guillaux made aviation history with first seaplane flight over Sydney * The Daily Telegraph | HUNDREDS of thousands of people lined the shores of southeast Australia to watch the marvel of the first seaplane in Australia a century ago...

Lockton Aviation sponsors flight around globe - FinancialNews.co.uk | Lockton Companies, the world´s largest privately held insurance broker, said it is insuring the around-the-world flight of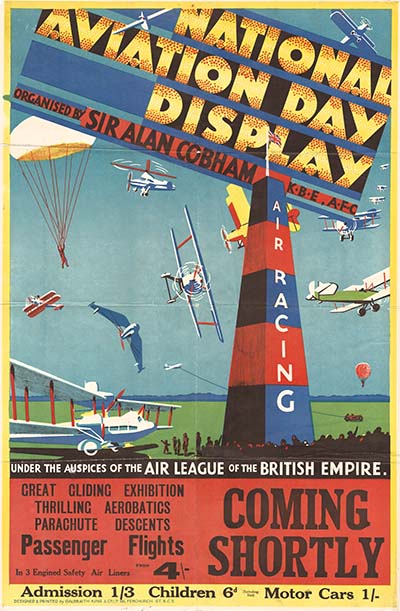 aviatrix Amelia Rose Earhart, who will attempt to retrace the globe-circling route of her namesake Amelia Mary Earhart....

Sir Alan Cobhams Flying Circus A life of a Pioneering Aviator * RAF Museum London Events | Sir Alan Cobham was a pioneering long distance aviator and technical innovator who became famous for his exploits in the interwar years by making aviation accessible and popular throughout the world...

Air museum collection landing at Madras Airport - Bend Bulletin | Video: A Boeing B-17 is one of the vintage planes now in Central Oregon | The skies around Jefferson County will be a bit more active than usual over the next few weeks, as a collection of vintage warplanes moves from the Tillamook Air Museum to their new home at the Madras Airport....

Back in the Sky: Daughter remodels room for aviator dad - The Southern | CARBONDALE -- Cheryl Francis has taken a cluttered, outdated room in her father's house and transformed it into a showcase where he can relive his World War II service aboard bombers....

Two Su-24MR Fencer jets perform an ultra-low level flyby on an unknown base in Russia By David Cenciotti | Here's the latest stunt by two Russian Air Force Su-24s that buzz other planes, people at an unknown base somewhere in Russia....

A SAS Boeing 737 had to change its course at the last moment not to collide with a Russian Il-20 off Malmö, Sweden * The Aviationist | ...The incident occurred on Mar. 3 in international waters. Even if neither the Boeing 737's TCAS (Traffic Collision Avoidance System) nor the civilian Air Traffic Control saw the aircraft "painted gray with four turboprop engines and a long antenna on the roof," the Il-20 Coot intelligence gathering aircraft was detected by a Swedish Air Defense radar station while it was heading straight towards the SAS plane...