Tom Aberle
Daredevil, 70, pushes the limits to soar to new heights
- CBS News | Ever since the Wright brothers first took to the air, pilots have looked for ways to push the limits of flight. A record-setting racing pilot in Southern California is doing just that. But he's not the flying daredevil you'd expect....
Bill Stein is Flying Again!
* International Council of Air Shows | After taking the last several months off to fight a treatable form of colon cancer, ICAS member and air show performer Bill Stein was back in his Edge 540 aerobatic monoplane earlier this month...
Air Show Attendance Trending Higher for 2014 Season
* International Council of Air Shows | From Brownsville, Kingsville, Louisville and Titusville to Los Angeles, Chino, Fort Worth and St. Louis, air shows throughout the country are reporting strong attendance. Whether big or small, civilian or military, with or without military jet teams, pent up demand generated by the cancellations of the 2013 air show season seems to be fueling higher-than-normal enthusiasm among the three dozen or so shows that have already been held this year. Just as encouraging: many shows later in the season are reporting unusually strong advanced ticket sales...
Snowbirds fly in annual home opener
- Moose Jaw Times-Herald | "The home opener here in Moose Jaw always had its share of challenges," said Christopher England, commanding officer of the Canadian Forces Snowbirds. "We can't seem to ever get ideal conditions." Although the weather for the 44th Snowbirds home opener was not perfect Friday afternoon, the show was still spectacular for the large crowd in attendance at 15 Wing....
First mother Thunderbird to fly at air show
- The Trentonian | JOINT BASE MCGUIRE-DIX-LAKEHURST ? The skies over Joint Base McGuire-Dix-Lakehurst are rippling with the thunder of jet aircraft and the spectacle of parachutists this weekend as the joint-base?s open house and air show. This will be the first year a mother will be piloting one of the Air Force Thunderbirds over New Jersey airspace...
Joint Base air show mixes a little old with new
- Asbury Park Press | Christopher Klockson, 46, Collegeville, Pennsylvania and his son, Kallen, had their eyes to sky watching a P-51D fly through the blue sky on a warm and sunny Saturday morning. Because Kallen enjoys planes so much, Christopher Klockson wanted to take him to an air show...
WWII flight instrument missing after airshow
* KDHN | TEMPLE — A valued piece of American history went missing at the Central Texas Airshow over the weekend, and the owner wants to get it back...
Part 2: Blue Angels Mega Post (Video+CoolPix+Desktop)
* AirPigz | Here's more fabulous Blue
Angels content to help you and me both feel a little more like we're at Vero Beach Florida today and tomorrow enjoying a performance from the world's greatest aerobatic team. You're seeing Baltimore back in 2012 behind the blue and gold here in the CoolPix above...
Mentor air show pilot injured in plane crash in upstate New York
- The Plain Dealer | CLEVELAND, Ohio -- A pilot from Mentor suffered injuries that were not life-threatening when his small plane crash-landed about 12:30 p.m. Friday in Roxbury, New York, according to New York State Police. James Leavelle, 45, a veteran military pilot and air show performer, told police he was flying from Ohio to an airport in New York, and tried to avoid a storm by landing on a grass strip near Roxbury, in upstate New York...
A show of past, present military aircraf
t - Alamogordo Daily News | HOLLOMAN >> Roaring through the sky at incredible speeds military aircraft preformed aerobatic stunts during Holloman Air Force Base's Legacy of Freedom air show and open house event. On Saturday, Team Holloman hosted an open house and air show for citizens of the Tularosa Basin. 49th Wing Commander Col. Andrew Croft said the event was a way to honor the history of Holloman....
Awesome Footage Brings You Aboard a Sukhoi Su-27 Flanker During Air Show over Crimea
* The Aviationist | On May 9, Russia celebrated the Victory Day (70th anniversary of liberation from Nazi troops) with a spectacular airshow and huge naval parade reviewed by Putin at Sevastopol, in Crimea...
Navy, jets, air show: Sevastopol marks V-Day, 70 years of liberation from Nazis (VIDEO)
* RT | ...In
a massive Russian Air Force flyover, dozens of helicopters, fighter jets, bombers, transport and reconnaissance planes flew over the bay in different formations. The flyover included Mi-28 ("Havoc") and Ka-52 Alligator battle helicopters, Su-25 ("Frogfoot") assault jets, Su-34 ("Fullback") fighter-bombers, Tu-95 ("Bear") strategic bombers, MiG-29 ("Fulcrum") and SU-27 ("Flanker") fighter jets....
Air Power Expo 2014
* The Chicken Works
National Wings of Freedom Tour – Flying through California
· Warbirds News | The Collings Foundation has been running their barnstorming Wings of Freedom tour across North America for 25 years now. As of May 1st, they had made 2,867 stops along the way, which is a remarkable feat. They are still going strong, and adding aircraft to the fleet. Currently the B-17, B-24 and P-51 are journeying through California (with brief forays into Nevada), and will visit 18 towns and cities there before flying up through Oregon, and then Washington State by early June. Then they fly east, tracing the northern states...
A personal Sentimental Journey
- Alamogordo Daily News | Janessa Maxilom -- Daily News A B17 Flying Fortress named the Sentimental Journey sitting on the tarmac at the Alamogordo Municipal Airport on Friday. The Sentimental Journey will be on display and will fly during Holloman Air Force Base's open house event on Saturday...
Mom And Me And Airplane Made Three
* WAI Connect Blog | It was 20 years ago on May 1 that we launched from Montreal for the first day of the 24-day round the world Air Race. I remember that on Mother's Day we were receiving the first place award for the race leg from Istanbul, Turkey to Dubai, United Arabic Emirates. It had taken ten hours and 54 minutes over Turkey, around Iraq over Iran and the Persian Gulf above 15,000 feet without enough oxygen for both of us. As Mother's Day approaches, Mom-memories come flooding back to me...
Bower, Ellsworth toast to Doolittle Raiders
- Rapid City Journal | ELLSWORTH AIR FORCE BASE, S.D. | Airmen and special guests gathered for a solemn event at the Dakota's Club April 18 to mark the 72nd anniversary of the historic Doolittle Raid. The event - a final toast - paid tribute to the 80 aviators who conducted the daring raid on Japan that helped boost America's morale during World War II...
Larry Cote of Holiday Park III in Englewood kept Ted Williams fighter flying in Korea
* War Tales | Larry Cote of Holiday Park III in Englewood, Fla. former Marine Corps sergeant, kept baseball great Ted Williams' F9F "Panther" jet fighter plane in the air while serving as an airplane mechanic with the 1st Marine Division at the end of the Korean War in the early 1950s....
Her Mother Flew in WWII
- ithaca.com | "I was amazed, looking up Hannah's mother, how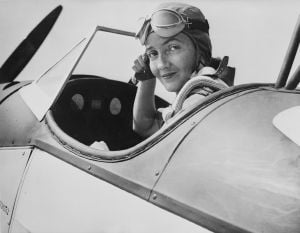 prominent she was," said Milt Dougherty, Candor Historical Society president. The speaker for the April meeting, Hannah Robinson, had an unusual childhood. Both of her parents were pilots, and her mother, Nancy Harkness Love, was one of the first women pilots to do many things: circumnavigate the globe (with a copilot), found the first US women's air force auxiliary, be certified to fly the North American P-51 Mustang, C-54, B-25 Mitchell, and along with Betty Gillies, first certified to fly the B-17 Flying Fortress. Love was certified in 16 military aircraft, including the Douglas C-47 and the A-36...
Weather Decision
* Voices From The DC-3 | But for the weather, D-Day would have come a day earlier. The low that swept over the Channel on the eve of June 4, 1944, threatened the entire operation, roughing up the seas and driving rain onto troops crammed into the mass formation of landing craft...
Old Shakey walkaround — Douglas C-124 Globemaster II, first of three
by travelforaircraft | One of the several aircraft on exhibit is this Douglas C-124 Globemaster II and the display has an extra that is not seen at most, if not all other, C-124 exhibits. Although most loading, especially of large or outsized cargo, was done through the immense clamshell nose cargo doors there was another option — a rear elevator — and the museum has this pair of cargo doors open so it can be seen. The Globemaster II in the...
Air Museum helps film take flight
- Skegness Standard | A Spilsby-area museum dedicated to Lincolnshire's aviation past has lent its support to an appeal to raise £500,000 to make a film inspired by Bomber Command. The Lincolnshire Aviation Heritage Centre, in East Kirkby, is backing the innovative project of Lincolnshire filmmakers Andy Burn, 48, and son Callum, 22, of Tin Hat Productions...
Teenflight
- Updates!
Flight Academy Ambition Program Scholarships Available
* WAI Connect Blog | The Partnership for Corporate Aviation Training (PCAT) is working with the National Flight Academy to provide four scholarships for students ages 11-17 years old. Applications are being accepted until May 31, 2014...