Video: Thunder Over the Valley air show previewed - WFMJ | VIENNA TOWNSHIP, Ohio -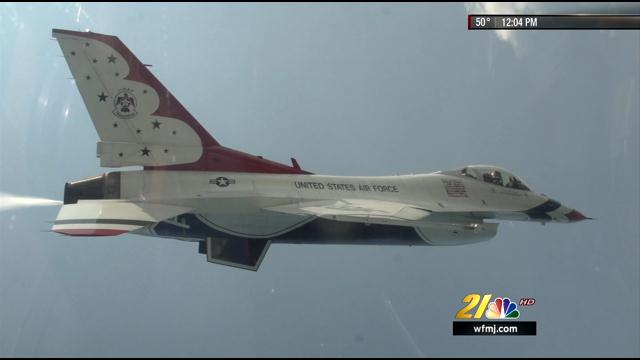 Organizers of Thunder Over the Valley have released a tentative schedule of events for the air show scheduled for May 17 and 18 at the Youngstown Air Reserve Station. More than 50,000 people are expected to attend the show, which will be free to the public....

Fair St. Louis Airshow Cancelled, Two Other Area Events Rise to the Challenge * The Aero Experience | The St. Louis area is seeing some changes in the Midwest Aviation entertainment scene this year, with one event cancelled but two more added. Just unofficially announced tonight, the Fair St. Louis Airshow scheduled for the July 4 holiday has been cancelled due to the change of venue from the Mississippi Riverfront near the Gateway Arch to Forest Park, located near the center of the city. A major construction project involving the Gateway Arch grounds precluded using the traditional Fair St. Louis site, but hopes for continuing the airshow were buoyed by an April 8 statement from St. Louis Mayor Slay that there would be an airshow. That is apparently no longer the case. Thankfully, two other events will make their debuts in the area to celebrate Midwest Aviation....

Airshow offers hands-on history lesson - Killeen Daily Herald | TEMPLE — Families looking to spend this weekend outdoors can watch static displays, formation flying, pyrotechnics, aerobatics stunts and war re-enactments during the Central Texas Airshow in Temple. The show kicks off at 4 p.m. Friday and runs throughout the weekend from 10 a.m. to 6 p.m. Saturday and Sunday at the Draughon-Miller Central Texas Regional Airport in Temple...

Leap Frogs Kick off Navy Week Season - Military.com | FORT WORTH, Texas -- The U.S. Navy Parachute Team, The Leap Frogs, wrapped up their first Navy Week of the year at Dallas/Fort Worth April 27, a show trip which included two local baseball games and multiple air show performances...

Knights Swoop 4th Meet * U.S. Army Parachute Team "Golden Knights" | The US Army Parachute Team, Golden Knights Canopy Piloting Team competed at Skydive the Farm in Rockmart, Georgia Saturday April 26th. This was the fourth Meet sponsored by the Florida Canopy Piloting Association....

Mr. Snowbird is signing off - Comox Vallety Record | ... MacDonald, known as Mr. Snowbird, has
been the unofficial voice of the Snowbirds for the past decade — arguably their biggest fan — and is completing his tenure as play-by-play announcer at the end of their training season on May 7....

Belgian Air Force Display Dates 2014 * UK Airshow News - Flightline UK | Today, at their Launch Day, the Belgian Air Force released details of their 2014 display season. The UK is supported on four occasions with the F-16 visiting RIAT and Yeovilton and the Red Devils supporting Cosford and Cleethorpes.

Youngest-ever female member of U.S. Aerobatic Team to make her Reno debut · General Aviation News | RENO, Nev. – One of the world's top female pilots will be gracing the northern Nevada skies for the first time at this year's National Championship Air Races Sept. 10-14. Melissa Pemberton, a world-renowned aerobat and the youngest-ever female member of the United States Unlimited Aerobatic Team, will bring her Edge540 aircraft to the Reno-Stead Airfield this September. Pemberton joins the F-22 Raptor Demonstration team as performers that have been announced so far for the event's 51st year...

Midair Squadron Canberra PR9 and Hunter T7 perform inaugural display in front of home crowds * UK Airshow News - Flightline UK | In their inaugural display together, and XL577's first week flying since 2009, the dynamic pair captivated on-looking crowds with their agility and grace coupled with the power of their impressive Avon jet engines. The Canberra PR9 is the only air-worthy example of this aircraft in the world, and joined by XL577, makes this combination of unique aircraft a global first....

Red Arrows to come to Derry - Derry Journal | ...The display will take place in the city on Sunday, June 29, on the final day of the Clipper Homecoming Festival, as events draw to a close....

New Oshkosh 2013 Highlights posted * LiveAirShowTV | Skip Stewart and Kevin Coleman

Annual Antique Auto Show at the New England Air Museum on Sunday, June 1st · Warbirds News | The New England Air Museum will hold its annual Antique Auto Show on Sunday, June 1st. Co-sponsored by the Connecticut Council of Car Clubs, this will be one of the larger auto shows this year. Visitors can expect a wide range of cars, including early antiques such as Model T's, show cars from the 30's & 40's, street rods, sports cars, the dream cars of the 50's and muscle cars of the 60's and early 70's. Participant and people's choice awards will be given, and dash plaques will be presented to the first 200 cars arriving. The show will feature the 50th anniversary of the Ford Mustang with a favorite Mustang Award....

The birth of the Israeli Air Force * Bayou Renaissance Man | There's a new movie in production that will tell the story of the beginnings of the Israeli Air Force and the role played by foreign volunteer pilots in its formation...

If you're a fan of Top Gun and haven't seen this video yet, you'll want to watch the ending. * TVR Photography.com's

Timeless Voices - Robert Evans · eaavideo.org | Robert Evans flew 35 combat missions as a B-24 tail gunner with the 564th Bomb Squadron of the 389th Bomb Group during World War Two.

"Cycle to the Sky" in Support of Vulcan XH558 · Warbirds News | ...The Vulcan to the Sky Trust,
which maintains and operates Avro Vulcan B.2 XH558, is holding a sponsored cycle rideover the weekend of May 14th/15th. "Cycle to the Sky", as it's called, will cover over 150 miles. The ride will start at Bruntingthorpe Proving Ground, in Leicestershire and progress to Robin Hood Doncaster Sheffield Airport via Newark Aviation Museum, RAF Coningsby, The Sentry Post (Waddington Aircraft Viewing Enclosure), and RAF Scampton. They hope to raise at least £5580 through the event in support of the Trust, which may not sound a lot considering the requirements of a magnificent beast like the Vulcan, but every bit helps....

Watch: Tornado fighter jet gets it wings at Coventry's Midland Air Museum - Coventry Telegraph | Much-loved Tornado GR4 being reconstructed piece by piece by army of volunteers | A fighter jet being restored to its former glory in Coventry is finally starting to look the part. Bosses at the Midland Air Museum, based next to Coventry Airport in Baginton, managed to get their hands on a much-loved Tornado GR4 but were faced with the arduous task of putting it back together piece-by-piece...

Women Soar helps high school girls discover aviation · General Aviation News | EAA AVIATION CENTER, OSHKOSH, Wis. — EAA's Women Soar You Soar program, which allows 100 high school-age girls discover more about aviation and all its possibilities from aviators, engineers and leaders during EAA AirVenture OshkoshT, is scheduled for July 28-31 and now open for registration...

Local 6-year-old attending the Air Force Academy * 9NEWS.com | Spending the morning like an Airman, Conner will don a flight suit, take a ride with the Academy Aero Club and spend time with his squadron. Conner will also see a chemistry magic show, see a car show and have a pizza party. Started in 2000, the Cadet...