Blue Angels to fly next week at USNA - Eye On Annapolis | The Blue Angels are back in Annapolis and will perform above the Severn River, Tuesday, May 20 and Wednesday, May 21 as part of the Naval Academy's Commissioning Week. These events are free and open to the public....

Joint Base McGuire-Dix-Lakehurst air show drew more than 300,000 people * NJ.com | BURLINGTON COUNTY — More than 300,000 people attended a two-day air show at New Jersey's Joint Base McGuire-Dix-Lakehurst. The event began Saturday with the Army's parachute team, the Golden Knights, jumping onto the base with an American flag. The show ended Sunday with the Air Force Thunderbirds flying their F-16s...

Photo Gallery: Joint Base MDL Hosts Annual Air Show - The Ocean Signal | JOINT BASE MCGUIRE-DIX-LAKEHURST- Visitors from New Jersey and surrounding states gathered at Joint Base McGuire-Dix-Lakehurst, N.J., for the 2014 Open House and Air Show May 10-11. The Open House and Air Show exceeded attendance expectations with more than 300,000 spectators throughout the two-day event....

40 000 visitors at SAAF Museum air show * defenceWeb | Crowds of around 40 000 turned out to see several dozen different types of aircraft take to the air for the annual air show at Air Force Base Zwartkop on Saturday, but highlights also involved demonstrations with armoured vehicles...

Fly-in June 7-8 will bring vintage and experimental aircraft and gliders to Hutch airport - Hutchinson News | Aviation fans will have a chance to see and even fly in some vintage aircraft, including the Lady Liberty, an A-26 twin-engine bomber/attack aircraft from World War II, during a Fly-In event sponsored by the Hutchinson Airport Advisory Committee on June 7 and 8....

Spirit of St. Louis Airshow Warbird Photo Review * David D Jackson | The last airshow at the Spirit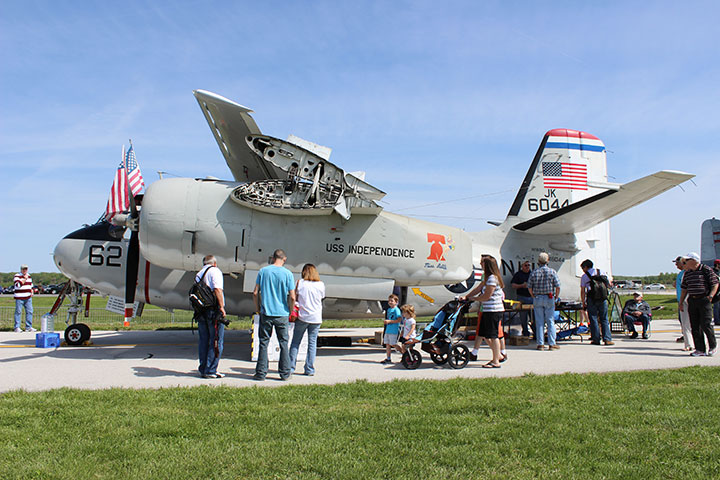 of St. Louis Airport was in 2007. I had no idea even after looking at the show's website as to how much the warbirds that were participating would fly, as that was just a bit vague. I should not have given much thought as this event was a very pleasant surprise and a very well executed show....

Three Things Only a Pilot Would Notice About This Cool Russian Jet Demonstration * The Blaze | Nine Russian jets were filmed flying at high speeds and low altitudes over Crimea this weekend. No, it wasn't another step in the hotly debated Ukraine-Crimea-Russia debacle; it was a World War II commemoration...

Muroya Hopes To Keep Asian Flag Flying In Putrajaya Red Bull Air Race * bernama | KUALA LUMPUR, May 12 (Bernama) -- Yoshihide Muroya is determined to keep the Asian flag flying when competing in Round 3 of the Red Bull Air Race this weekend in Putrajaya. The 41-year-old Japanese ace hopes to make Asia proud on race day as he is the only pilot from the continent out of 12 pilots in the Master Class and is currently fourth in the standings...

BLM to close land around Stead airport for air races - Reno Gazette Journal | The Bureau of Land Management announced again this year it was temporarily closing federal land around the Reno-Stead Airport this year for the National Championship Air Races Sept. 6 through Sept. 15 and for the pylon racing seminar June 11 to June 14....

Red Tail veteran, film and plane return to Liberty - Fremont News Messenger | PORT CLINTON — Residents can take a step back into WWII-era history, sneak a peak at an original P-51 Mustang fighter airplane and speak with a veteran who served with the famed Tuskegee Airmen this week. The Commemorative Air Force Red Tail Squadron educational program, ?Rise Above,? which tells the story of the famed African-American fighter pilots, will be returning to the Liberty Aviation Museum from Wednesday through Thursday...

PHOTOS: WWII B-17 Bomber In Spokane - KHQ Right Now | SPOKANE, Wash. - The Liberty Foundation's 2014 tour has hit Spokane, and Monday afternoon KHQ's Reed Schmitt got up close and personal with a Boeing B-17 Flying Fortress....

Convair XP5Y-1/R3Y-1 and –2 Tradewind * Let Let Let - Warplanes | Based on 1945 U.S. Navy requirements Consolidated-Vultee (later renamed Convair) designed a fast flying boat that was suitable for various tasks like submarine hunting, mine laying and offensive patrol missions. In fact it was intended as a successor for both the smaller twin-engine Catalina and the four-engine Coronado flying boats. The type...

The next Marine One * The DEW Line | Considering the massive level of past media interest around
the US VXX presidential helicopter replacement programme (particularly when the last attempt got cancelled in 2009), confirmation of Sikorsky's win this time around with an S-92 derivative might have passed many people by...

[Video] Here's What It's Like Being On The Receiving End Of A MiG-21's bomb in Syria * The Aviationist | Rule: if you see a Syrian warplane maneuver to drop a bomb on you, you better run!

Olympus E-M5 at an Air Show * Up At Dawn, Photography Talk | In a past post, I wrote about my experiences using my Olympus E-M5 and Canon 60D at air shows. This time I want to talk about the E-M5 by itself. It's been a busy year for me so far regarding air shows. I've been to 3 air shows in the first 5 months of the year. The Cable Air Show, LA County Air Show, and most recently the Chino Planes of Fame Air Show. I've taken the E-M5 to all three and it performed both well, and not so well...

Sending young girls to space camp - Hutchinson News | With aircraft taking off and landing at Stearman Field on a recent evening, a group gathered with a common goal – to encourage some young girls to a future in space. Sponsored by the Women in Aviation Air Capital City Chapter, the annual event raised $5,350, which will pay for 30 low-income girls to attend the Kansas Cosmosphere and Space Center....

AOPA to send young pilot to French Air Rally · General Aviation News | The Aircraft Owners and Pilots Association, (AOPA), with the International Council of Aircraft Owner and Pilot Associations (ICAOPA), AOPA France and the Fédération Française Aéronautique (FFA), will send an American pilot between 18 and 24 years old to France this summer to take part in a nationwide air rally...

Young Eagles take flight on May 24 - Morehead News | May 12, 2014 — Can your child take the first steps to making their dreams of flying come true? Yes, that can happen May 24 when local kids have the chance to join the ranks of more than 1.8 million Young Eagles and see the world from a whole new perspective...