Competing for a Cause- Race 99 "Margaret June" - Alabama Aviator - Aviation News | RENO NV- Kent Cassels of Kissimmee, FL flew his aircraft, Margaret June -Race 99- in the 2013 National Championship Air Races in Reno, in support of the Special Operations Warrior Foundation, SOWF...

Celebration in the Pits for T-6 Racers - Alabama Aviator - Aviation News | RENO NV- During the 50th Reno Air Race, one big change in leaders came Thursday in the T-6 Gold Heat. Leader Nick Macy was piloting "Six-Cat," and right after the start of the race on the first turn, had a mayday. His engine had seized but with some great flying skill, he pulled up and then came in deadstick for a perfect landing. Unfortunately though, he is out of the race putting Dennis Buehn in #43 in the number one spot...

Photos from Early in race week at Reno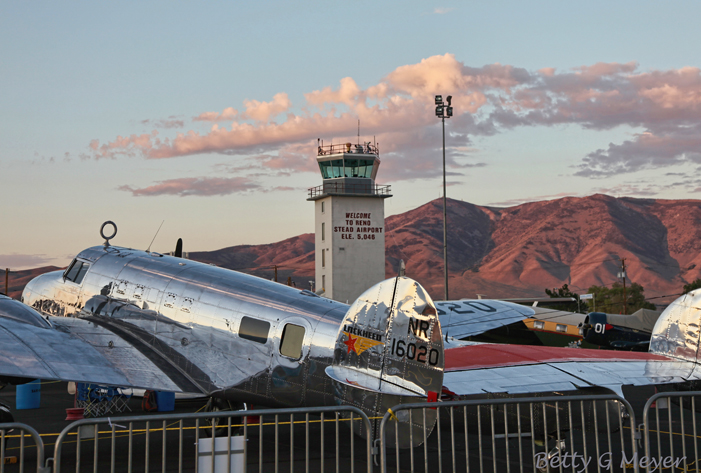 Famed Lockheed Electra Destined for Key Piece of Earhart Exhibit - Alabama Aviator - Aviation News | The Museum of Flight's Lockheed Model 10-E Electra on exhibit at the 2013 Reno National Championship Air Races heads to final destination. After 78 years in service, this will be the plane's final flight. The rare airliner is the same type as Amelia Earhart's famous plane, and it will be the centerpiece of a permanent Earhart exhibit opening in October...

Body of US stunt pilot recovered in China - www.bbc.co.uk | The body of an American stunt pilot whose aircraft crashed into a lake in China is found after a three-day search, Chinese state media report.

The Long Sad, Tragic Story Is Over: David Riggs' Remains ID'ed - Aero-News Network | Wayward Pilot, With Multiple Convictions, Confirmed As Dead | Opinion, Analysis and Observation by ANN CEO/Editor-In-Chief, Jim Campbell | After years of holding our breath and dreading the beating the aviation world was taking over the crimes and mis-deeds of one of the most dreadful aviators in the world, we can sadly confirm that the potential for future damage and death is finally over...

National Naval Aviation Museum 50th Anniversary Celebration - Alabama Aviator - Aviation News |
50th Anniversary Celebration of the National Naval Aviation Museum The Naval Aviation Museum Foundation invites the public to visit the Naval Aviation Museum in celebration of its 50th anniversary...

Flying in the "Tin Goose" - Toriaflies | I've loved the Ford Trimotor since I first saw one displayed at the Henry Ford Museum in Dearborn, MI. That Trimotor was the first plane to fly over the South Pole and I loved how it shined and how its three radial motors stood out making themselves known. Built not far from where I grew up, 199 Ford Trimotors were manufactured there between 1925 and 1933 and immediately became a popular purchase for airlines flying from coast to coast...

P-61 Black Widow Footage…In Color! - The Lexicans | From the video description over at Liveleak.com: For aviation history fans. Very rare color P-61 night fighter footage shot at the end of World War II. From the 422nd NFS operating out of Florennes, Belgium, an up close look at...

In 1961 a B-52 Bomber Broke Up In Mid-Air Almost Causing a Nuclear Holocaust In The US By Warbirds News | As reported on the online version of the British newspaper, The Guardian ,in 1961 the U.S. came close to a nuclear holocaust in North Carolina. Only a low voltage switch prevented a nuclear device, the hydrogen Mark 39 dropped by mistake,to exploded near Goldsboro, NC. Details were reveled by document obtained by investigative journalist Eric Schlosser on the basis of the Freedom of Information Act is published yesterday in The Guardian. The bomb would have been 260 times more powerful than the one that destroyed Hiroshima at the end of World War II...

History of B-17E and XC-108A Desert Rat - Aero Vintage | B-17E s/n 41-2595 was the 203rd B-17E built by Boeing at Seattle, and was delivered to the AAF on April 14, 1942. It was immediately placed into the training role, being first assigned to the 97th Bomb Group at MacDill Field, near Tampa, Florida. The 97th BG had been...

Amicale du Super Constellation - Open Days - 28 & 29 September 2013 · Xavier Cotton, Passion for Aviation (translated) | The Amicale du Super Constellation holds Open Days on 28 and 29 September 2013. | This is an opportunity for the public to (re) discover the Lockheed L-1049 Super Constellation C, the most beautiful airliner piston engine ever built. Plants out of Burbank, CA in November 1953, the F-BGNJ is still last copy in "good condition" existing in France...

Will it Fly? Home - A documentary about the reproduction of New Zealand's first aeroplane built... www.willitflymovie.com | New Zealand, first flight, aeroplane, documentary, film, television production, Ivan Mudrovcich, engineering. Visit willitflymovie.com

Sad news here in Long Beach as Boeing announces closure of C-17A production in 2015 - Aero Pacific Flightlines | The C-17 Globemaster III plant, California's last remaining aircraft manufacturing facility, will shutter in two years, affecting 2,200 Boeing Co. employees based in Long Beach and Huntington Beach and thousands of workers and suppliers nationwide, company officials announced Wednesday...

HOW ONE GOOD DEED LED TO ANOTHER Yesterday I was up in San Francisco interviewing an extraordinary guy named Glen Davis. Glen, who is a photographer by trade, learned to pilot an airplane when he was 18. In 2006, he literally took Jessica under his wing and began teaching her to fly. It was an act of faith, and a lot of people who knew Glen thought he was being foolhardy to take on a student who — well, you know the story, she had no arms! Even Glen's insurance company balked when they heard he was working with Jessica, insisting that they'd only insure his plane for half its value if there was an accident. But Glen didn't mind about his insurance company, or about the comments from anyone else. I couldn't for the life of me picture what would have given him so much faith in Jessica, and it turns out there's a story there...

Flying high! Ayesha Aziz set to become first Kashmiri woman pilot - You Fly, Girl | From India Today: A 17-year-old Kashmiri girl studying in a Mumbai school is all set to become a commercial pilot. She alward has a student pilot licence by Bombay Flying Club. Ayesha Aziz, whose parents are from Khawaja Bagh in Baramulla, said she always dreamt of flying an airplane...

The final essay of a 2013 Spring Scholarship Program: Najla Dorsey! - Life on the Road as a Pilot | In our better-late-than-never and don't-ever-give-up category, we present the final essay of a 2013 Spring Scholarship Program: Najla Dorsey! Due to some family and personal issues she's had to take a bit of a break from flying but we hope to see her up in the air again soon...

Commercial Cygnus set to dock with ISS - Spaceports | After a flawless launch from the Mid-Atlantic Regional Spaceport on the Eastern Shore of Virginia mid-day Wednesday Sept. 18, 2013, the spacecraft Cygnus has continued to close in on the International Space Station (ISS), performing the final maneuvers on Sunday before being berthed at the station.