Alabama Air Racer Returns for Reno 50th Championship Alabama Aviator - Aviation News |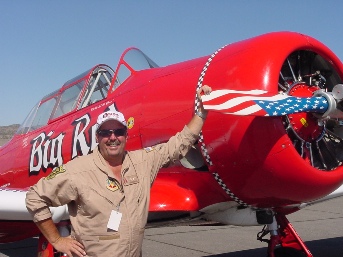 JASPER AL- Feel the need for speed? For those fans who do, the excitement of the 50th Anniversary of Reno Air Race Championship grows near. On September 11 through September 15, the competition begins as seven classes of race planes "fly low and turn left" seeking a National Champion at Stead Field...

National Stearman Fly-In spells big bucks for Galesburg - cbs4qc.com | It's the sounds and sights of planes in the skies that draws families to Galesburg, year after year. "It has put Galesburg on the map," says Robert Harrison. The National Stearman Fly-In showcases more than 100 biplanes, like the ones used in World War II. "If you want to see a piece of aviation history, this is the place to be."...

Pilots soar to Salida for annual Labor Day fly-in - Mountain Mail Newspaper | About 30 pilots from the Soaring Society of Boulder traveled to Harriet Alexander Field for their annual Labor Day weekend fly-in. Soaring Society Vice President Charlie Gillespie said the pilots, representing all levels of experience, came to Salida to fly about 25 sailplanes...

Air show takes to the skies Sept. 21 - Morehead News | Sept. 3, 2013 — The Morehead-Rowan County Clyde A. Thomas Airport will host its second annual air show on Sept. 21. Last year's show proved a huge success, with more than 2,500 turning out for the event. The schedule for this year's air show is similar to that of last year's, said Mike Gray, airport board chairman. The day will start with a pancake and sausage breakfast from 7:30-10 a.m. in the hangar....

AIRSHOW NEWS: Battle of the aerobatics at The Duxford Air Show | UK Airshow News - Flightline UK | There's an array of amazing aerobatic spectaculars in store at The Duxford Air Show this weekend! Opening Saturday's flying display in gallic style is the Patrouille de France, the precision aerobatic display team of the French Air Force, who are one of the world's most skilled demonstration teams. They'll perform in the flying programme on Sunday, too...

Georgia to witness first military airshow - AzerNews | Tbilisi will host the first military airshow on September 9. According to the local media, 11 aircrafts will perform aerobatics in the sky of Tbilisi. High ranking military personnel from different countries, including NATO member - countries, received the invitation to take part in one of the biggest events in the history of Georgia...

Video: Winners announced for Cromer Carnival prize flight as Wildcat plane loops-the-loop -
edp24.co.uk | Two north Norfolk people have won the chance to fly with a crack aerobatics display team in a prize draw made during a loop-the-loop manoeuvre. The Wildcat Aerobatics formation display team was a highlight of last month's Cromer Carnival...

Vulcan bomber fails to turn up at Shoreham Airshow (From The Argus) | Tens of thousands of punters were left disappointed when the world's only Vulcan bomber failed to take to the sky at a popular air show. The Shoreham Airshow's headline act was grounded due to a fuel leak yesterday on the second day of the event....

VIDEO: Highlights from Shoreham Airshow - Latest - Shoreham Herald | SUNSHINE and blue skies launched the 24th RAFA Shoreham Airshow on Saturday, as tens of thousands headed to Shoreham Airport. There were many highlights over the two-day event, but one disappointment, with the Vulcan declared unserviceable just before it was due to set off for Shoreham Airport on Sunday
afternoon...

Photos: MAKS 2013 Air Show, Again | English Russia

WW II bomber took 28 years to restore - Mt. Vernon Register-News | MT. VERNON — Known for its versatility to be used as both a medium-level bomber and low-level attack bomber, the B-25 Mitchell bomber "Maid in the Shade" is taking front and center at the Mt. Vernon Airport this week....

F-82 — North American's Mustang 2-fer Travel for Aircraft | Before the sudden end of World War II, in the Pacific Ocean, Allied military forces were preparing for a long haul of at least one or two more years of combat — and combat more intense than previously experienced. The U.S. Army Air Force (USAAF) began to work on prosecuting bombing campaigns of the northern Japanese home islands to compliment aircraft carrier raids borne by the U.S. Navy. Unbelievably, perhaps, Japan was not only able to continue aircraft...