Miramar Air Show lands its own high-flying act - KFMB News 8 | SAN DIEGO (CBS 8) - We are a month away from the Miramar Air Show and things are starting to get exciting. On Wednesday, the crew that will fly in place of the Blue Angels released a video revealing more secrets of the show...

Annual fly-in slated for Sept. 7 at the Cambridge Municipal Airport - The Daily Jeffersonian | The 25th annual Cambridge Fly-In returns to the Cambridge Municipal Airport Saturday, Sept. 7. Aviators will share the skies and tarmac with numerous general aviation, sport aircraft and antique planes expected to be on hand during the event...

Aviation expo this weekend - Leecountycourier | The Marine Corps League and the Tupelo Regional Airport are teaming up to bring the 2nd Annual Aviation Expo to North Mississippi, Sept. 6 and 7, from 10 a.m. to 7 p.m. at the Tupelo airport. What started out several years ago as a small ceremony to honor fallen soldiers, has grown into a large event featuring dozens of vendors, exhibitors and aircraft. The original event, Petals for Patriots was begun in 2005 for Gold Star families, families who had lost a son in combat...

Fly-In/Drive-In set at Viroqua airport, Sunday - The Westby Times | The Commemorative Air Force Wisconsin Wing has accepted the invitation of EAA Chapter 1439 to attend the Fly-In/Drive-In on Sunday, Sept. 8, from 11 a.m. to 3 p.m. at the Viroqua Municipal Airport. People are invited to come for the fly-In and stay for the Fall Chili Fest, which costs $5 for adults and $3 for children under 13....

Antique Airfield: Antiques, In The Air! (10 Pix) - AirPigz | I've got a boatload of pix from my
weekend trip to the Antique Airplane Association fly-in at Antique Airfield near Blakesburg Iowa, but with my day-job's hectic schedule right now, I don't have a lot of time for prepping and posting. So I'm not gonna say much here... but I figure getting these pix up where they can be enjoyed is what really matters. This is just a slice of what I have to share over the next few months....

Owensboro Air Show Returns This Fall - SurfKY News | OWENSBORO, Ky. (9/3/13) - Prepare for takeoff as the Owensboro Air Show gears up for its second annual return this fall. This two day event will begin on Friday, Sept. 20, and will continue through Saturday evening, Sept. 21...

Arrows tricolor at Balloons Festival - La Nuova Ferrara | It will be the spectacular air force to open tomorrow afternoon, the 9th edition of the Festival Balloons | Will the Frecce Tricolori to open tomorrow afternoon, the 9th edition of the Festival Balloons. The passage of the National Acrobatic Patrol, shortly after the inauguration of the 16 will be the first of many occasions to look at the sky during the most important event of the balloons in Italy, which will continue to Urban Park Bassani until Sunday 15 September. "An initiative that moves a turnover of approximately 300 thousand euro - explains Nicola Zanardi, president of Ferrara Fiere, which organizes the event, together with Multimedia Tre - and for us is the 4th edition: we were able to make a reliable 'original idea of celebration for the family, but compatible with all tastes. We hope to be re-elected in the future. "...

GALLERY: Readers' Shoreham Airshow pictures - Worthing Herald | Tens of thousands of people flocked to Shoreham Airport over the weekend for the 24th RAFA Shoreham Airshow. There were many highlights over the two-day event, but one disappointment, with the Vulcan declared unserviceable just before it was due to set off for Shoreham Airport on Sunday afternoon....

5th Montgolfiade Champagne Warmeriville - Passion for Aviation | Warmeriville (Marne) | From 21/09/2013 to 22/09/2013...

Hot Air Festival coming Van Wert this weekend - Delphos Herald | VAN WERT — The 2013 Van Wert Hot Air Festival is quickly approaching and will kick off today at the Van Wert Regional Airport with a media event and free tethered balloon rides for the area's residents with special needs. The main events will be held Friday, Saturday and Sunday at the Van Wert County Fairgrounds....

World War II-era B-17 bomber honors late Col. 'Bud' Day - Sioux City Journal | SIOUX CITY | From a small bench in Mesa, Ariz., to a 65,000-pound aircraft that many argue won World War II, the honor of the late local war hero Col. George "Bud" Day has not fallen short on commemoration. Both the bench that is dedicated to Day and the authentic B-17G bomber on display at Sioux City's Mid America Museum of Aviation and Transportation belong to the Commemorative Air Force's Arizona Wing, whose volunteers tour the country to show off the aircraft....

Historic B-25 bomber in Mount Vernon - The Southern | MOUNT VERNON — A flying tribute to those who served in World War II landed Monday at Mount Vernon Outland Airport. The B-25 "Maid in the Shade," to be joined Friday by a Red Nose P-51D, will be available for tours and flights through Sunday. Airbase Arizona of the Commemorative Air Force brought the B-25 Mitchell medium bomber to the airport as part of its mission to reconnect the public with history and show veterans that their sacrifices are not forgotten....

WWII tailgunner flew missions over Brenner Pass - West Orange Times | In 1942, Charles Hawthorne went ahead and joined the Air Force so the West Orange Draft Board couldn't decide his branch for him. Hawthorne's father, Claude Hawthorne, was chairman of the board, and that's how Charles knew his number was coming up....

Spitfire and Lancaster Flypasts announced for Royal Air Force Museum's Battle of Britain Weekend- Warbirds News | The Royal Air Force Museum in Cosford, UK will be commemorating the Battle of Britain, considered the most important event in Royal Air Force history, with a weekend of events and activities the weekend of September 14-15. A main highlight for visitors over that weekend will be a flypast from the Battle of Britain Memorial Flight's Lancaster on Saturday 14th and a Spitfire flypast on Sunday 15th September....

video: Jessica Dean: What I'll Miss - My Flight With the Blue Angels - KARK | Before she leaves for her new anchoring gig at CBS 3 in Philadelphia, Jessica Dean shares what she'll miss most about Arkansas. Tonight she tells us about her flight with the Blue Angels...

Historian, Navy Pilot Present U.S. Navy Blue Angels Experiences to EAA Chapter 64 Members
The Aero Experience | The September meeting of EAA Chapter 64, held Tuesday evening at St.
Louis Downtown Airport, included a presentation on the history of the U.S. Navy Blue Angels by aviation historian Joe Gurney and Navy Captain (Ret.) William Switzer. Captain Switzer flew with the Blue Angels as a Lieutenant during the 1971 and 1972 seasons in the McDonnell Douglas F-4J Phantom II, and also flew over 20 different aircraft including the F-14 Tomcat at NAS Miramar during the filming of the movie "Top Gun." Joe Gurney gave a comprehensive view of the Blue Angels aircraft used since the 1946 season, while Captain Switzer relayed his experiences flying the F-4J as Opposing Solo No. 6 in 1971 and Slot No. 4 in 1972. Members and visitors also viewed a film of the team flying the current F/A-18C Hornet, which in this year of uncertain federal budgets, is as close to a Blue Angel performance as possible....

Gone West: Wing Commander Ken Wallis - Aero-News Network | U.K. Bomber Pilot Was 97, Helped Develop The Modern Autogyro | A legend of aviation in the U.K. passed away. Wing Commander Ken Wallis, who was instrumental in the development of the autogyro, was 97 years old...

All Female Crew Makes 552nd ACW History - Aero-News Network | Sortie Flown In Recognition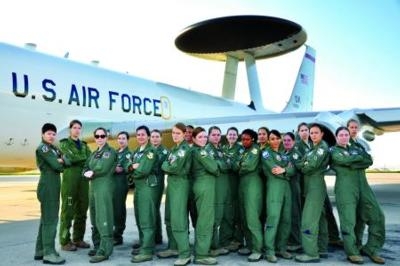 Of Women's Equality Day | Several members of the 552nd Air Control Wing and 513th Air Control Group made history recently by fielding an all-female flight crew....

Retired astronaut Marsha Ivins featured speaker at Stearman Fly-In - Peoria Journal Star | Marsha Ivins chose her life's work at age 10. That was in 1961. Alan Shepard's 15-minute sub-orbital space flight on May 5 that year made him America's first man in space. That made Ivins — who will speak at this week's 42nd annual National Stearman Fly-In — think she might become an astronaut, too....

Space museum to host final star party of season - Lincoln Journal Star | The Strategic Air & Space Museum and Omaha Astronomical Society will host a final star party of the summer Friday evening, starting at 8:30 in the museum's parking lot. The party is free and open to everyone who loves the night sky...

Careers in Aviation - EAA Video | EAA has recently released a number of videos featuring the ladies that are making a difference in aviation careers.

Fargo Air Museum to raffle Ford Mustang Boss 302 - In-Forum | FARGO – A raffle to support a new aircraft hangar addition is scheduled for 11 a.m. Sept. 14 at the Fargo Air Museum, 1609 19th Ave. N. A 2013 Ford Mustang Boss 302 is the grand prize. Other prizes include a flight in a historic P-51D Mustang fighter, a Beretta 12-gauge shotgun, an Apple iPad and a 47-inch HDTV...

Granddad Jumps With Granddaughter In Skydiving Adventure - Aero-News Network | Pair Plummets On Her 30th Birthday | For her 30th birthday, Heather Ellis decided she wanted to jump out of an airplane. And when she mentioned it to her grandfather, he decided to go along for the ride ... and the fall....