Breitling Jet Team soars over Great Wall of China - General Aviation News | On Tuesday, the seven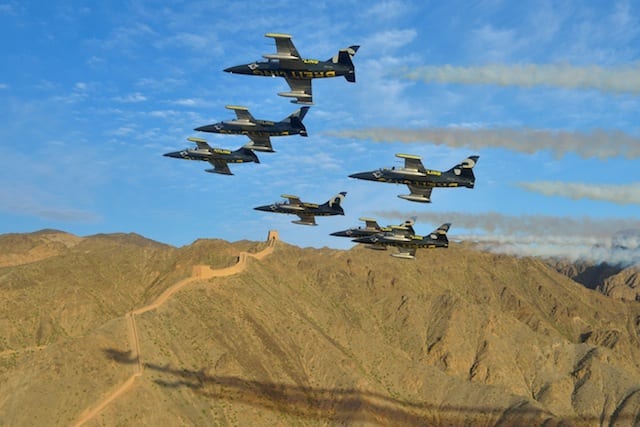 L-39c Albatros jets of the Breitling Jet Team soared in close formation over the Great Wall of China, as the grand finale of their 2013 Asian tour....

2013 Coles County Airshow nears - Daily Eastern News | Organizers for the Coles County Air Show are set to race a 300 mph school bus against a Stearman aircraft during the show Saturday. Andrew Fearn, manager for the Coles County Memorial Airport, said the school bus is equipped with a jet engine, which allows it to achieve the speed it does...

Aberdeen Air Show planned - AberdeenNews.com | Four T-6 Navy training planes, the Vanguard Squadron of Tea and Wisconsin aerobatic flyer Darrel Massman will fill the skies over Aberdeen Sunday. The Aberdeen Air Show takes place at Aberdeen Regional Airport. Admission is free....

Greenwood Lake Air Show hit new heights in West Milford - NorthJersey.com | The fifth annual Greenwood Lake Air Show reached new heights last weekend, but it had nothing to do with altitude. According to Greenwood Lake Airport manager Tim Wagner, attendance for the three-day event hit an all-time high at the northern West Milford airfield. Nearly 21,000 attended the show over the three-day span, according to Wagner, who is currently planning for the 2014 event that has already been scheduled for Aug. 15, 16, and 17....

£25m upgrade planned for airshow facilities - gethampshire.co.uk | AN extensive £25 million upgrade has been planned for Farnborough International Airshow's (FIA) facilities. The two-stage masterplan by Farnborough International Limited (FIL) will see some fixtures of the biennial airshow at the TAG Aerodrome site made permanent, along with a new conference centre...

Take a "Sentimental Journey" - Yorkton News | There's an exciting day at the Yorkton airport coming
up, an event you won't want to miss. One of the last flying WWII B-17 bombers, "Sentimental Journey," will be on display and available for rides and tours at the Yorkton Municipal Airport, August 23 - August 25....

Family donates flight on B-25 to region WWII vet - nwitimes.com | Dave Lee was selected by chance to become a B-25 bomber pilot during World War II, the 88-year-old Schererville man said. On Wednesday, Lee again boarded a B-25 for one more flight. While serving in the U.S. Army Air Forces, Lee was part of a group that was asked to produce seven volunteers to fly on B-25 bombers, he said. He was one of 12 people who stepped up to the request...

National Aviation Heritage Alliance honors volunteers, partners - General Aviation News | DAYTON, Ohio — The National Aviation Heritage Alliance (NAHA) named Air Force veteran, engineer, entrepreneur and community volunteer Walter Hoy as the winner of the Ivonette Wright Miller Award at its 2013 annual meeting on Tuesday, Aug. 20. NAHA also awarded its Wick Wright Award to Phillip Parker, president and CEO of the Dayton Area Chamber of Commerce, and its PROPS (Partner Recognition of Outstanding Support) Award to Wright "B" Flyer, Inc....

Museum Raises Money To Save 'Rosie The Riveter' Plant - KRCC | DAVID GREENE, HOST: Rosie the Riveter, with one of the most famous clenched fists in American history, embodied the message of hardworking women during World War II: We Can Do It. Now a nonprofit is hoping to carry on that legacy. In a little more than a month, the historic Michigan factory where Rosie and thousands of other women built B-24 bombers could face the wrecking ball. That's unless the Yankee Air Museum can raise enough money to salvage part of that massive plant...

New England Air Museum to host quilt show - General Aviation News | WINDSOR LOCKS, Conn. – The New England Air Museum is hosting its "Flights & Fantasies" Quilt Show from Sept. 16-22. This non-juried show will give visitors the opportunity to view an array of more than 150 quilts to be displayed among the museum's collection of more than 80 historic aircraft and dozens of related exhibits...

The Golden Age of Flight Attendants - Air & Space Magazine | A new book documents the evolution of stewardesses from registered nurses to starlets in the sky.

The Science of Stealth - Air & Space Magazine | Coatings and radar-absorbent material, or RAM, make only a small contribution to the efforts to hide an airplane from enemy radar, but without them, no airplane can be truly stealthy. The F-22 first gets a base coat of radar-absorbent or deflective materials, over which is applied a topcoat developed by Boeing to counter a broad range of wavelengths, including infrared. The formula was tailored for the Raptor's wing edges to deter wideband radars; a ceramic RAM cools its hot exhaust nozzles...