Chetek Fly-in, Boat Show is Sunday at airport - Chetekalert | Wooden boats and air crafts like T-6 Texan Warbirds will be on display and available to some for rides at the annual Chetek Fly-in and Boat Show Sunday, Aug. 11, from 10 a.m. - 3 p.m. at the Chetek Airport.Last year, attendance was high and the weather was great as many people enjoyed vintage airplanes along with the Chetek- and Wisconsin-manufactured boats...

Flying High: Jetman Talks Flight, Fear, and What's Next - Gizmodo |Yves "Jetman" Rossy's exploits have been well-documented over the years. He's crossed the English Channel, the Grand Canyon, and flown alongside a B-17 bomber with a jet-powered wing strapped to his back and nothing else. He's crazy in the best way possible. We caught up with Yves yesterday to chat about what's coming next for Jetman, his thoughts on Felix Baumgartner and what it's like to fly with a wing strapped to your back....

Video: The Duluth Harbor from the Cockpit of a Vultee BT-13 - Northland's NewsCenter | Duluth, MN
(NNCNOW.com) - Northlanders may get to see their fair share of the Duluth Harbor, but not everyone can say they've seen it through the cockpit of a World War II-era plane.
For those of you that haven't, this is the view of the harbor from the cockpit of a Vultee BT 13, which stands for Basic Trainer....

Episode 260 – AirVenture 2013 Debrief - AirplaneGeeksPodcast |Guests Martt Clupper from the AirPigz blog and Martin Rottler, a faculty lecturer at The Ohio State University's Center for Aviation Studies join Rob to tell us about the just completed EAA AirVenture at Oshkosh. We talk about the planes, the people, the airshows, and some of the innovations. We hear about the essence of what AirVenture is all about...

Photos: East Kirkby Air show - Airplane Pictures | The Linconshire Aviation Heritage Center staged its annual airshow with the star performance from the beautifully restored Lancaster, which is able to taxy...

Photos: Kecskemét International Airshow, 3-4 August 2013 - Airplane Pictures | The International Air Show and Military Display taking place on 3 and 4 August 2013, this event is a unique show in Hungary and Central Europe....

Video: Air show stunts in Hungary - Euronews | Kecskemet, 88.5 kilometres south of the Hungarian capital Budapest, is the main home of the Hungarian Air Force and its fleet of Jas-39 Gripen fighter jets. The Airshow, the tenth to be held in Kecskemet, was celebrating the 75th anniversary of the Hungarian Air Force. Over one hundred thousand people turned up to watch the displays during the two day event. [Video shows four (?) jet teams]

Airshow cancelled due to lack of funding - Bundaberg News Mail | AFTER four high flying events, millions of dollars injected into the Bundaberg community and tens of thousands of visitors, the Wide Bay Australia International Airshow committee has announced the conclusion of the biennial event. In 2009 the NewsMail reported a study had shown the Bundaberg regional economy received an estimated $2.76m, or 88%, of the total spending by attendees and the event promoter in Queensland - calculated to be $3.12m....

B-17 landing in SA for tours, flight - San Antonio Express | SPRING, Texas — It has been nearly 70 years since the last B-17 lifted into the air to join the largest air armada ever to fill the skies during World War II. But on Friday, the four giant Wright-Cyclone engines of Texas Raiders, a fully restored B-17G Flying Fortress will be roaring over San Antonio...

War birds flying into Fargo for Air Power History Tour - Grand Forks Herald | FARGO – With unmanned aircraft almost certainly the wave of the future, big hulking planes might seem more like UFOs to today's youth. That's what makes an old war bird's appearance this week at the Fargo Air Museum all the more important, said Dick Walstad, co-chairman of the Fargo AirSho. The B-17 Flying Fortress – nicknamed the Sentimental Journey – is one of three big World War II bombers stopping here as part of the Air Power History Tour put on by the Commemorative Air Force....

Battle of Britain at Night - RAF Museum London Events | Join us for another 40s-inspired evening as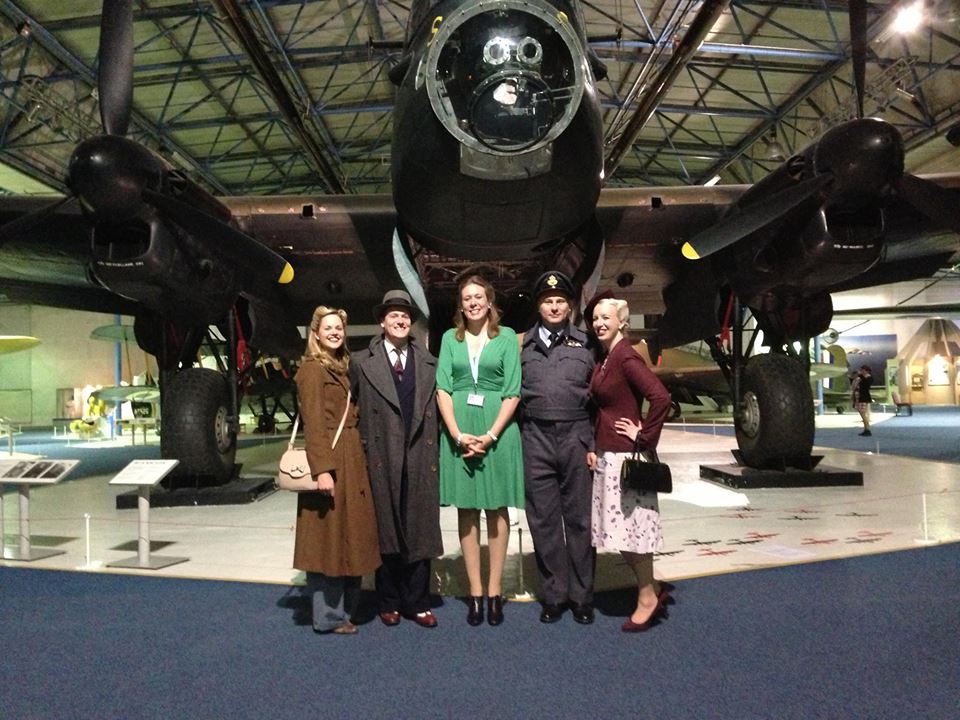 part of Battle of Britain Weekend. Practise your jitterbug to 40s music in front of the Lancaster and you can dress up in RAF uniform and have your photo taken. Attend our fascinating lecture and reserve a place at our 'Learn How to Do 40s Hair and Make-Up' class (girls only!). Watch unseen footage from the film Battle of Britain on the big screens and enjoy a glass of wine at our late night bar. Guests are encouraged to wear 40s inspired clothing to add to the atmosphere of what will be a truly fantastic night...

Denver's Amelia Earhart plays down her connection to the famous aviator - Westword | Like the fictional character Michael Bolton in the movie Office Space, Denver's Amelia Earhart has a famous namesake. But unlike the surly Bolton (played by actor David Herman), Earhart has never shied away from the connection. In fact, Earhart, a weather and traffic reporter and anchor for KUSA 9News, has played the name game to her advantage — first as the inspiration to become a pilot herself, according to her 9 News bio, and then to drum up some fame of her own. Last week, Earhart announced that she will try to re-create the original Amelia Earhart's 1937 attempt at flying around the world; the aviator's plane disappeared during the adventure and was never found....

Statue in memory of pioneering aviator - ITV News | A statue has been unveiled in memory of aviator Samuel Cody who was killed in a flying accident 100 years ago today. The statue in Farnborough is close to where he achieved the first powered flight in the country....

Bally Bomber Visit · Elliot "Stinky" Seguin | Like most couples, Jenn and I spend a lot of time talking about what airplane we would want to build next. A long time favorite has been a small multi-engine aircraft (think AT-9). Jenn got very excited when we first saw the Bally bomber so we made some time while we were back East to go check it out....

Wichita Aero Club to host Selena Shilad and Scott Ernest in September · General Aviation News Staff | WICHITA – The Wichita Aero Club will offer a double dose of aviation information in September when it hosts the leaders of two groups that have significant impact on the industry. Executive Director Selena Shilad of the Alliance for Aviation Across America (AAAA) will speak at the club's Sept. 25 luncheon, followed the next day by Scott Ernest, CEO of Cessna. He will give a presentation at the first annual Kansas Aviation Expo Takeoff Reception sponsored by the Wichita Aero Club and Cessna....

Backcountry pilots applaud Monument court decision · General Aviation News Staff | GREAT FALLS, Montana –Officials with the Recreational Aviation Foundation (RAF) report that a recent decision by the Ninth Circuit Court of Appeals largely upholds the backcountry airstrip designations on Upper Missouri River Breaks National Monument. The RAF and Montana Pilots' Association mobilized early on in the Bureau of Land Management planning process to retain the airstrips, RAF officials said...

Retired Astronaut David Wolf: Being In Space 'So Extreme' That It's Nearly ... - Huffington Post | As a retired NASA astronaut who spent nearly five months aboard a Russian space station, David Wolf is one of the few people on the planet who know what it's like to leave it. Wolf has done seven space walks and gotten the full space experience. He shared the unique physical sensations of leaving Earth with HuffPost Live's Josh Zepps. The first thing people often wonder about when they think of visiting space is existing in zero gravity. As Zepps pointed out, zero gravity actually means an astronaut is in free fall around the side of Earth...