Air show draws thousands - NorthJersey.com | WEST MILFORD — Kirby Chambliss got his wish
Saturday after flying his Edge 540 plane so it looked like a toy being tossed about the cloud-dotted sky at the fifth annual Greenwood Lake Air Show. "If someone says they've never seen a plane do what I do, then I'll be happy," said Chambliss, a former Men's Freestyle World Champion who opened the show and talked about his routine before the first six-minute performance. He was scheduled for a 14-minute routine later in the day...

2013 Chicago Air Show preview photos - ChicagoNow (blog) | The 2013 Chicago Air Show will have thousands of people flocking to the lakefront today and tomorrow with their eyes peeled toward the sky. It is the 55th annual Chicago Air and Water Show, taking place this Saturday and Sunday from 10:00 am - 3:00 pm. It's the largest free air and water show of its kind in the United States. The show can be viewed along the lakefront from Fullerton to Oak Street, with North Avenue Beach as the focal point...

''Chicago's Top Guns'' - ABC7Chicago.com | ABC 7 Chicago presents "Chicago's Top Guns" a half-hour special celebrating the Air and Water Show, Sunday August 18, 2013 at 11pm. The Chicago Air & Water Show, presented by the City of Chicago and Shell Oil Products, may be turning 55, but the event's breathtaking action will soar when ABC 7 Chicago presents the broadcast of CHICAGO'S TOP GUNS. Hosted by ABC 7 meteorologists Jerry Taft and Tracy Butler, this half-hour special will air Sunday, August 18th at 11pm, with an encore presentation on Sunday, August 25th at 4:30 pm...

Real-life firefight highlights air show - Santa Rosa Press Democrat | Saturday's airshow in Santa Rosa drew thousands of people to gaze skyward at dizzying aerobatics and warbirds from a bygone era. But the most noteworthy performance at the two-day Wings Over Wine Country was an unscripted appearance by Cal Fire pilots. Within view of the crowd at Charles M. Schulz-Sonoma County Airport, they swooped down in large tankers, dropping red retardant on a series of small brush fires that were sparked by errant flares...

Slideshow: Wings Over Wine Country Air Show - Press Democrat

Photos; Pacific Coast Air Museum Reception - Santa Rosa Press Democrat - Photos from the Reception after the Wings Over Wine Country Air Show

2013 air show takes off in Camarillo [Video] By Jeremy Foster Special to The Star | Eyes, cameras and binoculars turned up as a Douglas C-47 roared thousands of feet into the air, kicking off the Wings Over Camarillo air show on Saturday at the Camarillo Airport.

Planes soar and somersault at the Warsaw air show - ABC 57 News | Seven thousand people showed up for the Warsaw air show. It was the first time an air show was here in over fifteen years and they hope to make it an annual event. ABC 57 got an exclusive view...

Frenchville Fly-in & Air show : WAGM-TV · Angela Christoforos | The sky's the limit, or at least it was this weekend over in the St. John Valley! The Frenchville Fly-in and Air Show held at the Northern Aroostook Regional Airport featured aerobatic performances, and even an all women's sky diving team! Air show peformer Daniel Marcotte says, "This is the 2nd time I've flown in the Frenchville air show, I was here last year and looks like a great weekend again this weekend I'm going to be doing everything you can do in my little airplane I'm going to be flying it from 250 miles an hour to zero miles an hour to actually flying it backwards I'm going to do loops and roles and vertical lines."...

Hundreds support 'Nebraska State Fly-In' in Alliance - Kota | Early morning fog didn't dampen the spirits of KOTA Territory people at today's state fly-in. "I was thinking oh darn this day is going to go bad," said Gaylene Jensen of Hartland Aviation of Alliance Nebraska. Rob Markise of the Nebraska Department of Aeronautics was happy to see a great attendance....

Slideshow: Maryland Fly In: Drones of their own - Washington Post

User submit: only remaining flyable B-29 Superfortress (35 HQ Photos) - The Brigade

Crowd flocks to Elyria's Crawford Field for model air show - The Morning Journal | ELYRIA — Hundreds of spectators flocked to Crawford Field Saturday afternoon to take in one of the few air shows to grace the Northeast Ohio skies this year. While it may not have had full-size fighter jets and planes, it did feature planes zipping through the skies along with others tumbling through the winds performing acrobatic stunts, just on a smaller scale..

Blue Angels Fly Over the South - Alabama Aviator - Aviation News | On August 14, 2013, F/A-18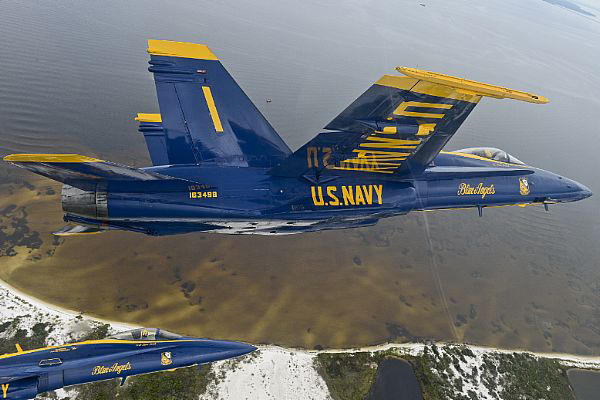 Hornets assigned to the U.S. Navy flight demonstration squadron, the Blue Angels, fly in a delta formation over Pensacola Bay during a training flight. While the Blue Angels' 2013 air show season has been canceled due to sequestration, the pilots fly sorties to maintain proficiency in the F/A-18 Hornet.

Red Arrows pilot flies high with roll of honour inclusion - Sheffield Telegraph | A former Westfield School pupil who went on to become a pilot with the Red Arrows has been honoured with a national award. Steve Morris has been commended on the Association of Colleges' 2013 gold awards roll of honour as an acknowledgement of his achievements. The 31-year-old studied A-Levels at Sheffield College before attending Sheffield University and then joining the Royal Air Force...

Ohio Air News 244 - Charles Johnson | August 1, 2009 the first issue of Ohio Air News went out over the internet, four years later OAN is still going and with this issue we have reached the number 244...

Antique Airfield:

Legendary Army Aviator Among Four Honored at 51st Annual NAHF Ceremony
- Alabama Aviator - Aviation News | 8/17/2013 - Legendary Army Aviator Among Four Honored at 51st Annual NAHF Ceremony Dayton, Ohio -The National Aviation Hall of Fame, NAHF will soon add more illustrious names to its roster of 215 air and space pioneers previously so honored by the Congressionally chartered organization. Among the four individuals to be inducted on October 4, 2013, is the first Army Aviator to be enshrined into the Hall, retired Major General Patrick H. Brady...
World War II Veterans Recognized by Missouri Aviation Historical Society
- The Aero Experience | Two World War II veterans, the Late Arthur F. O'Keefe, Lt. Colonel, USMC (Ret.) and Thomas Mohan, SSgt, USMC, were recognized by the Missouri Aviation Historical Society at their August meeting yesterday at Creve Coeur Airport. Both gentlemen served with VMSB-232 "Red Devils" and crewed a Douglas SBD Dauntless dive bomber together on Guadalcanal Island. Mohan, a Missouri resident now 92 years old, was present at the meeting, and relayed many experiences from his deployment in the Pacific Theater as a tail gunner aboard the Dauntless. Sadly, Lt. Colonel O'Keefe, Mohan's pilot in the Dauntless, passed away August 3, and was buried with honors at Fort Rosecrans National Cemetery in San Diego, CA...
Necessity is the Mother of Invention: Paper Drop Tanks of WWII
- Warbirds News | Faced with wartime metal shortages, and a need to extend the range of fighter craft heading to Europe, the British came up with an ingenious design for auxiliary drop tanks, making them out of resorcinol glue-impregnated kraft paper, which while having excellent tolerance characteristics for extreme heat and cold necessary for operation on an aircraft as well as being waterproof, the glue would slowly dissolve from the solvent effects of the fuel contained within the tank, developing leaks within a few hours of being loaded with fuel, making them a strictly a one-time use item, filled right before takeoff....
James S. McDonnell Prologue Room Preserves Aerospace Heritage at Boeing St. Louis Facility
| The Aero Experience recently visited the
James S. McDonnell Prologue Room
, The Boeing Company's aerospace exhibit hall in St. Louis. The name is based on the Shakespearean phrase, "The Past Is Prologue," which means a past act has set up a future action. In this context, it can be demonstrated that the aerospace heritage forged by McDonnell Aircraft Corporation, Douglas Aircraft Company, McDonnell Douglas Corporation, North American Aviation, Hughes Aircraft Company and the Boeing Company has formed the current Boeing Company into the best-performing aerospace company in the nation last year (CNN Money Ranking No.1). Over 90 years of...
Meet the C.O.
- Photorecon.net, Douglas Aguillard | This is the first in a series, where we informally sit down and speak with the Commanding Officer of various military units. Simply called the C.O. he/she is responsible for everything, and I do mean everything that happens within their command. They are tasked with everything from making sure the unit can complete what ever mission handed to them to handling personnel training and issues that might crop up. I am honored to introduce Lt. Colonel Chris "Cliff" Henger (pronounce as Hanger) to you. The new C.O. of Marine Fighter Training Squadron VMFAT-101, known as the "Sharpshooters". The Sharpshooters are based at Marine Corps Air Station (MCAS) Miramar. He took command of VMFAT-101, The Sharpshooters just a few short months ago....
Aviation Pioneer Wally Funk Describes her "Life in Space"
- Alabama Aviator - Aviation News | Columbus GA - The Association for Women in Aviation Maintenance, AWAM, welcomes famed pilot, Wally Funk to the Columbus Airport to help the Girl Scouts of Historic Georgia kick off their Aviation Pathway Program, Aug. 18-23, 2013. During her visit to Columbus, Funk will speak to about 900 students from around Muscogee County at Columbus State University, describing her "Life in Space" program where she underwent numerous tests to become qualified in NASA's notable Mercury 13 program. She is passionately dedicated to teaching young adults about the many aspects of aviation and its rewards. Additional events have been planned for her visit...