Sequestration's Effects Felt at Nation's Air Shows - CNBC.com | Under sequestration, the Air Force must reduce flying hours by 18 percent, or about 203,000 hours, said Wendy S. Varhegyi, a spokeswoman; the decision to ground air show participation allows the Air Force "to redistribute their flying hours to support...

Air Festival 2013 launched - Daily Echo | ...The 2013 Bournemouth Air Festival promises another
land, sea and air spectacular this summer. Topping the bill, the Red Arrows and Typhoon Eurofighter will be performing three displays each. Recognised as one of the top ten air shows in the world by USA Today, the festival has attracted nearly five million visitors since its launch in 2008....

The Day of Open Doors airbase Zemunik enjoyed most children - Zadar | Open Day barracks Zemunik attracted as much interest every year people, mostly parents with children who are bright but despite the chilly weather touring relentlessly exposed specimens helicopters, Pilatus, Canadair, airtractora but prmjerke armored equipment and air defense systems that are members of 93rd Air Force Base is presented on the runway at Zemunik....

Formation Flights Sunday - Planeshots

You Really Should Watch This Aerobatic RC Plane Competition - Gizmodo Australia | Make anything remote-controlled and it's automatically more awesome by a factor of eleventy-billion. But if you're able to do something clever with said thing like, say, performing mesmerising aerobatic stunts that appear to defy physics, measuring the...

Doolittle Raiders Farewell Reunion- Eglin Homecoming- Events from Alabama Aviator - Aviation News | Fort Walton Beach, FL- Tom Casey, the business manager for the famed Doolittle Raiders,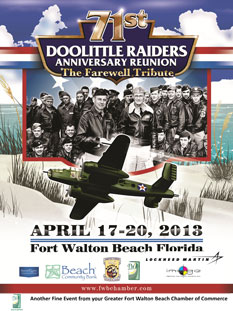 announced that the Doolittle Raiders 71st Anniversary Reunion, April 17 through 20, in Fort Walton Beach, FL, will be the last public reunion of these World War II heroes. "The Raiders have always considered Fort Walton Beach to be their second home, and...

The Doolittle Raid changed US WW II hopes - St. George Daily Spectrum | In 2006, the final Doolittle Raiders reunion Nielsen attended, he told those gathered, "I am proud to have been on the Doolittle Raid. I am more proud to have been of service to my country. I hope and I pray that what we Doolittle Raiders have done...

For One World War II Vet, Unfinished Business in China - The Atlantic | A Chinese soldier guards a Flying Tigers airplane. (Wikimedia Commons). "When you go into the military, one of the things you are told is, 'No matter what happens to you, we'll get you home.' That's a slogan, but that's not what happens in the real...

Morris O. 'Bud' Kahn Jr. - Mason City Globe Gazette | Recently he served as a docent at the Commemorative Air Force Museum in Mesa, Ariz. He enjoyed flying as a hobby and for business and...

'Angel of death' leaves legacy during 'Enduring Freedom' - af.mil | ...For her actions, Black was one
of six Airmen to receive the first Air Force Combat Action Medal in a ceremony in front of the Air Force Memorial in Washington. She was the first Air Force woman to receive a combat medal...

Road Trip: Aviation history in Ohio - TribLive | It wasn't until a decade ago that Congress settled a longstanding dispute between Ohio and North Carolina: Congress affirmed that Ohio, indeed, is the nation's birthplace of aviation. Though aviation-themed attractions pepper the Buckeye State, the House resolution specifically recognized Dayton, some 256 miles west of Pittsburgh, as the birthplace...

Century of flight in Alaska to be celebrated from General Aviation News | The Alaska Airmen's Association's Great Alaska Aviation Gathering will take place Saturday, May 4, and Sunday, May 5. This is the 16th year for Alaska's premier event for flying enthusiasts and families, as well as the state's largest aviation tradeshow....

Reanimating a 30-Year-Old Canard with an Electrical Charge by Dean Sigler | The CC01e, a tiny, single-seat canard design by Frenchman Claude Chudzik, flew for the first time in 30 years years, now powered by an Electravia-supplied motor system. Taking off from Nangis airport, team member Frederic Laude gingerly guided the airplane on its single circuit of the field...

An amazing Mig-29 photoshoot: air-to-air with the Polish Fulcrums from David Cenciotti's weblog | If you ever wondered how air to air photos which appear in aviation magazines are made, this video may be a clue which would provide an answer....

Zelienople experimental aircraft group gives youngsters free flight time - Tribune-Review | Jesteadt was working on his senior project introducing young people to flying with the help of the Experimental Aircraft Association 857 and Young Eagles....

Retired astronaut coming to Urbana - Dayton Daily News | "At some point," Gibson explained, "you need to step down from air racing. I'm not there yet." A recipient of the Defense Superior Service Medal, the Distinguished Flying Cross and three Air Medals, the Murfreesboro, Tenn., resident was an experienced...

Space shuttle Enterprise: a national treasure and historic landmark - Los Angeles Times | Endeavour went to the California Science Center in Los Angeles, Discovery to the Smithsonian National Air & Space Museum's annex in northern Virginia and Atlantis to Kennedy Space Center's visitor complex in Florida. "As the first and only full-scale...