Courtney Force takes flight with US Navy Blue Angels
- NHRA.com | Automobile Club of Southern California Road to the Future Award winner Courtney Force took to the skies with the famed United States Navy Blue Angels Flight Demonstration Squadron Thursday. The driver of the Traxxas Ford Mustang flew in a Boeing...
Air Fiesta takes history to the skies
- Valley morning Star | Air show fans can expect a B-17 "Flying Fortress" four-engine heavy bomber, two B-25 "Mitchell" twin-engine medium bombers, a SB2C "Helldiver" dive bomber and possibly a P-63 Kingcobra fighter, he said. This year's aerobatic performers will be longtime ...
Plane crazy: Daredevil wingwalker performs barnstorming 1920s-style aerial ...
- Daily Mail | 'I've always loved dancing and wing walking is like dancing in the sky, but it wasn't until I was 24 that I first joined. I came across a group of wingwalkers at an event and decided to find out more. One thing led to another, I auditioned and got the ...
AF cancels US air shows, but not in Australia
- AirForceTimes.com | Faced with a $14.2 billion shortfall this fiscal year, the Air Force is canceling air shows in the U.S. — but not one in Australia. The service sent airmen and jets from the U.S. and Japan to this year's Australian International Airshow from Feb. 26 ...
50th Anniversary Airshow canceled
- WALA-TV FOX10 | JACKSON, Miss. (WALA) - Officials with the Jackson Municipal Airport Authority said the 50th Anniversary Airshow, scheduled for May 11-12, 2013 has been canceled. Officials said the Airshow was set to feature the United States Navy's Blue Angels, the ...
Old Blue plans to attend
from Mojave Experimental Fly-In | I just got done talking to Dustin Riggs, the current operator of Dick Rutan's world record holding and round-the-world flying "Old Blue" Long EZ. He plans to display the recently renovated aircraft at the upcoming event....
Other confirmations:
Skyjacker to be on display
,
Electric Quickie to attend
,
GT-400 to attend
Concert will raise funds for air show
- AberdeenNews.com | A concert March 23 at the Dakota Event Center will raise money for an air show this summer in Aberdeen...
USU Aviation program to celebrate Women of Aviation Worldwide Week
- Cache Valley Daily |
LOGAN— The Utah State University Aviation Program will celebrate Women of Aviation Worldwide Weeks with a "Fly it Forward" event for women interesting in aviation on Saturday, March 9....
Flying It Forward This Weekend
from WAI Connect Blog by Amy Laboda | ...And now these women want to inspire the next generation to follow in their footsteps...
We must do more to encourage Canadian women and girls in aerospace
- Liberal | As Canadians celebrate International Women's Week, we take note of the many substantial advances women have achieved politically, socially and economically – and acknowledge the ongoing struggle to challenge the prejudice girls and women confront each day...
First AF female general paves way for military women
from Air Force Link Top Stories | Jeanne M. Holm was the first woman in the armed forces to be promoted to the rank of major general in 1973, and is credited as single driving force in achieving parity for military women and making them a viable part of the mainstream military....
WWII B-29 co-pilot LeRoy Florence visits Saipan
- Marianas Variety | ...She said, "The B-29 engines would get heated up a lot when they took off. Here, they could take off high and drop down low to cool off. Over on Tinian, they were low to begin with. So when they would take off and the engines got into trouble, they just fell into the water. Those airplanes went into the water. They could take off better from here."...
Marauder: Ruiz recalls WWII bombing raids over Berlin, time spent as POW
- Post South | Next he went to the Kingman Aerial Gunnery School training facilities in Arizona, where he was taught the air-to-air firing techniques of the turret gunner and tail gunner on the B-17. Upon graduation from Kingman he was sent to Salt Lake City, Utah ...
Learn how the U.S. secretly trained against Soviet MiG jet fighters during lecture at the National Museum of the U.S. Air Force
from National Museum of the USAF Top Stories | Col. (Ret.) Gaillard R. Peck Jr. will discuss the 10-year period that the U.S. Air Force secretly trained Air Force, Navy and Marine fighter aircrews in an advanced joint training program against actual Soviet MiG jet fighters during a lecture titled "America's SECRET MiG Squadron" on March 20 at 7:30 p.m....
Pearson Air Museum bill set for March 14 hearing before House subcommittee
- The Columbian | A bill to transfer ownership of Pearson Air Museum from the National Park Service to the city of Vancouver is moving forward and will go to a hearing before the National Resources Committee on March 14, said U.S. Rep. Jaime Herrera Beutler, R-Camas.
Ten Times Tigers
from Apron 6 | To make a little break in the snowy pictures of Kortrijk-Wevelgem and the Storch, I'll be doing a little serie in between. Ten times tigers are 10 posts in (hopefully) 10 days with pictures from the Tigermeet at Kleine Brogel in 2009. I'm lying in the title actually because I will also post some pictures [...]
How many F-16 jets can you count in this photograph?
from David Cenciotti's weblog | This image, sent to me by Ulaşcan Yüksel, shows an impressive lineup of Turkish Air Force F-16C fighter planes on an airbase in Turkey....
AgustaWestland unveil world's first electric tilt-rotor aircraft
- Wired.co.uk | Like the more famous Bell Boeing V-22 Osprey, the new electric aircraft can take off and land like a helicopter, but fly like an airplane. It's called Project Zero, and it follows AgustaWestland's belief that tilt rotor technology is the best layout ...
Peyton Manning's USO tour journal
- ESPN | ...Thursday was truly an awesome day. Flew out on a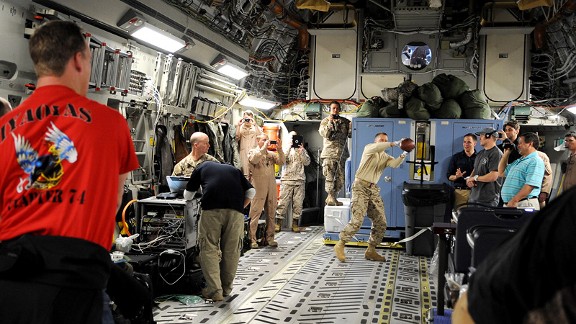 C-2 from the UAE to an aircraft carrier, the USS Stennis. I'm not allowed to say where the ship was located exactly, but I can say it was outside the Arabian Gulf. We did the landing on the ship like you see in the movies with the cable wire. About 12 of us, helmets and goggles on for takeoff and landing. I got to sit up in the cockpit for half the flight. They let me make a few announcements on the PA system. I announced that in order for us to land we needed Curt Schilling and coach Clyde Christensen to please sit on opposite sides of the plane for weight-balance issues. Pilots got a good laugh out of that one....
Aviation artist Sam Lyons' work now at Banyan Pilot Shop
from General Aviation News | LAKELAND, Fla. – You never know how a relationship can start. That holds true for matters of the heart as well as for art. The president of
Banyan Air Services
, Don Campion, was attending the Sebring U.S. Sport Aviation Expo in January when he spotted the Lyons Studio display. A dramatic print on canvas called "Tuskegee Ace" caught his eye and drew him into the booth...
Slats…complete!
from The EAA Zenith Project by ChadJensen | Before we get to the last couple of weeks of build update, I have a major announcement to make! One of our regulars…